Description
2018 Coding and Billing for Therapy and Rehab by Sherry Marchand, CPMA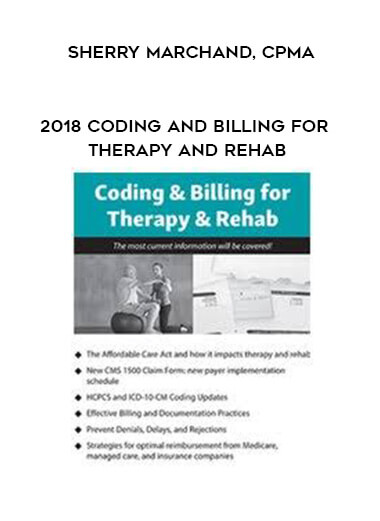 Salepage : 2018 Coding and Billing for Therapy and Rehab – Sherry Marchand, CPMA
2018 Coding and Billing for Therapy and Rehab
Stay current with CPT, ICD-10-CM, and HCPCS Level II Codes.
Discover what must be done to comply with coding regulations and documentation standards. 
Master changes to the Medicare Therapy Cap Exception process and how it will effect patient's out of pocket expenses.
Learn about orthotic and prosthetic management and training services by differentiating between initial and subsequent encounters.
New CMS code for development of cognitive skills to improve attention, memory and problem solving.
Master documentation elements, CPT coding and expected payment changes for Evaluations and Re-Evaluation codes for Physical and Occupational Therapy and Speech and Language Services.
Be prepared for complicated MACRA law: Physical Therapists, Occupational Therapists and Speech and Language Pathologists have new 2019 reporting requirements for MIPS and APM bundled payments. Learn what is the best next steps for your organization.
Learn the most current and accurate coding procedures coupled with documentation tips and complete definitions to ensure prompt and optimal payments for future insurance claims.
This course will equip Therapy and Rehab providers with an understanding of industry coding and billing changes that are needed to survive in this changing healthcare environment.
These topics include 2018 CPT, HCPCS and ICD-10-CM coding updates, effective billing, revenue and documentation techniques and best practices. Claims processing guidelines for 837p and 837i claim format. Prevent denials, delays and rejections by understanding how to combat these with effective appeals. Gain strategies for optimal reimbursement from Medicare, managed care, and insurance companies.
Denials, delays, and "more information required" are increasingly common responses for therapy and rehab insurance and Medicare claims. New codes and reimbursement policy changes have further complicated the claims process for physical and occupational therapists and facility-based rehabilitation providers. Effective Medicare and insurance billing requires a thorough understanding of coding, documentation and billing procedures. Consolidating all of the new requirements with existing coding rules and implementing proven billing techniques are the objectives of this seminar. You will learn the most current and accurate coding procedure coupled with documentation tips and new definitions to ensure prompt and optimal reimbursement on future claims.
---
Discuss required elements and problem areas of documentation for Therapy and Rehab Services
Learn about how to document to support ICD-10-CM diagnosis coding through the use of signs and symptoms to support medical necessity
Hands-on guidance on how to find and stay current on Medicare fee schedules, payment policy, internet only manuals, LCD's and NCD's. Commercial insurance rehabilitation services payment policies will also be explored
Identify procedure codes for rehabilitation services
Determine the correct usage of procedures and documentation requirements
Discuss CPT and ICD-10 coding for optimal reimbursement
Identify upcoming changes to billing and coding
Explain effective use of modifiers and coding combinations
Discover how place of service affects reimbursement
Illustrate tips and techniques for medical record requirements
Outline what you must know about physician certification requirements
---
CPT/HCPCS PROCEDURE CODES and COMPLIANCE WITH DOCUMENTATION STANDARDS
Provides credentialing resources
Explore the Revenue Cycle
Evaluations and Re-Evaluations for Physical Therapy, Occupational Therapy and Speech Services. (Includes tools for changes in criteria.)
Orders
Plan of Care, Certification/Re-certification Rules Checklist
CPT Procedure codes used in Therapy and Rehab

Evaluations, re-evaluations, and assessments
Supervised modalities
Guidelines for billing therapy minutes
Constant attendance modalities
Therapeutic procedures, included changes in orthotic and prosthetic management and training and development of cognitive skills
Speech Pathology Services
Neuromuscular procedures
Debridement, application of strapping, splints, casts
Using HCPCS Level II codes for DME
Orthotics billed by hospitals and other providers
Lymphedema Service
Woundcare
Physical Performance Testing

Daily Session Note Checklist
Discharge Checklist
NCCI Edits
Modifiers
HCPCS II Procedure codes used in Therapy and Rehab
Functional Limitation Requirements G-codes for functional limitations and severity modifiers – required for outpatient   claims filed to Medicare
Place of Service Codes
DIAGNOSTIC CODING
New tools to prepare for ICD-10-CM – Bring your WI-FI enabled device
Discuss chapters that effect Therapy and Rehab
Laterality documentation requirements
FEDERAL REGULATIONS MEDICARE'S BILLING RULES and Special Payer News
Medicare Therapy Cap
Documentation to meet Medical Necessity in Therapy and Rehab
Understand changes with congressional changes and their impact on Therapy and Rehab
Understanding Value-Based Payment issues: (i.e. MACRA, MIPS and APM)
Explore resources pertaining to CMS MAC, RAC, ZIP, and CERT program guidelines
OIG audit focus on behavioral health services
Medicare's "incident to" guidelines, definition of "incident to" services vs payer supervision
Overview of Commercial Plans and Therapy Coverage
Common forms of health care fraud and abuse
COMPLIANCE
Components of an effective compliance plan
Understanding recent reports from CMS MAC, RAC, OIG, and GAO to reduce error rates in documentation
UNDERSTANDING THE REIMBURSEMENT PROCESS
Understanding the claim content 837p and 837i resources
Explore common revenue codes used with the 837i claims formats
Learn about the Medicare Learning Network
THE APPEAL PROCESS
Understanding reasons for denials
Systematic steps of responding to an appeal
Formats for appeal letters
2018 Coding and Billing for Therapy and Rehab by Sherry Marchand, CPMA