Description
 30 Days to a More Powerful Brain by Bruce Lewolt and Tony Alessandra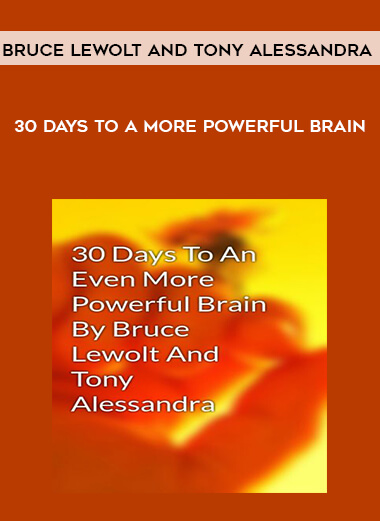 Salepage : Bruce Lewolt and Tony Alessandra – 30 Days to a More Powerful Brain
In the 30 Days to a More Powerful Brain, your hosts for these 12 sessions will be Bruce Lewolt and Dr. Tony Alessandra. Both are proponents for lifelong learning and have developed an online learning system that is unique in its ability to utilize new, up-to-date research in how the brain attains mastery of information. They have integrated this system into the series you are about to listen to, 30 Days to a More Powerful Brain, so you can reap the rewards from the listening experience and from the state-of-the-art online learning experience.
30 Days to a More Powerful Brain has practical real-life applications of the latest discoveries in science, psychology, and business. The material is formatted so you can learn quickly and apply it to any area of your life, no matter how old you are — in 30 days!
In this active, vigorous program you will learn:
* How Bruce's research has done away many popular learning myths and how you can uncover the truth to increase your learning capacity
* 7 specific things you can do to make your brain power stronger — immediately
* Influential ways to improve your memory
* The different states of sleep and how they either help or hinder the learning process
* "Understanding gaps" and how they change your ability to learn quickly
* How to rapidly step-up your ability to process new information
* What effect diet has on your brain
* 10 ways to encourage yourself toward greater learning
* How to apply new research on the dissimilarities between just learning and true Mastery to heighten your performance on the job, in school, and in every other area of your life!

30 Days to a More Powerful Brain by Bruce Lewolt and Tony Alessandra