Description
 Abiding in Mindfulness Volumes 1 – 3 by Joseph Goldstein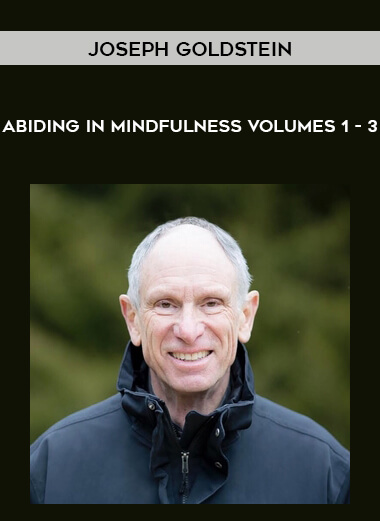 Salepage : Joseph Goldstein – Abiding in Mindfulness Volumes 1 – 3
Mindfulness As Taught by the Buddha
In the words of the Buddha, the four foundations of mindfulness (the four satipatthanas) are "the direct path for the purification of beings, for the surmounting of sorrow and lamentation, for the disappearance of dukkha (suffering) and discontent, for acquiring the true method, for the realization of Nibbana."
Within the quintessential discourse called the Satipatthana Sutta, we find the Buddha's seminal teachings on the practice of meditation. On Abiding in Mindfulness, Insight Meditation Society cofounder Joseph Goldstein presents a three-volume, 32-CD audio curriculum to reveal the deeper insights of this vital sutta, and how it serves to inform and guide your own daily practice.
In-Depth Study of the Four Foundations of Mindfulness
Volume 1 introduces you to the first satipatthana, the domain of the body, leading us to a clearer understanding of the elements and energies that make up our physical form. Volume 2 takes us to the second foundation, mindfulness of feelings, as we explore how to achieve deeper happiness and ease of being through moment–by–moment mindfulness of our feeling states. Volumes 2 and 3 illuminate the third foundation, known as mindfulness of mind. Then we conclude this landmark work with a thorough investigation of the fourth foundation, mindfulness of dhamma, or the "categories of phenomena" that we experience.
After four decades studying and practicing the Satipatthana Sutta, Joseph Goldstein concludes that the seeds of all the Buddha's teachings are contained within this revered text. Abiding in Mindfulness is an unprecedented audio series for anyone walking the Buddha's path to happiness and fulfillment.
Note: Professional continuing education (CE) credits available for US customers. Visit SoundsTrue.com/cecredits for more information.
Available individually:
Abiding in Mindfulness Volumes 1 – 3 by Joseph Goldstein