Description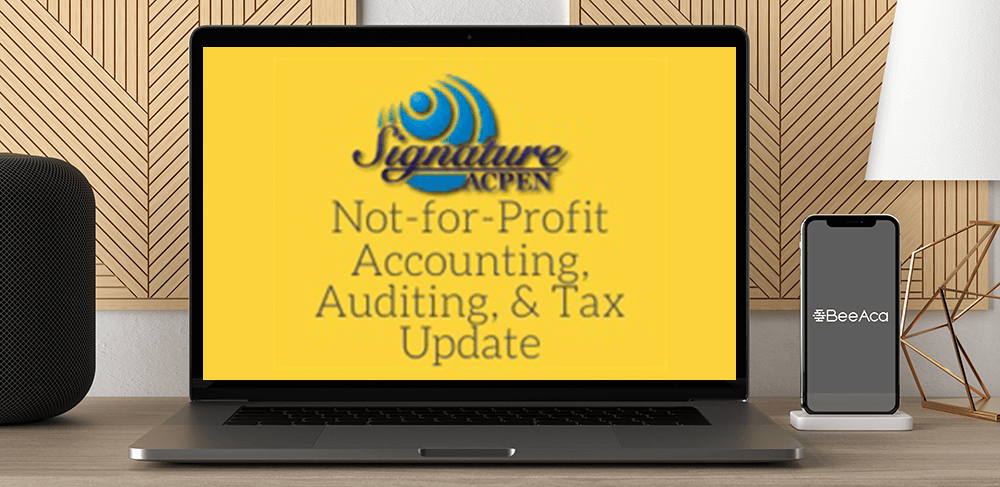 ACPEN Signature: 2021 Not-for-Profit Accounting, Auditing, & Tax Update
Salepage : ACPEN Signature: 2021 Not-for-Profit Accounting, Auditing, & Tax Update
Archive : ACPEN Signature: 2021 Not-for-Profit Accounting, Auditing, & Tax Update
Course Download Size :
The tax laws keep changing and nonprofit entities must continue to adjust to new rules. Fund raising may be helped by more generous temporary charitable deduction rules.  But the IRS attack on syndicated contribution easements continues.  The final Regulations on so-called "siloing" of unrelated business taxable income have been released and there are changes from the proposed regulations.  There are new final Regulations on filing requirements and disclosure of donor information. And there are new final Regulations under Code Section 4960, which imposes an excise tax of 21% on salaries exceeding $1 million paid to certain employees of nonprofit organizations. More changes before this program are likely.
ASU 2016-14, Presentation of Financial Statements of Not-for-Profit Entities, contains changes in reporting requirements that will significantly affect how nonprofits communicate with stakeholders. It is effective for fiscal years beginning after December 15, 2017.  This program will provide an update on some implementation questions that have been raised.
ASU 2018-08, Clarifying the Scope and the Accounting Guidance for Contributions Received and Contributions Made, impacts how Not-for-Profit Entities records grants and contributions.  It provides clarification on identifying conditions within grant and contribution agreements.  It is effective for fiscal years beginning after June 15, 2018 for public entities, and after December 15, 2018 for all other entities.  This program will provide an overview of the standard as well as review example transactions.
This program will also provide an overview of other recent standards issued and projects in progress that impact Not-for-Profit entities.
Basic Course Information
Learning Objectives
Understand current developments affecting nonprofits

Identify key ethical issues that may be encountered
Major Subjects
2020 Auditing Update

2020 Ethics Update

FASB Update

Tax Update
Clinton Davis, JR.

practices law in the Dallas, Texas law firm of Krage & Janvey, L.L.P.  He was licensed in Texas in 1982, has been Board Certified in Tax Law by the Texas Board of Legal Specialization since 1988 and is a member of the College of the State Bar of Texas.  He has also been licensed as a Certified Public Accountant in Texas since 1980 and as an attorney in Florida since 1980.  Mr. Davis attended law school at Southern Methodist University and received his Juris Doctor degree,

cum laude

, in 1980.  At SMU, Mr. Davis was selected to membership in the Order of the Coif, an honor society limited to graduates in the top 10% of the graduating class.  Mr. Davis received his bachelor of science degree in accounting from Northwestern State University of Louisiana where he graduated first in his class.  Mr. Davis is a frequent speaker at CPE programs and conferences.  He is the author of the TSCPA programs Principles of LLC and Partnership Taxation:  An Introduction to Subchapter K, Navigating the LLC and Partnership Allocation and Basis Minefield, and LLC and Partnership Taxation for the Sophisticated Practitioner. 
Jeffery D. Mechanick, CPA, M.B.A.
Related seminars and products:
7
Jeffrey D. Mechanick, CPA, M.B.A., is an assistant director at the Financial Accounting Standards Board (FASB), where he provides strategic and technical oversight of all activities involving nonpublic entities (private companies and not-for-profit organizations (NPOs)), chairs the FASB's Not-for-Profit Advisory Committee, and participates in some of the FASB's broader outreach activities. He has also been the lead staff person for the AICPA/FAF/NASBA Blue-Ribbon Panel on Standard Setting for Private Companies and the FASB/IASB Financial Crisis Advisory Group. Since joining the FASB in 2006, Mr. Mechanick has worked extensively on behalf of the not-for-profit sector and, more recently, the private company sector. Among his work, he has managed the FASB Staff Position (FSP) project on Not-for-Profit Endowments and UPMIFA (FSP FAS 117-1); been a core team member on the project on Mergers & Acquisitions by NPOs (Statement 164); and consulted on many other projects, including Fair Value Measurements (FAS 157) and Postretirement Benefit Obligations (FAS 158). He has also spoken at numerous conferences sponsored by the AICPA, the National Association of College and University Business Officers, the Healthcare Financial Management Association, many state CPA societies, and various other organizations.  Prior to joining the FASB, Mr. Mechanick spent a combined 20 years working in and with the not-for-profit sector, as the chief financial officer of Planned Parenthood Federation of America, Inc., and before that, as a senior audit manager with KPMG, LLP.  Mr. Mechanick earned a bachelor's of arts degree in biological sciences from The University of Chicago and an MBA in professional accounting from Rutgers – The State University of New Jersey. He is a member of the AICPA and the New York State Society of CPAs, and has served on the AICPA's NPO Expert Panel.
J. Michael Inzina, CPA, CGFM, CGMA
Related seminars and products:
12
Michael Inzina, CPA, CGFM, CGMA

is president and CEO of Audit Litigation Training and Efficiency Consulting, Inc. (ALTEC), a consulting company serving the accounting and auditing community in audit efficiency, training, ethics and litigation support.  He has over thirty-five years in public practice and is also a partner with the firm of Stagni & Company, LLC, concentrated in governments and nonprofit organizations.  Mike holds a BBA in accounting from the University of Louisiana (Monroe), where he graduated summa cum laude in May 1976.  He is a member of the American Institute of CPAs, the Society of Louisiana CPAs, the Association of Government Accountants and the GFOA, and earned the CEA in governmental in 1990.  He was awarded the Certified Government Financial Manager (CGFM) designation in 1996, and the Certified Global Management Accountant (CGMA) designation in 2012.  Mike is a past chapter president and member of the Society of Louisiana CPAs Board of Directors and served two terms as chairman of the Governmental Positive Enforcement Program of the Louisiana State Board of CPAs.  He has served on numerous committees of the Society of Louisiana CPAs, and presently is a member of its Ethics committee. Mike has twice served as a member of the AICPA Professional Ethics Executive Committee (1986-1989, and 2000-2003), and served as a member of the AICPA Auditing Standards Board from 1997 to 2000. From 1986 to 1993, he served as a member of AICPA Independence and Behavioral Standards Subcommittee, and was Subgroup Chairman of the Governmental Technical Standards Committee.  During this time he conducted numerous investigations of complaints filed by federal, state and local agencies alleging substandard performance of audits of governmental and nonprofit entities, and represented the Professional Ethics Division at hearings of the Joint Regional Trial Board. He contributed to the GASB Statement 34

Implementation Guide

, AICPA Statement of Position 98-3, the industry audit and accounting guide

Audits of State and Local Governmental Units

, the AICPA Practice Aid to SAS 99 (fraud) and assisted in revisions to the Louisiana Governmental Audit Guide and in drafting state legislation affecting governmental accounting and auditing requirements. He has served as technical consultant and instructor for the Louisiana Division of Administration (Office of Community Development), and as consultant to the Louisiana Department of Education.  Mike frequently appears as moderator and panelist on the

Accountants CPE Network

. He has been named twelve times as an Outstanding Discussion Leader by the American Institute of CPAs and the Louisiana, South Carolina and West Virginia state societies.  He received a Special Recognition Award from the Society of Louisiana CPAs Board of Directors for his contributions to continuing education in 1994, and was awarded the 2001 National Education and Training Award from the Association of Government Accountants.  In 2009, Mike was named national Beta Alpha Psi Business Information Professional of the Year.
Patty Mayer, CPA
Related seminars and products:
5
Tax Senior Manager
Moss Adams LLP, Albuquerque, NM
Patty Mayer, CPA, has practiced public accounting since 1984. She provides tax and related tax planning services with an emphasis on not-for-profit and tribal organizations as Director of Moss Adams, LLP, Exempt Organizations practice, in San Diego, CA. Patty works predominately with public charities, private foundations, and tribal organizations. She is a leader of Moss Adams' Southern California not-for-profit tax practice and a member of the firm's Not-for-Profit Tax Committee She also has considerable experience in tax compliance and consulting with a focus on large multi-national organizations and health care providers. She helps clients maintain their tax-exempt status by informing them of changes in the law that may affect their organizations and helping them manage unique situations. Pam is a highly rated, frequent speaker on tax-exempt issues. Pam is an integral part of the training programs both internally and externally. She continues to share her knowledge through seminars, teleconferences, webcasts, and roundtable trainings.
Stacy M. Arruda
Related seminars and products:
2
Stacy M. Arruda directs the FL-ISAO's mission to enable cybersecurity resilience for the State of Florida by accelerating public- and private-sector cyber threat intelligence and defensive measures information sharing and coordinated response. Stacy has over 20  years of experience in Cyber and Counterintelligence, and is a subject-matter expert on the link between Social Media and data breaches. She recently retired from a 22-year career with the FBI in the field and FBI Headquarters. She is credited with drafting the FBI's electronic attack in the International arena and boosting the FBI's computer crime and cybersecurity investigative capabilities.  
ACPEN Signature: 2021 Not-for-Profit Accounting, Auditing, & Tax Update