Description
[Audio and Video] EP17 Speech 05 – Female Friendship – Marilyn Yalom, PhD
Salepage : [Audio and Video] EP17 Speech 05 – Female Friendship – Marilyn Yalom, PhD
Archive : [Audio and Video] EP17 Speech 05 – Female Friendship – Marilyn Yalom, PhD
Course Download Size :
Topic Areas:

Speech |  Gender

Bundles:

EP17 Video Stream Build a Bundle

Category:

Evolution of Psychotherapy |  Evolution of Psychotherapy 2017 |  Online Continuing Education

Faculty:

Marilyn Yalom, PhD

Course Levels:

Master Degree or Higher in Health-Related Field

Duration:

1:00:05

Format:

Audio and Video

Original Program Date :

Dec 15, 2017
Description
Description:
The prominence of women as friends would have surprised people living in the distant past and would still surprise people in certain parts of the world, where only male friendship is prized. Yet, if you ask Americans today whether men or women have more friends, the answer is likely to be women. I shall examine the ingredients that seem basic to women's friendships and suggest ways in which friendships between women (and between women and men) may be the saving grace in our present lives. I shall also examine the concept of friendship more generally as it has been understood in the western tradition since Aristotle. What are the benefits of friendship? Is it possible to live well without friends? What can women learn from male friendships and men learn from female friendships?
Educational Objectives:
Discuss female friendships from a historical perspective.
Examine the importance of friendship in mental health.
Discuss what men can learn from female friendships and what women can learn from male friendships.
*Sessions may be edited for content and to preserve confidentiality*
Credits
A.P.A.
1 credits available.
The Milton H. Erickson Foundation, Inc. is approved by the American Psychological Association to sponsor continuing education for psychologists. The Milton H. Erickson Foundation, Inc. maintains responsibility for this program and its content.
THE MILTON H. ERICKSON FOUNDATION Policy on Disclosure
The Milton H. Erickson Foundation is proud of the conferences and other
educational opportunities it sponsors, taking care that the conduct of
these activities conforms to the standards and principles of behavioral
and medical sciences, thus ensuring balance, independence, objectivity
and scientific rigor in all individually sponsored or jointly sponsored educational
activities.
All faculty members participating in a sponsored activity, and those who
review and therefore are in control of content, are requested to disclose
any relevant financial relationship prior to the CME activity, including but
not limited to specific commercial interests, financial remuneration received
by faculty member or spouse, and what role or activity was performed
for this remuneration. If a conflict of interest exists as a result of
a financial relationship it will be resolved prior to the activity. A faculty
member will not be allowed to present if the conflict is not or cannot be
resolved.​
Faculty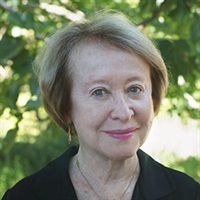 Marilyn Yalom, PhD Related seminars and products:

6
Marilyn Yalom is senior scholar at the Clayman Institute for Gender Research at Stanford University. She received her Ph.D. in comparative literature from John Hopkins and was Professor of French at the California State University at Hayward, before assuming research and administrative roles at Stanford. Her books include Blood Sisters. The French Revolution in Women's Memory (Basic Books, 1993), A History of the Breast (Knopf, 1991), A History of the Wife (Harper Collins, 2001), Birth of the Chess Queen (Harper Collins, 2004), The American Resting Place with photos by Reid Yalom (Houghton Mifflin, 2008), How the French Invented Love (Harper Collins, 2012), The Social Sex with Theresa Brown (Harper Collins, 2015) and The Amorous Heart: An Unconventional History of Love (Basic Books, forthcoming January 2018). She lives in Palo Alto with her husband, the psychiatrist and author Irvin Yalom.
[Audio and Video] EP17 Speech 05 – Female Friendship – Marilyn Yalom, PhD