Description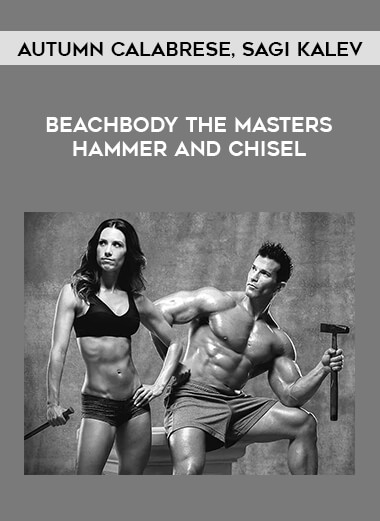 Autumn Calabrese, Sagi Kalev – Beachbody The Masters Hammer and Chisel
Salepage : Autumn Calabrese, Sagi Kalev – Beachbody The Masters Hammer and Chisel
Archive : Autumn Calabrese, Sagi Kalev – Beachbody The Masters Hammer and Chisel
Course Download Size :
Master's Hammer and Chisel Sculpt your ultimate physique in 60 daysFor the very first time,
trainers Sagi Kalev and Autumn Calabrese have teamed up to create an
expert program designed to help you craft a powerful, perfectly defined
body. The Master's Hammer and Chisel is an innovative resistance-
training system that incorporates three muscle-sculpting
phases—Stabilization, Strength, and Power—or SSP Training. This is how
Sagi and Autumn help you efficiently build, chisel, and refine a
masterpiece physique in just 60 days. About your TrainersCo-creators
Sagi Kalev and Autumn Calabrese are experts when it comes to incredible
physical transformations. Sagi has been crowned Mr. Israel twice—and is
a Master Professional Personal Trainer, IFBB Pro, member of the IFBB
Propta Hall of Fame, Certified Nutrition Specialist, and Functional
Diagnostic Nutritionist. Autumn Calabrese is a celebrity trainer, best
selling author, and working mom who has held certifications from the
National Academy of Sports Medicine (NASM) and the American Fitness
Professionals & Associates (AFPA), and has competed at the national
level in various bikini competitions. 14 Hardcore Workouts on 6 DVDsHammer Plyometrics -This jump training workout will use your entire body to create force, speed, and power.ISO Speed Hammer – A tempo training workout that uses speed and isometric holds to create strength and grow muscle.Total Body Hammer – A hypertrophy workout focused on pyramid-style sets to maximize strength and muscle growth.Max
Hammer Strength – Start with a pre-fatigued muscle, finish with a
maximum lift. Increase strength, power, and muscular development.Hammer Power – This intense powerlifting-inspired workout will increase speed, reactive strength, and power.Hammer Conditioning – A workout based on compound movements that will improve stability, coordination, and strength.Chisel Balance – A total-body workout creating stabilization, muscular endurance, and core strength.ISO Strength Chisel – An intense resistance workout using isometric holds and flexibility to increase strength.Chisel Endurance – Increase muscular endurance and strength in this time-under-tension workout.Chisel
Cardio- This cardiovascular resistance routine will increase heart
rate, circulation, and burn an intense amount of calories.Chisel
Agility – A challenging cardio workout that will help you move quickly,
improve coordination, and create greater stabilization.Total Body Chisel – This full-body resistance workout focuses on creating lean muscle and strength.10 Min AB Hammer Workout – This intense powerlifting-inspired workout will increase speed, reactive strength, and power.
Autumn Calabrese, Sagi Kalev – Beachbody The Masters Hammer and Chisel