Description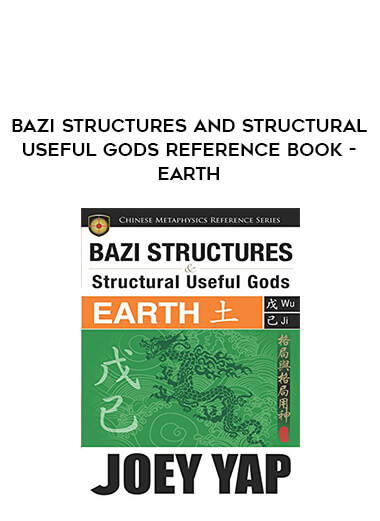 BaZi Structures and Structural Useful Gods Reference Book – Earth
Salepage : BaZi Structures and Structural Useful Gods Reference Book – Earth
Archive : BaZi Structures and Structural Useful Gods Reference Book – Earth
Course Download Size :
The study of BaZi (Chinese Astrology) is a sophisticated and multi-faceted exploration into how the simplest information – a person's birth date and time – can reveal a wealth of knowledge about that particular person's character, temperament, behavioural attributes, and luck outcome and fortune.
The BaZi Structures and Structural Useful Gods Reference Book series is designed to supplement the studies and practice of BaZi students and practitioners in helping them understand how BaZi structures are devised, and how to analyse and interpret these structures.
The information in this series is based on classical methods and techniques that are derived from traditional Chinese BaZi texts and material. It presents the transliterated version of these traditional texts for the modern, English-speaking practitioner and student without losing the essence of the original.
This book in the BaZi Structures series focuses on Earth Structures, divided into the 2 types of Earth Day Masters, Wu and Ji Earth. The chapters are divided into how both Wu and Ji Earth Structures function respectively in all 12 months in a year.
This book on Earth Structures serves as a functional and helpful reference guide and includes:
* The attributes of Wu and Ji Earth respectively in each of the 12 months
* The Regulating Useful God Reference Guide for each of the 12 months
* Detailed classical commentary on the factors affecting the overall strength of the Day Master in the different months
* Additional attributes that may affect the Day Master depending on different Structures and Useful Gods
* A summary for each month for Wu and Ji Day Masters respectively.
This BaZi Structures and Structural Useful Gods Reference – Earth Structures book will yield many hours of pleasurable study and reference for masters, teachers, practitioners, and students of higher level BaZi.
BaZi Structures and Structural Useful Gods Reference Book – Earth