Description
Body By Rings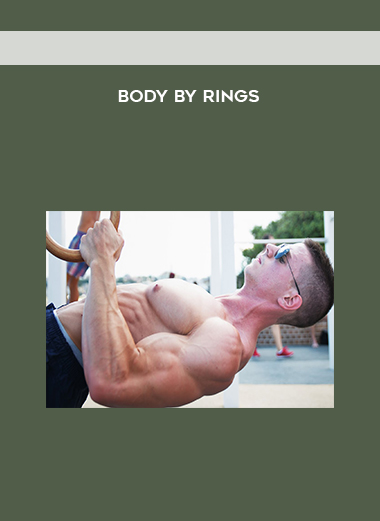 Salepage : Body By Rings
BODY BY RINGS
Transform your physique: build muscle, build strength, build your dream body!
The world's #1 online Calisthenics program to build muscle by Bodyweight Training
Transform your physique
​Build Muscle
​Build Strength
​Expert Coaching
​Work smarter (not harder)
​No weights
BUY NOW – LIFETIME ACCESS $95 USD
Taught by Daniel Vadnal: Calisthenics Expert, Physiotherapist, Youtube Influencer, & FitnessFAQs founder. 
Body By Rings is a PROVEN Calisthenics training system that has transformed thousands of people's physiques!
"Gained a ton of muscle and strength with BBR. Authentic, genuine and scientific training facts are the foundation of this program."  – Jan
"After the first week I started noticing results. Now I can move my body easier and have developed muscles that were lacking before."  – Seth
By Completing Body By Rings You Will…
Transform your physique ​
​Build Muscle
​Get Stronger
Lose Fat
Look Leaner
Get Expert coaching for long-term progress
Master perfect technique and avoid costly injuries
​Have a clear system to follow for results
Work smarter (not harder) with a science based program
Learn the small details that make a massive difference
More progress in less time!
Who is this Program For?
Can you do at least 5 Pull Ups, 5 Dips & 10 Push Ups?
​Want to Build Muscle without weights?
​Want to Train anywhere, anytime?
If Yes, Body By Rings is for you!
Gymnastics rings are perfect for all levels, beginner to advanced.
Simply follow the video tutorials to find out the perfect exercises for your strength level.
Master the Calisthenics Basics
Develop a Lean, Strong Physique
Train Smarter, More Results, Less time.
MEET YOUR COACH
I'm Daniel Vadnal, the founder of FitnessFAQs, the industry leader in Calisthenics & Bodyweight Training.
Our mission is to empower you with the knowledge to Transform Your Body.  
QUALIFICATIONS
​​Masters of Physiotherapy (USyd)
​​Bachelor of Exercise Science (ACU)
​​10+ Years Calisthenics Teaching Experience
​3+ Years Teaching International Workshops
​4 Top Selling Calisthenics Training Programs
​​Industry Leading Youtube Channel with over 900,000 subscribers
​Thousands of lives changed
Body By Rings combines the latest training science and perfect exercise technique for fast, safe results.
People often think they can't build a lean, muscular physique using only bodyweight exercises.
They are wrong. 
With the correct calisthenics exercises and following a science based training program, the body has no choice but to grow!
Body By Rings is the result of over a decade of experience, research, education, trial & error.
It incorporates everything I have learnt to build serious muscle & strength without weights.
I provide you with the exact formula to follow so you can transform your body, and have fun whilst doing it.
The knowledge and results will be yours for life.
Why continue to be unhappy with your body?
The results will be addictive – never shy away from taking your top off ever again.
How does Body By Rings work?
The entire training program is available the moment registration is complete. The program is hosted online so that you can train anywhere, anytime!
01 
Train at Your Own Pace
Body By Rings includes over 18 weeks of training. We teach you how to modify each exercise to suit ALL strength levels, beginner-advanced.
02
Full Video Library and Exercise Guide
The training portal contains over 40 HD exercise demonstrations, coaching you through all the exercises with perfect form to maximize muscle gain.
03
Mobile and Tablet Friendly
The Body By Rings system has been optimized for all devices including mobile and tablet, making it your perfect companion when you want to train your upper body on-the-go.
04
Review and Revisit as Much as You Like
Once you've purchased Body By Rings, the course will be permanently available for you to access, including any future updates.
The Video Portal
The portal consists of six sections, covering over 40 exercise demonstrations.
Each section is designed for you to build mass with body weight.
01 | Warmup & Stretches 
Prepare the body before your workout to minimise injury risk and maximise training performance. Ring stretches shown to increase flexibility.
02 | Pull Exercises
Learn how to target the back and biceps from a variety of angles. Over 15 unique muscle building exercises taught.
03 | Push Exercises 
Use the rings to sculpt a bigger chest, triceps and shoulders. The instability created by the rings is effective for growing these stubborn muscles. Over 13 variations taught!
04 | Bonus Videos and Training Log Pack
Learn the important principles for maximising long term muscle growth. Spreadsheets for tracking training are also provided – "What gets measured gets managed."
The Written Guide
The Body By Rings written guide explains the most important information for building muscle:
01 | Select the perfect exercises for all levels (Beginner-Advanced)
02 | How to overcome muscle and strength plateaus.
03 | Train smarter, not harder with deloads.
04 | The best training methods for building muscle by bodyweight.
05 | Sustainable physique transformation with easy tracking methods.
& MUCH MUCH MORE!
BUY NOW – INSTANT ACCESS $95 USD
Customer Testimonials
Frequently Asked Questions
What level of strength is needed?
The main advantage of gymnastic rings is adaptability. You will be taught how to adjust intensity for all exercises in the program. This means the difficulty of each workout can be customised to suit YOUR level. Regardless if you are a beginner or someone who has been training for years!
Minimum requirements:
5 bar pullups
5  parallel bar dips
10 floor pushups
My main goal is to get skills such as planches and levers, is this program for me?
Body By Rings does not cover skills or static exercises. We recommend following a workout designed specifically for skills. FitnessFAQs has a specialised program called Planche Pro to help you master the straddle.
Is nutrition covered?
Principles underpinning nutrition for hypertrophy purposes are briefly mentioned. A diet plan is not provided with Body By Rings.
Are bodyweight leg workouts included?
No. Providing lower body exercises with gymnastics rings would be a gimmick, we're not about that. Our Limitless Legs program will help you get big legs with bodyweight exercises.
How many workouts per week? How long do they take?
You will complete 4 sessions per week of upper body training. A typical workout will last between 1 – 1.5 hours.
Is stretching covered?
Yes. A dynamic warmup for the purposes of priming the body for training is included. A shoulder mobility sequence is shown using resistance bands to facilitate scapula movement, allowing greater training output.
Loaded stretching for the upper body is also covered.
Are rings included with the program?
No. Gymnastics rings are not included with the training series, you will have to purchase them separately.
The knowledge and results are yours for life.
Body By Rings