Description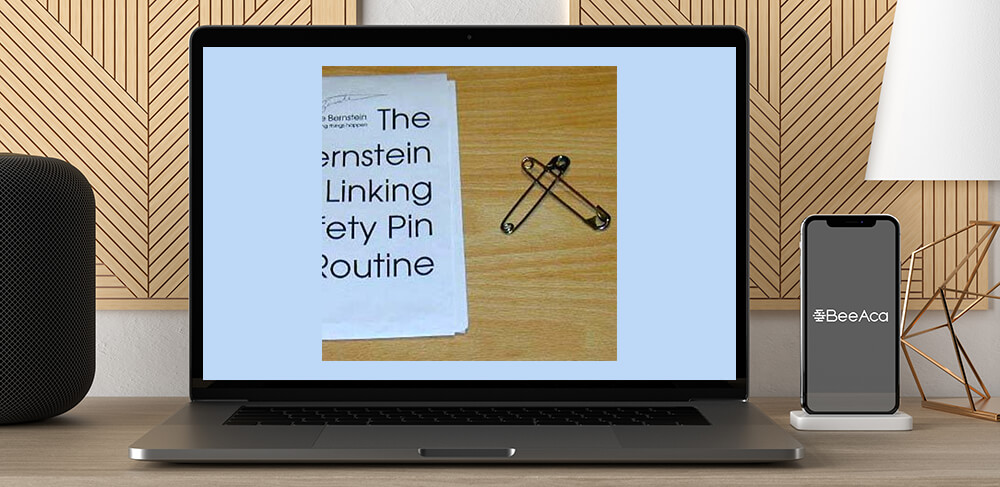 Bruce Bernstein – Linking Pin Routine – RIP
Salepage : Bruce Bernstein – Linking Pin Routine – RIP
Archive : Bruce Bernstein – Linking Pin Routine – RIP
Course Download Size : 137.47 MB
137.47 MB
The Linking Pin Routine by Bruce Bernstein
Honed to perfection over nearly three decades, the Bernstein Linking Pin Routine is as sharp and mystifying an effect as you will ever see.
The magician links two large safety pins together, fairly and plainly. On his command, the pins visibly and slowly melt apart. The unlinking of the pins actually looks like trick photography. The effect is repeated – the pins unlink again – and the illusion looks just as baffling as it did the first time.
The pins are then caused to magically link together in a seemingly impossible manner. One moment the two are separate, and the next, they are linked.
Finally, an ungimmicked finger ring is legitimately locked onto one of the pins. Despite the fairness of the proceedings, the ring melts off of the pin it was locked on. At the same moment the two pins link together, in full view, inches from the spectators.
At the conclusion of the routine, everything can be examined. There's nothing to find!
The Bernstein Linking Pin Routine requires no specially manufactured gaffs and no complicated sleight-of-hand. Nothing is switched in or out. All that's required are the two pins and a finger ring. There are no external gimmicks. It's ready any time
Curriculum
Author
Bruce Bernstein has spent over three decades creating, refining and developing some of the most devious feats of mentalism known to man. He's become a trusted, go-to source for many of the greatest mind readers of the last twenty years. He's collected an enviable list of endorsements from nearly every great magician and thought reader of the last thirty years. And now he's gathered together years of thought-provoking, engaging writing into a comprehensive hardbound collection that showcases his work in the finest possible light.
Bruce Bernstein – Linking Pin Routine – RIP