Description
Cognitive Therapy: Interventions for Dementia – Memory & More by Jerry Hoepner , Maxwell Perkins & Peter R. Johnson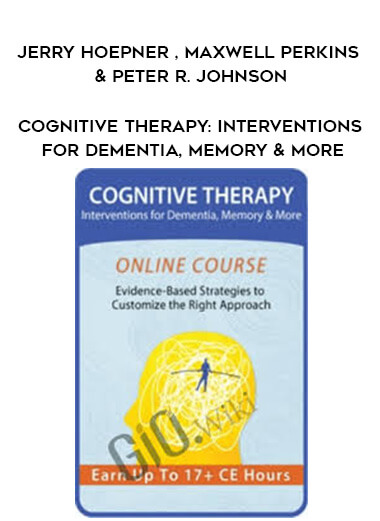 Salepage : Cognitive Therapy: Interventions for Dementia, Memory & More – Jerry Hoepner , Maxwell Perkins & Peter R. Johnson
Cognitive impairments are becoming more and more complicated to treat due to complex, multi-faceted cognitive deficits… And you often only have 1 hour each day at best, to fully understand your patient's cognition and devise a plan to improve their deterioration. Plus, keeping up with the ever-changing evidence on assessment and interventions is daunting — your previous training programs may already be obsolete.
With our new online course, Cognitive Therapy, you will learn how to prioritize treatment sessions to focus on functional deficits caused by memory and cognitive changes such as inattention, executive dysfunction, depression and more. Gain a clear understanding of your patient's behavioral characteristics, how to organize their diagnosis into a manageable program, and establish realistic goals to guide their therapy effectively. Walk away with an array of therapeutic approaches that you can implement immediately!
Become better equipped to provide the best care with practical and useful techniques such as:
Cognitive-Linguistic Assessment Tools
Executive Function Strategies
System Models of Memory & Their Relationship to Dementia
iPad® Applications for Cognitive Therapy
Exercise Programs and Non-Medication Approaches
Caregiver Training Ideas
And so much more!
Broaden your understanding and evidence-based interventions with Cognitive Therapy to help you find the right approach for each patient's individual needs — Get started today!
Discover therapeutic approaches specific to your patients' needs…
Module 1:
Cognitive Rehabilitation: Therapeutic Strategies for Effective Intervention
In Module 1, we will revisit applications of anatomy and physiology to everyday practice, affirm relevance of current-effective clinical practices, and adapt new practices supported by contemporary evidence. Drawing on over 15 years of clinical experience and more than 10 years of teaching, Jerry Hoepner, PhD, CCC-SLP, will teach you how to systematically understand the anatomy of each component of the cognitive-communication system and move quickly into specific management techniques for intervention. Walk away with a concrete understanding to:
Connect behavioral manifestations with specific cognitive and/or linguistic disorders.
Characterize the attributes of executive functions and explain their connection to other cognitive processes.
Formulate functional short-term and long-term patient goals for the remediation of cognitive-linguistic impairments.
Integrate the appropriate therapy tasks, exercises and games in patient treatment programs.
And so much more…
Module 2:
Cognitive Therapy for Dementia: Effective Evaluation & Therapeutic Interventions
Module 2 focuses on the variables associated with learning for cognitively impaired patients. You will learn the characteristics of dementia for effective differentiation as well as how to accurately stage your patients. Additionally, you will discover how to fully comply with the recent Medicare policies and how these changes will impact treatment for your patients. You will uncover:
Differences between cortical and sub-cortical dementias.
Forms of memory and the dementia diagnosis associated with each form.
iPad® applications for cognitive therapy.
Long-term and short-term goals for your cognitive therapy patients specific to their needs.
And so much more…
Module 3:
Rehabilitation to Support Memory and Cognitive Decline: Effective Interventions for Managing the Aging Brain
With Module 3, you will learn the effect of aging on memory and cognition to provide the most effective therapy intervention possible. Gain more knowledge of the age spectrum related to memory/cognitive decline from normal memory loss to Mild Cognitive Impairment (MCI) to end stage Alzheimer's and the behavioral characteristics of each. We will also explore the effects of memory/cognitive decline on executive function. Gain more insight to:
Explore the advantages and disadvantages of the three most commonly used cognitive assessments.
Implement effective evaluation and treatment interventions in the management of memory/cognition decline.
Recognize medical conditions/comorbidities that impact cognitive/memory function.
Communicate the most up to-date evidence based resource information for patient/family education.
And so much more…
Cognitive Therapy: Interventions for Dementia – Memory & More by Jerry Hoepner , Maxwell Perkins & Peter R. Johnson