Description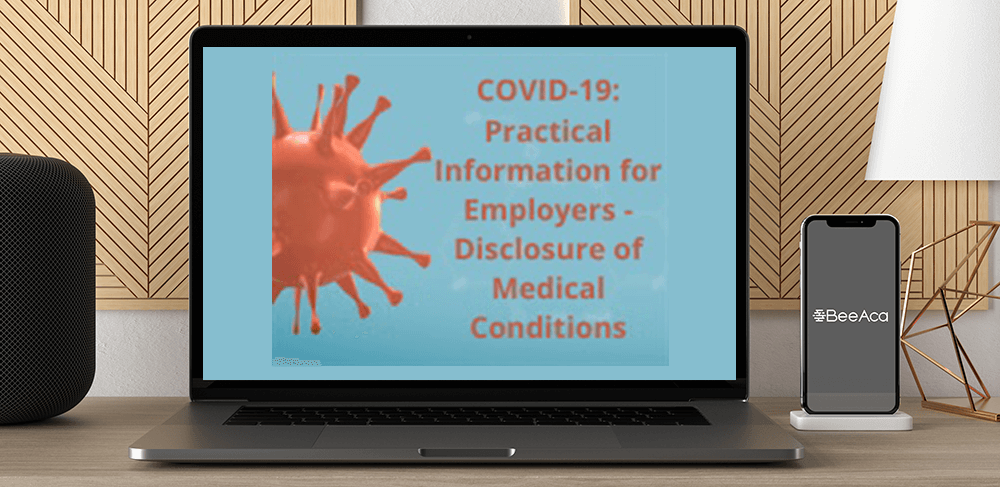 COVID-19: Practical Information for Employers – Disclosure of Medical Conditions
Salepage : COVID-19: Practical Information for Employers – Disclosure of Medical Conditions
Archive : COVID-19: Practical Information for Employers – Disclosure of Medical Conditions
Course Download Size :
Employers must have well-developed policies, procedures and practices to ensure a safe workplace for all employees and visitors regarding potentially contagious bacterial or viral infections (COVID-19, Influenza, etc.).  This program will provide practical employee relations strategies, tactics  and scripts towards maintaining a safe working environment.
Basic Course Information
Learning Objectives
Handle an employee's disclosure of a potentially contagious infection

Establish health safety policy, procedures and practices

Prevent workplace disruptions over potentially contagious infections
Major Subjects
How to Respond to Off-Site and  On-Site Disclosures of Infection

Maintaining Confidentiality Requirements

Protecting Others from Exposure

Safeguarding Medical Information

Setting Health Safety Measures

Employee Communication Script
Michael J. Mirarchi is recognized as a leading expert in employment-related lawsuit prevention. As an Employee Relations Counselor, he is dedicated to helping employers stay litigation-free. Drawing from over 30 years of experience in employment and labor law, as an employer defense attorney and as a Human Resources Vice President, he developed a unique litigation-avoidance program. Through it, participants acquire significantly increased practical knowledge and a higher level of confidence in addressing employee relations issues than they have ever had before. He has presented his "Reset the Clock" program over 1,200 times to more than 30,000 leaders at employer facilities across North America. Mr. Mirarchi believes that the vast majority of leaders want to exercise their abilities with fairness, integrity and professionalism. Nevertheless, if you lead people long enough, there are plenty of opportunities to run into potential liability situations. In these situations, leaders who know what to do and how to do it have a tremendous advantage over those who don't, in avoiding lawsuits. He has presented the HR Professional version of this program for SHRM Chapters across the country, annually for Dallas HR. In 2013, Mike was recognized as the first inductee into the HRSouthwest Conference Speaker Hall of Fame. Over the last 25 years, he has consistently been one of the highest-rated speakers, excelling in content, professionalism and delivery. In conjunction with various employer, industry and professional associations, he has conducted live TV broadcasts, webinars and on-line employee relations programs, in addition to presenting at their regional and national conferences. Mr. Mirarchi has a B.S. in Business Administration and a Law Degree from Seton Hall University.
COVID-19: Practical Information for Employers – Disclosure of Medical Conditions