Description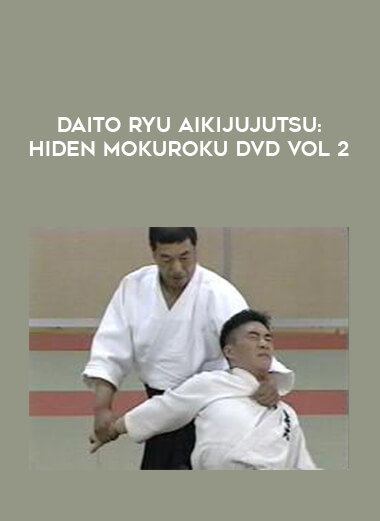 Daito Ryu Aikijujutsu: Hiden Mokuroku DVD Vol 2
Salepage : Daito Ryu Aikijujutsu: Hiden Mokuroku DVD Vol 2
Archive : Daito Ryu Aikijujutsu: Hiden Mokuroku DVD Vol 2
Course Download Size :
This 3 part series covers all 118 techniques of the Hiden Mokuroku. Part 2 includes Sankajo.
The following techniques are demonstrated in this video:
Sankajo
Idori techniques
Tsuriotoshi
Temakura
Sotogote
Makizume
Kobushigaeshi
Kakaekujiki
Karamizume
Kiriha
Utiudegaeshi
Gassyoudori
Hanzahandachi techniques
Makizume
Hijikujiki
Katahagaeshi
Ashijime
Wakikujiki
Tachiai techniques
Tsuriotoshi
Sotogote
Makizume
Wakizume
Gansekiotoshi
Kubiwa
Uchiudegaeshi
Shichiribiki
Ipponkatsugi
Shihonage
Ushirodori techniques
Makizumeotoshi
Udegaeshi
Wakigarami
Kiriha
Kataudenage
Language: Japanese with English subtitles
Run Time: 60 min.
Daito Ryu Aikijujutsu: Hiden Mokuroku DVD Vol 2