Description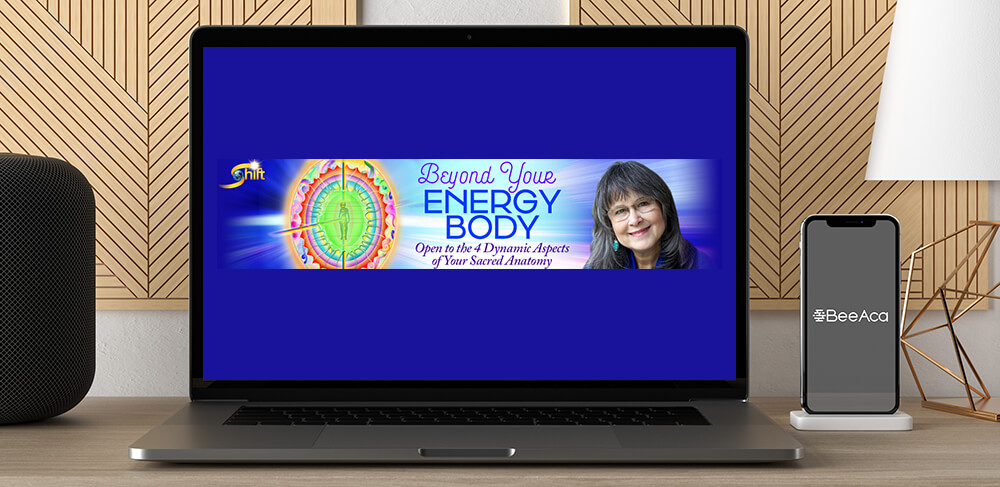 Desda Zuckerman – Beyond Your Energy Body
Salepage : Desda Zuckerman – Beyond Your Energy Body
Archive : Desda Zuckerman – Beyond Your Energy Body
Course Download Size :
What You'll Discover in These 7 Modules
In this 7-part transformational training, Desda Zuckerman will guide you through the fundamental spiritual skills and competencies you'll need to ignite a relationship with your Sacred Anatomy and partner with the Four Aspects of your soul.
This course will feature video teachings, training sessions, and experiential practices with Desda. Each session will build harmoniously upon the previous ones so you'll develop a complete holistic understanding of the practices, tools, and principles you'll need in order to open to a radical new understanding of your energy fields.
Module 1: Coming Home to YOU Across Your Rainbow Bridge
In this module, you'll build a mystical bridge between reason and the unseen world and invite the sacred into your physical reality — shifting your relationship with who you fundamentally are.
Over the coming weeks, you'll go deeper into the mystery of your Sacred Anatomy and experience the thrill of developing your inner connections to the Four Aspects of Your Authentic (Soul) Self.
In this paradigm-shifting class, you'll:
Ignite a relationship with your Sacred Anatomy, based on sensing the subtle self
Understand the basic foundations of your Sacred Anatomy
Journey back to the beginning of time and space — over the Rainbow Bridge to the cosmology of the human energy structure
Cultivate a spacious spiritual practice that's as easy as breathing, and create an anchor point in your home
Receive an ethical affirmation charged with the frequency of the Rainbow Bridge
Begin a 4 Aspects journal in which you'll record your experience and progress
Module 2: Meeting Your Personal Board of Directors
The 4 Aspects of Your (Mythic & Authentic) Soul Self
It's time to engage with your Sacred Anatomy — beginning with understanding the relationship between your physical egoic self and your subtle soul self. Even if you already regularly communicate with your Higher Self, this class will open you to a deeper, more expansive relationship.
You'll meet and connect with your Four Aspects, the "primordial authors" of your soul's purpose. Because they're filled with insight and knowledge about who you are, they hold your deepest truth, which they will slowly reveal to you.
In this fascinating class, you'll:
Meet the 4 Aspects within your Sacred Anatomy — the authors of your soul's ancient purpose
Find out more about the basic structure of your Sacred Anatomy — including individuation, the core, the channel, the sheaths, and the triple-current stream
Experience a guided practiced called "Sensing the Fountainhead," the seat of the individuation of your soul
Discover where you originally split off from the Divine — and continue to split off — and how you can begin to reunite with your original divine light
Develop a relationship with the Four Aspects of your Sacred Anatomy and gain a better understanding of who you really are!
Become a director and guide in your own life
Module 3: Manifesting Your Ground of Being
Anchoring Your Life With the Physical Aspect
Understanding your Sacred Anatomy will enable you to consciously anchor your relationship between the Physical Aspect of your Authentic Self and your biological reality. You'll be empowered to tap into your Physical Aspect for rejuvenation and direction.
You'll also come to understand the aura and human electromagnetic field as a subtle system that curates and cultivates your personal chi — and the implications of this more expansive perspective of the energy body.
In this mind-blowing class, you'll:
Discover how individuation fuels the soul layer, the 4 aspects, and your entire energetic structure
See how the soul layer works to bring energy into your life
Learn about the 3 currents of the soul layer — function, purpose, and wisdom
Anchor your material life within your sacred and subtle Physical Aspect
Transform your relationship to your physical body and the way you bring vitality into your everyday life
Establish dominion over function (the purpose of the Physical Aspect) and your daily life in a physical body
Begin to make peace with aging and dying
Module 4: Mapping the Heart of Your Inner Landscape
The Wisdom of Your Emotional Aspect
Are you ready to own the full emotional breadth and depth of life as a divine blessing?
You'll explore the relevant subtle anatomy and tools for anchoring your emotional expression between the subtle Emotional Aspect and the material, relational, egoic self. In this class, you'll take possession of your emotional life as a transcendent map to your inner landscape.
In this heart-opening class, you'll:
Explore your relationship with your passionate Emotional Aspect, which motivates and inspires your most sacred journey
Receive relevant subtle anatomy practices and tools for aligning with your Emotional Aspect for healing and guidance
Discover how to read the emotional barometer of your heart, and enlist support from your Emotional Aspect to resolve difficult emotions
Experience more dominion and emotional balance in your inner landscape
Experience "Sensing the Channel," and locate the seat of the Witness at the very center of your Sacred Anatomy
Module 5: Before Creation
Touching Your Co-creative Brilliance
Imagine experiencing the spacious moment before Creation…
In this class, Desda will guide you to stimulate the original creative principle within your Sacred Anatomy. You'll take ownership of the relevant anatomy and tools for anchoring your mental brilliance between the Psychological Aspect and the analyzing, mental, egoic self.
This module is about learning to be present and think from a more expansive, aware, and awakened space. Effectively, you'll enter your "Greater Mind," through the location on your Sacred Anatomy that allows you to touch your own genius and find inspired solutions for life's problems.
In this brilliant class, you'll:
Discover the Psychological Aspect, which is the impetus that can help you shift every area of your energetic structure
Experience the seat of the Greater Mind within your Sacred Anatomy through a powerful exercise
Open your mind to the wisdom of your Sacred Anatomy, allowing you to take possession of the brilliance you're capable of in your daily life
Receive "Before Creation," a powerful meditation for opening you to the absolute brilliance of the Psychological Aspect
Discover tools to use in partnership with your Psychological Aspect that will teach you about who you truly are and what you're capable of achieving
Module 6: Igniting Your Spiritual Fire
Occupy Your Spiritual Aspect
It's time to ignite your most potent spiritual fire! In this module, you'll tap into the Wisdom Current of your Spiritual Aspect. Working within your Sacred Anatomy and using relevant tools, you'll anchor your mental brilliance between this aspect and the small ego self. This class will connect you with the subtle "nervous system" of your Sacred Anatomy — and guide you to telegraph into it with intention.
In this wisdom-filled class, you'll:
Receive powerhouse tools for cultivating your soul's purpose
Discover your Core — the part of you that can never be damaged, and which is a centerpiece of the Sacred Anatomy teachings
Experience how you can embody the pure expression of Source… the spiritual work of every human being
Receive a Spiritual Aspect meditation to empower you to exert dominion over the great Wisdom Current
Unlock the repository of all ancient myth and legend, fact, and story as whispered in your ear by the Divine Source
Uncover your hidden talents and strengths as you step into the land of the free and unconquered spirit within you
Experience the liberation that happens when you rekindle your spiritual wisdom and strength
Module 7: Your 4 Aspects Mojo
Living Your Full-on Life
In this last class, you'll integrate the foundational meta concept of Sacred Anatomy and fully unleash the hidden mojo of the Four Aspects!
You'll emerge knowing which meditations and practices you can incorporate into your daily life, and how to practice a relationship with the combined divine voices and guidance of your new friends and partners — the physical, emotional, psychological, and spiritual aspects.
Building on previous practices, Desda will help you lay the groundwork for ongoing Sacred Anatomy consciousness so you can continue deepening your connection to your Inner Board of Directors and your powerful, brilliant energy body.
In this mojo-filled class, you'll:
Revisit the foundational meta concept of your Sacred Anatomy
Expand your active potential and open doors that have been closed to you for years
Experience "The Mojo Meeting," an interactive meditation in which you'll call on the guidance of the 4 Aspects
Practice embodying presence, feeling into your 4 Aspects mojo of being-ness — the more you are present with your body, the more you are present with your soul
Flip the switch to fully release the passion of your soul's purpose into your daily reality
The Beyond Your Energy Body Bonus Collection
In addition to this transformative 7-module virtual course on your Sacred Anatomy, you'll receive these powerful bonuses. These bonus materials complement the course and promise to take your understanding and practice to an even deeper level.
Insights Meditation Journal
PDF Teaching From Desda Zuckerman
We must all be in the game as conscious participants to make a difference. Please enjoy this meditation journal as a personal companion to spur reflection, record your insights, and explore how to enhance your journey to truly make a difference in the world.
Correct & Ethical Way to Benefit From Affirmations
Video Teaching From Desda Zuckerman
Believe it or not, there's a specific way to optimize your use of affirmations. It's not enough to affirm something and feel it. You must clear your mind, set your intentions, open your heart and stay grounded in your body. In this video, you'll be given easy steps for creating foolproof affirmations.
Importance of a Spiritual Practice
Video Teaching From Desda Zuckerman
Find out why a spiritual practice is so essential for an energy worker, as well as for engaging with your Sacred Anatomy. It's not about discipline, but about spaciousness. A regular spiritual practice gives you the opportunity to find your quiet center. Doing so allows you to move into awakened consciousness. Energy work is doing as opposed to being. if you find yourself struggling with "how, what, and when" to do something, you need a spiritual practice…
Author
Desda Zuckerman has made a life study of the subtle energies surrounding all living things. What began as a personal quest for understanding blossomed into a comprehensive mapping of Human Energy Anatomy and its precise application. This paradigm-shifting discovery has been distilled into CoreIndividuation™, an intentional healing modality. For the last 30 years, she has quietly taught classes, trained practitioners, and led healing sessions with thousands of clients. At last, she's revealing these Sacred Anatomy teachings to a wider audience to benefit all healers, seekers, and students of human potential.
Desda Zuckerman – Beyond Your Energy Body