Description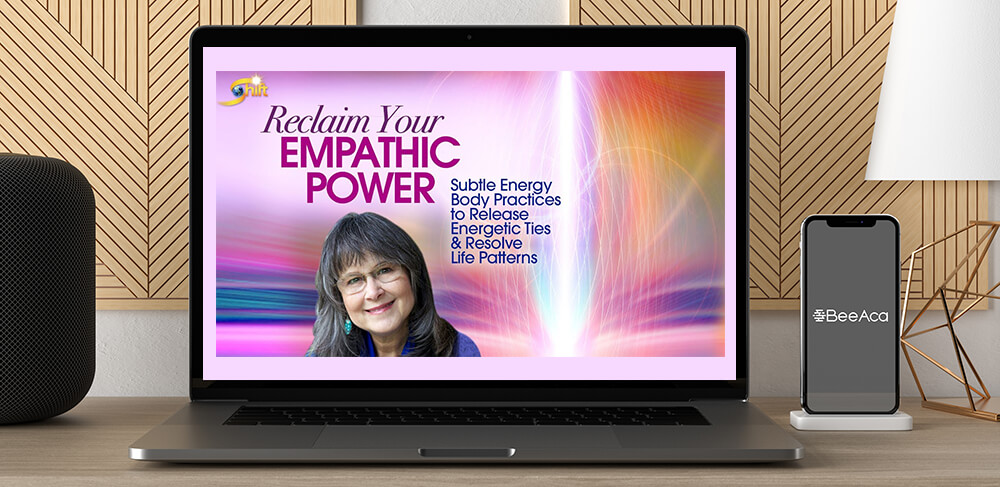 Desda Zuckerman – Reclaim Your Empathic Power
Salepage : Desda Zuckerman – Reclaim Your Empathic Power
Archive : Desda Zuckerman – Reclaim Your Empathic Power
Course Download Size :
What You'll Discover in These 7 Modules
If you're eager to go beyond the basics and open up to higher truths, more powerful forces, and a deep, and multidimensional healing of your energy body and your soul, this 7-step journey was designed with you in mind.
You'll receive video teachings, guided healings, and experiential practices with Desda Zuckerman. Each session will build harmoniously upon the previous ones — giving you a complete holistic understanding of three different systems of your energy body and the healing powers of your subtle anatomy.
Module 1: Discover Unwavering Support & Stability Within the Bones of Light
Your subtle anatomy carries all of the information and wisdom your soul needs to evolve in this lifetime and beyond. It is untapped brilliance… a vast source of support, healing, and guidance.
In particular, the Bones of Light system is the subtle "skeletal" foundation that generates stability and support throughout your life. If the universal energies are flowing smoothly, you naturally receive everything you need to flourish as a human being and a soul. Yet, many of us unwittingly block this support.
In this fascinating first module with Desda, you'll discover how the Bones of Light function within your subtle anatomy and orient your soul. A powerful guided practice will help resolve a longstanding issue — identified by you — so that you can fully access the support and stability of your own energy structure.
Part 1: Entering the Bones of Light of Your Subtle Anatomy
In this module, you'll:
Set your intention to clear from a specific pattern or lifelong issue — in your relationships, work, health and wellbeing, etc.
See the Bones of Light as the structure that can support you in your life and soul's purpose
Experience this energetic presence of this powerful, subtle internal support system
Discover how universal energies flow and are blocked within the Bones of Light
Prepare for a guided healing within this part of your subtle anatomy
Part 2: Fully Receive From the Universe Bones of Light Guided Healing
In this guided healing with Desda, you'll:
Free up your internal support to increase your ability to receive
Understand anatomically and emotionally how you have stopped the universe from giving you what you truly need
Identify & understand this block, guided by Desda
Remove obstructions to supportive energies
Take full ownership of what you receive from the Universe
Module 2: Releasing Your Old Stories
The Layers System
The Layers System is an amazing, concentric construction of your subtle anatomy. Each layer is devoted to a different realm of your experience as a human being. They include the bio layer (your physical body), and moving out from there, the emotional, primal, mental, cognitive, spiritual, etheric, and soul layers.
Desda calls the layers the "wisdom keepers of your soul's long journey" — which illuminate the hidden stories that define you, as well as new possibilities and visions for your life.
Each layer has the complex job of bringing the order, orientation, and awareness of your soul into focus. And yet, energy blocks here can keep your soul from following its natural path of evolution.
This module with Desda is your opportunity to understand how the layers operate, clear any blocks so you can access the wisdom there, and define and embody a new life story.
Part 1: Create a New Life Story Release a Life Pattern in the Layers
In this module, you'll:
Explore how the Layers System influence the stories that have defined and limited you
Stimulate and explore a new vision and new possibilities, which are fully aligned with your soul
Recognize the energetic patterns underlying the issue or story you want to release
Locate your old story or limiting pattern within the layers — and watch how it influences your actions
Part 2: Releasing a Life Pattern A Guided Healing
In this guided healing with Desda, you'll:
Be led through a process to fully define an old story
Uncover how this story shaped you and your emotional "climate"
Experience the cost and gift of these pattern
Release this life pattern and easily enter into a new story
Module 3: Clear a Soul Path Congestion for Deeper Healing
The Blended Energies System
The Blended Energies System (BES) is where universal energies are awakened, through 13 chakras and other energy centers of the blended system. This system is where you can activate your highest potential, shape your personality, and reveal your soul's journey.
The birthplace of your soul, the Blended Energies System is also where you are reborn in each moment. Its constantly regenerating energies guide and direct you to serve, create, and express love in your daily life.
However, these energies are often congested and need to be cleared so that you can consciously access them for your healing and growth. This module is your opportunity to do this important clearing.
Part 1: Discover the Blended Energies System
In this module, you'll:
See how congestion within the Blended Energies System tends to define what you do and who you think you are
Gain a new understanding of the 13 thirteen major chakras
Learn the part of your larger issue that was critical in the formation of your personality
Prepare your structure for a healing by experiencing the energetic location of your congestion
Set focus and intention to completely clear and heal your subtle structure.
Part 2: Clear a Soul Path Congestion: A Guided Healing  
In this guided healing with Desda, you'll:
Understand and clear congestion that has defined your larger issue, determined who you are and slowed your progress.
Unleash your new more capable and confident persona and feel the flow of your gifts
Stimulate the sacred flow of your soul and your life force
Develop access to the powerful healing energies of your own energy structure
Module 4: Subtle Energy Self-Care Routine
Daily Practices
You've journeyed through three systems within your vast, subtle anatomy (according to Desda's map, there are seven!). You've cleared blocks, redefined stories about who you are, and released patterns that have limited you for many years.
You've felt and now you know you really are MUCH MORE than your body, emotions or mind…
In this final module, you'll receive a toolkit of subtle energy, self-care practices. The journey is only beginning… now it's time to take what you've learned into your daily life, your relationships and your work in the world.
You'll discover:
A subtle energy body self-care program you can use daily
Deepening awareness of the wisdom and support within the three systems of your subtle anatomy
Open even more to the new possibilities for your life
Appreciation for your true magnificence and the beautiful clearing work you've done over the 7 modules
Author
Desda Zuckerman has made a life study of the subtle energies surrounding all living things. What began as a personal quest for understanding blossomed into a comprehensive mapping of Human Energy Anatomy and its precise application. This paradigm-shifting discovery has been distilled into Conscious Intelligence, an intentional healing modality. For the last 30 years, she has quietly taught classes, trained practitioners, and led healing sessions with thousands of clients. At last, she's revealing these Sacred Anatomy teachings to a wider audience to benefit all healers, seekers, and students of human potential.
Desda is the author of Your Sacred Anatomy: An Owne
Desda Zuckerman – Reclaim Your Empathic Power