Description
Direct Dating Summit – Berlin 2014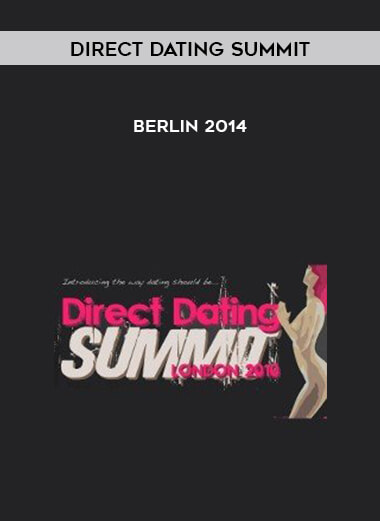 Salepage : Direct Dating Summit – Berlin 2014
The "Direct Dating Summit" is intended to dispel the vast majority of "dating information" that is considered "normal" in today's society.
The Summit brings together three of the most successful, highly sought after experts in the field of dating. For two days, you'll learn the cutting edge strategies and mindsets that have literally changed thousands of guys into real men who are skilled at seducing women with honesty and integrity. This conference is for you if you are of the thousands of men who would like to become more honest and upfront with women.
I had some friends who went to the Direct Dating Summit and they paid the full price for the Ticket, around £250, and then they could bring a friend for £50. I thought that was really cheeky as they sold about 100 tickets in a venue that could hold 500 plus. I remember talking to my friend and he said if it was £100 for the ticket it would of been full.
He also told me that Yad, Beckster and Marcus weren't talking about being direct. He told me most people didn't sit through Yad's talk, they were outside with Badboy or Davidx. Beckster is Basically teaching Ross Jeffries stuff, which is basically the most indirect method going. Marcus is a really nice guy but he just is a Charisma Coach, he's a bit like Sashas mate who wanted publicity.
When I heard on Alan Roger Curries Radio show/podcast that the Launch date was the 22nd of May and you get all these magical bonuses with it. The actual launch date was the 24th of June, you get a video for Social Circle that is basically a sales video. I signed up to the Social Circle mailing list and in one email he says "I firmly put myself in the friend zone with a girl" which isn't anything too do with being direct, or am I mistaken??? Why Have An Indirect Bonus On A Direct Product???
Also because Sasha probably wasn't selling many, because on the Sales page he has his Editor give a testamonial that probably he was lying, he gives out a free video he did with Badboy that is just him reiterating what he said during his talk. So 2 pointless bonuses!!!
The Basic DVD boxset is just ARC, Davidx, Badboy and Sasha. The reason I put the Effectiveness, Ease of Implementation and Innovativeness at 6/10 is because I think Sasha actually brings it down. I just wasn't impressed by him at all.
On all the marketing videos he basically is impersonating Frank Kern.
The reason I got the product was because of Badboy, Alan Roger Currie and Davidx otherwise I wouldn't of looked twice at it.
If anyone is thinking on buying it I would recommend them to wait a bit because if it's £250 now it will be maybe half or less in about a few weeks. Maybe you might get a discount on a Badboy bootcamp as well.
Direct Dating Summit – Berlin 2014