Description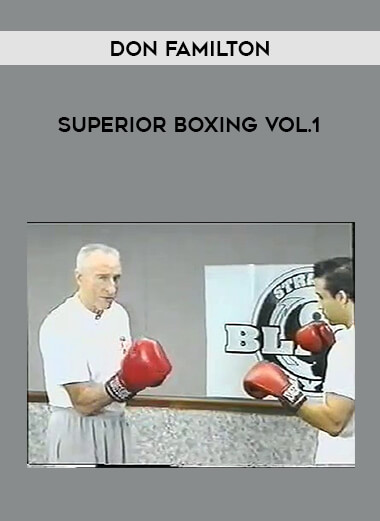 Don Familton – Superior Boxing Vol.1
Salepage : Don Familton – Superior Boxing Vol.1
Archive : Don Familton – Superior Boxing Vol.1
Course Download Size :
Don Familton's Superior Boxing Don Familton is a coaches coach.
He has been training professional fighters for over 50 years! In this SBG productions exclusive Don brings this lifetime of knowledge into the studio.
He teaches the old school of boxing that has all but died out as many of the great coaches have aged and passed on.
Don't miss this opportunity to see what real boxing is all about, and to take your stand up game to a whole new level!
DF#1: Superior Fundamentals In this tape Don teaches the important basics that create the superior boxer.
Don covers footwork, speed jabs, hitting on the fly, as well as the best combos in boxing! This tape shows the actual footage of Don coaching athletes in the ring.
DF#2: Superior combinations and power Don teaches how to hit hard, string together the combos, use the bag, and how to use the ropes or cage.
It concludes with another "live" coaching session in the ring.
If you want to learn how to have a "knock out" punch, you need this tape!
DF# 3: Superior defense and strategy Don teaches slipping, bobbing and weaving, how to set up body shots, and how to use strategy to outsmart your opponent and win the fight.
DF#4: Superior sparring and dirty tactics On this tape Don shows you how to clinch properly, how to fight a southpaw, how to use low blows, headbutt's, elbows, and arm wrenches.
This is a real deal fight tape that will benefit pro boxers and beginners.
DF#5: Don talks boxing In this unedited interview Don reflects over his 50 years of boxing knowledge.
He shares stories of all greats; Sonny Liston, George Foreman, Mohammed Ali, Archie Moore, etc.
Hear the stories from someone who was actually there! – There was a request for this one, but please note it is not the best quality.
Don Familton – Superior Boxing Vol.1