Description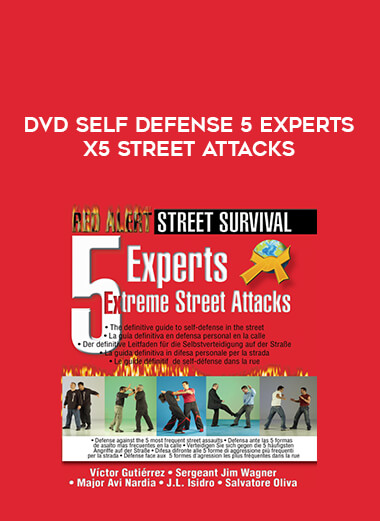 DVD Self Defense 5 Experts x 5 Street Attacks
Salepage : DVD Self Defense 5 Experts x 5 Street Attacks
Archive : DVD Self Defense 5 Experts x 5 Street Attacks
Course Download Size :
What should you do in the face of the most common empty-handed street attacks?
Police from Spain, Brazil, and the United States all agree on the five most prevalent empty-hand aggression techniques: the circular punch, the front kick, the head-butt, grabbing from behind, and the neck-hold. This subject is addressed in this first DVD in the series by five specialists with unique approaches, all of whom are members of security forces. Jim Wagner (Reality Based Self Defense), Avi Nardia (Kapap), Victor Guiterrez (WingTsun), J.L. Isidro Casas (Aikido), and Salvatore Oliva (Professional Fighting System) address these five scenarios one by one with universal answers that you can all use.
DVD Self Defense 5 Experts x 5 Street Attacks