Description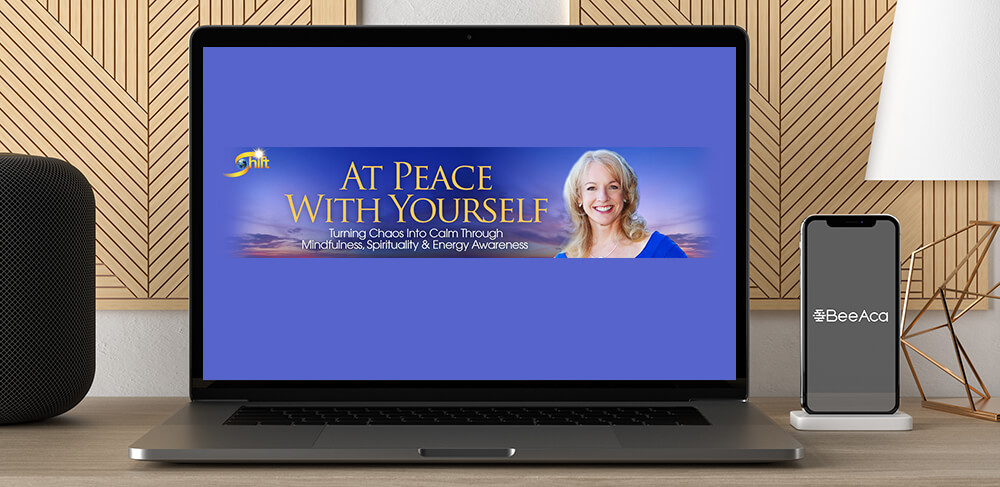 Emily Hine – At Peace With Yourself
Salepage : Emily Hine – At Peace With Yourself
Archive : Emily Hine – At Peace With Yourself
Course Download Size :
New Live Training Starts
Wednesday, October 12, 2016
In this 5-week transformational intensive, Emily will guide you through the fundamental spiritual skills and competencies that you'll need to successfully develop consistent habits that will bring you closer to your path of being at peace with yourself, help you to integrate humor into your life and to practice and acknowledge our common humanity.
Each weekly, LIVE contemplation and training session will build harmoniously upon the next, so that you'll develop a complete holistic understanding of the practices, tools and principles you'll need to sustain your awakened path to inner peace.
Module 1: Mindfulness: The First Step to Experiencing Inner Peace (October 12)
At our deepest level, inner peace is who we are, our soul essence. It's always there. Our job is to actively remember it's there, tap into it and remove the obstacles that prevent us from experiencing it. In this pillar, we will learn specific mindfulness techniques that increase self-awareness and ultimately lead us to accessing more inner peace.
This week, you'll discover:
What is the heart, what is the soul and what is the mind, and how they can all be allies on your path to uncovering more inner peace
How to develop your inner-witness, perhaps your greatest ally in your quest for being at peace with yourself
What science has uncovered as the key benefits of mindfulness
The art of neutrally observing and transforming harmful thoughts, emotions and habits that might stand in your way of inner peace
What your body can teach you about living a more peaceful life
Where the ego fits into your inner peace plan
Module 2: Navigating Emotions for Greater Ease & Harmony (October 19)
Are you consistently triggered by a person or events in your life, causing you emotional upheaval and chaos? What repetitive thoughts do you have that are creating draining emotions and keeping you from living a harmonious life? Who or what haven't you forgiven that might free up your energy for more joy? As human beings, it's inevitable that we've experienced difficult times resulting in stored emotions that inhibit our tranquility. While we don't always have control of external circumstances, we can use mindfulness and the power of our heart to heal past wounds and create healthy responses to the inevitable interpersonal conflicts that arise.
This week, you'll discover:
How to respond skillfully instead of reacting to situations when triggered
Tools for identifying your hidden emotions so you can be more empowered to make better choices for yourself
The power of compassion to help heal your suffering and self-criticism
Why turning towards your pain and fears might be the most empowering thing you ever do
Tools to help you stop feeding negative emotions that steal your core essence of peace, tranquility and love
How to recognize suffering in the world and care about others without getting drained or emotionally overwhelmed
Module 3: Managing Energy on Your Path to Peace (October 26)
As human beings, we're comprised of energy and share a collective consciousness — a universal field of energy. Therefore, we're susceptible to the energy all around us, including energy from other people, places and events. In this module, we'll discover tools for managing our own energy and filtering out harmful external energies that can impact our wellbeing and inner peace. We'll also learn how to manage our life force and energy field so that we are a vessel of peace for ourselves and those around us.
This week you'll discover:
How your heart is the most powerful organ in your body for giving and transmitting information
The Art of Energy Protection — how to gently block out the negative while letting in the love
The incredible science and intelligence of the heart and how the collective heart field can help bring more peace into the world
That what you consume through your eyes and ears affects your state of peace as much as what you consume through your mouth
Why setting boundaries is essential and will help you have more energy and love to give
What to do when you encounter difficult negative energies
Module 4: Exploring Your Unique Divine Connection (November 2)
What is universal consciousness and how do we tap into it? Science and spirituality are coming together around the understanding that there is a universal consciousness and that our individual consciousness is a manifestation of it. As we learn to tap into our individual soul essence, we also learn how to tap into the larger field of universal consciousness. This is a real game-changer, because as we realize we are no longer alone and that there is infinite wisdom, love and guidance available to us, we are lead to our own unique relationship with and expression of our divine light or soul.
This week, you'll discover:
How to build a solid foundation for a deeper spiritual life and more inner peace
Tools for accessing the universal consciousness that is available to us all
How and when to call on support from the unseen realms
Recognizing benevolent energies and using your tools to deflect anything that is not in alignment with your highest good
Practical ways to habituate the spiritual practices in your daily life
Module 5: Creating & Living an Authentic, Peaceful Life (November 9)
During our final week, you'll see your life through a different lens. You'll use the new practices you've discovered — for living a more authentic, conscious and peaceful life — to tap into your higher guidance and create your own personal inner peace map that you can take forward and apply in your daily life. You'll also learn from each other, as course participants actively share their newly acquired inner peace practices.
This week, you'll discover:
How to integrate what you've learned into your daily life
Where to get support as you anchor in new habits and thought processes
How to have humor on the path of inner peace
Additional resources for going deeper into any subject covered
Why your inner peace matters to the world!
Author
Emily Hine has more than 25 years of experience in fundraising, philanthropy, marketing and public speaking. Over the course of her career, she has helped raise $150 million for nonprofit organizations across the United States. Emily has spent 1/3 of her career in the nonprofit sector, 1/3 of her career in the for-profit technology sector (Microsoft Corporation) and 1/3 of her career serving as bridge between the two sectors.
Emily Hine is considered a social entrepreneur, with a national reputation for forging successful partnerships that result in significant social change. In addition to teaching, she also works with businesses, nonprofits and individuals who share the goal of increasing mindfulness, compassion and peace on the planet.
Emily Hine – At Peace With Yourself