Description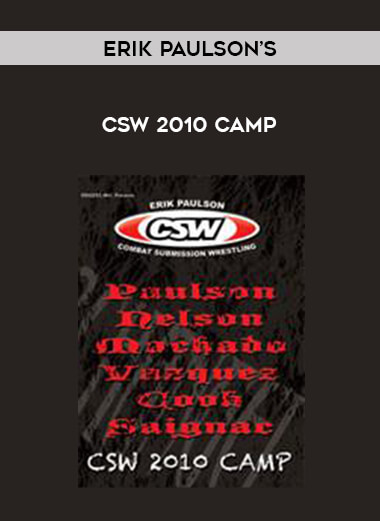 Erik Paulson's CSW 2010 Camp
Salepage : Erik Paulson's CSW 2010 Camp
Archive : Erik Paulson's CSW 2010 Camp
Course Download Size : 3.988 GB
Presents another great original release…Erik.Paulson.CSW.2010.Camp.DVDRip.XviD-DOJO
6 DVD Set from Erik Paulson's CSW 2010 Camp Over 8 Hours of Footage!Instruction throughout from Erik Paulson and Greg Nelson.
Guest instructors: Rigan Machado,Javier Vazquez, Marvin Cook, Nicolas Saignac.
Volume 1 features Erik Paulson, Greg Nelson, and Rigan Machado.
Running Time 1 Hour 22 Minutes.
Volume 2 features Erik Paulson, Greg Nelson, and Javier Vazquez.
Running Time 1 Hour 28 Minutes.
Volume 3 features Erik Paulson, Greg Nelson, and Marvin Cook.
Running Time 1 Hour 23 Minutes.
Volume 4 features Erik Paulson, Greg Nelson, and Nicolas Saignac.
Running Time 1 Hour 24 Minutes.
Bonus DVD 1 features Greg Nelson giving a great lecture about training.
He shares stories and tipsto improve your training efficiency and mentality.
The outtakes from the camp are also shown here.
They are always a great source of entertainment.
This disc also features some really cool extras.
There is an "Extras" folder on this disc.
Put thedisc in your computer's dvd drive and open the "Extras" folder.
You'll find a PDF outline of theentire camp that is set up for easy printing.
Just print the page or techniques you want, or printthe whole outline! Easy to take to class and add your own notes.
Also, there is an E-Book versionof the outline included.
Drag this file into iTunes to sync it to your iPod Touch, iPad, iPhone,or you can read it on your Kindle or any other E-Book software or device.
Another bonus includedhere is an audio version (mp3 format) of Greg Nelson's lecture.
Drag this into iTunes or any othermusic manager and take this lecture with you!Bonus DVD 2 features 90 minutes of sparring and hard drilling from the camp.
You've seen theinstruction and you've seen the drills.
Now watch the camp participants try to pull it off forreal! Pop this dvd in the player in the lobby of your school and just let it play for inspiration!VideoCodec ID/Hint : XviDWidth : 624 pixelsHeight : 352 pixelsDisplay aspect ratio : 16:9frame rate : 29.
970 fpsAudioFormat : MPEG AudioFormat version : Version 1Format profile : Layer 3Mode : Joint stereoBit rate mode : VariableNominal bit rate : 128 KbpsChannel(s) : 2 channelsSampling rate : 48.
0 KHzIncludes Extras, Bonus and coversBy making these instructionals available to the MMA community we hopeto encourage the producers and makers of them to step up their senseof quality and to make them understand that even if people dowloadtheir material without initially contributing economically to theircreation, they will eventually buy all the material they experienceas worth it, attend the seminars, purchase gear and train at theschools of those that manage to produce instructionals good enoughand present them in ways that makes it easy to understand and learnwhat MMA and its sub arts really is about.
And specificly for themto understand how important it is not to compromise on the quality.
So that the downloaders too in their turn one day can ful fill theirdream of becoming professional MMA fighters without having to passthrue a jungle of scams and unprofessional instructionals costingthem money they can use on more important stuff.
Most of the amateur MMA practitioners do not have a budget thatallows them to waste his or hers money on material that does not liveup to their expectations.
Our intention is never to hurt anybodyinvolved in creating instructionals economically or their reputationin any way.
But we see this as a way of filtering out thoseinstructionals that are overcharged and completely worthless thatseem to infest the internet.
By sharing the material with the restof the MMA community we hope to encourage both young and oldMMA practitioners to get better and creators and producers ofinstructional material to step up their efforts and produce qualitymaterial.
Remember, if you truly feel that the instructional you have justdownloaded has helped you become a better fighter and you have theeconomic means.
Please buy it! support those that are worth it sothat they can produce more good material.
Working together since 2010 – Enjoy this great release!
Erik Paulson's CSW 2010 Camp