Description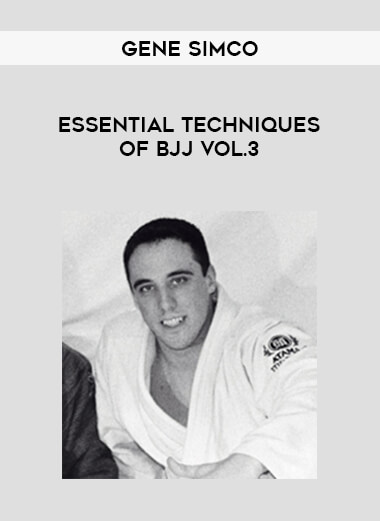 Gene Simco – Essential Techniques of BJJ Vol.3
Salepage : Gene Simco – Essential Techniques of BJJ Vol.3
Archive : Gene Simco – Essential Techniques of BJJ Vol.3
Course Download Size :
"The Leading Author of Brazilian Jiu-jitsu Books brings his Best Seller to life in this High Quality Jiu-jitsu Instructional DVD Series.
These are the High Percentage Jiu-jitsu Techniques that Every Martial Artist MUST KNOW!"What are High Percentage Moves?They are techniques that: — Do not require a high level of flexibility or strength to perform.
— Do not rely on your opponent being less skilled or weaker than you, in order to work.
— Are reliable and usable under pressure.
— You MUST master in order to become a high-level fighter.
— Win most fights.
— Beginners must learn and more advanced players must perfect.
— You must master to get your black belt.
— Black Belts use to win most fights!
Volume 3 – The GuardThese are the most important sweeps, and submissions from the guard position that everyone fighting from the back MUST KNOW.
Learn the 'three pillars' of guard submission and how to combine them all.
Also detailed are chokes and armlocks along with their combinations when your opponent tries to escape and sweeps when they block your move.
This series is great as both self defense and sportive applications are shown.
This Instructional boasts high quality production values, a seperat introduction piece for beginners and a special highlight video to original music by grammy nominated artists.
— Essential sweeps, submissions, chokes and arm locks from the guard position.
— How to combine the 'Three Pillars' of guard submission .
— Combinations and sweeps when your opponent tries to escape and block your moves .
Gene Simco – Essential Techniques of BJJ Vol.3