Description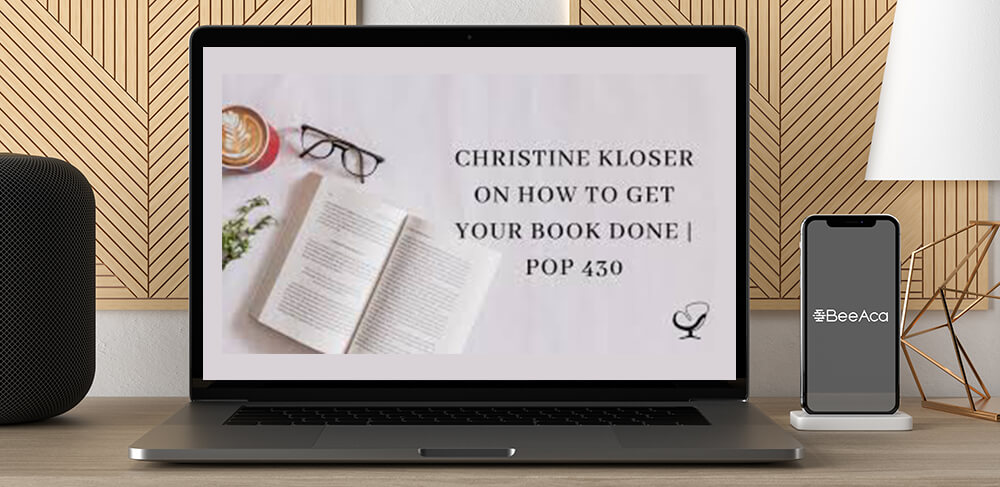 Get Your Book Done by Christine Kloser
Salepage : Get Your Book Done by Christine Kloser
Archive : Get Your Book Done by Christine Kloser
Course Download Size : 752.2 MB
Get Your Book Done! 
The Proven System For Writing 
Your Transformational Book…
In As Little as 90 Days
After working with hundreds of authors (and getting them started, finished and published)… and talking with more than 80 bestselling authors and experts in our industry — like Marci Shimoff, Neale Donald Walsch and Jonathan Fields (just to name a few) —
I've carefully refined the Get Your Book Done® program to what it is today.
Just so I'm clear here…
Even though I say "book writing system" to describe this program, I want you to understand that it's not your typical "writing course".
– It's not about slapping together your content in a formulaic way…
– It's not about getting it done quickly in a slam-bang fashion…
– It's not about sacrificing your one true message by not going deep…
Quite the opposite, in fact. The Get Your Book Done® program digs deep into your inner core, your roots, your soul — and guides you to writing a book that's true to you and the change you want to bring forth in the world.
We simply use "formulas" as guiding lights on our journey.
Here's a summary of what you'll experience as you go through the Get Your Book Done® program…
– Eight Comprehensive Training Modules (Valued at $997)
– Eight Powerful, Easy-To-Follow Action Guides (Valued at $997)
– Twice Monthly Group Coaching/Q&A Calls (Valued at $1497)
– Six Months Access To The Get Your Book Done® Program (Valued at $997)
Let's go over each module in detail. As you explore the different modules on this webpage, imagine what it will be like for yourself, personally writing your book with the help of the Get Your Book Done® program…
(This in and of itself is a powerful exercise to start "writing your book" in your mind)…
Module Intro: Preview and Introduction: "Priming Your Writing Mind" To Write Effortlessly…
Module 1: Laying A Strong Foundation for Your Book's Success…
How To Find The "North Star" For Your True Message So The Best Ideas Simply Start Flowing Out Of You
Module 2: Honing A Message That Gets Your Book Noticed: Creating a Platform & Gaining Clarity for Your Message Your Value & Your Gift To The World
Module 3: Book Marketing Essentials: Why You're NOT Prematurely Thinking Ahead By Planning Your Marketing
Module 4: Critical Research to Make Your Book Its Best: Four Things You Need To Check Before You Start Writing Your Book
Module 5: How To Organize And Outline Your Book: Give Your Book a Clear Road Map And Compass, So The Writing Part Is Easy To Do
Module 6: Let The Writing Begin: Breaking the Myths and Convention Wisdom on "Finding Time To Write"
Module 7: Staying On Track To The Very Last Word: Effective Strategies That Have Launched Aspiring Authors into Published Authors
Module 8: Putting It All Together And Getting Your Book Published: All The Technical, Logistical, Boring Administrative Details Of Getting Your Book Ready…
Curriculum
Author
Christine Kloser is an international speaker on the topics of transformational authorship and transformational leadership. She is the author of thirteen books, including the best-selling and award-winning books, Conscious Entrepreneurs, The Freedom Formula and Get Your Book Done. Christine is a master facilitator and trainer on discovering your core message, writing your transformational book, and making a difference as a leader in the world. She has trained 70,000 writers in more than 125 countries, and teaches her signature Get You Book Done program online, and facilitates transformational writing retreats throughout the year.
Get Your Book Done by Christine Kloser