Description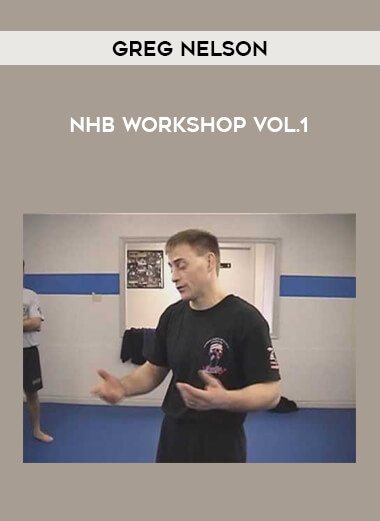 Greg Nelson – NHB Workshop Vol.1
Salepage : Greg Nelson – NHB Workshop Vol.1
Archive : Greg Nelson – NHB Workshop Vol.1
Course Download Size :
Greg Nelson – NHB WorkshopStay ahead of the competition. Being effective in every range of combat and a threat whether standing or on the ground will give you the decisive advantage over your competition. Cross training is being used by ALL the top NHB and submission competitors today. Utilizing striking from Muay Thai; takedown and control from Wrestling; position, submission and escapes from Brazilian Jiu-Jitsu and Combat Submission Wrestling, all combined together solve the puzzle of effective cross training. The same drills, techniques and training methods used by national and world ranked Muay Thai, NHB, Submission Wrestlers, UFC veterans, top Brazilian Jiu-Jitsu competitors, can be yours. Greg Nelson is the owner of the Minnesota Martial Arts Academy and is one of the top Muay Thai and Mixed Martial Arts trainers in the country. A former college wrestler, an Advanced Student in Shooto, Instructor in Combat Submission Wrestling, Brown Belt in Brazilian Jiu-Jitsu, and top Muay Thai Instructor, Greg Nelson has the ability to teach the essence of all of these arts in a progressive and effective way to benefit all levels, from beginner to competitive fighter. For many years Greg has produced many top ranked fighters including Sean Sherk, Dave Menne, Brad Kohler, John Renken, James Cook, and numerous amateur champions in NHB and Muay Thai.
Volume 1 Techniques 1. Straight Knee 2. Curve Knee 3. Straight Upward Knee 4. Arm Weaving 5. Chest Pummeling 6. Chest Pummel with Lat Pull 7. Arm Drag 8. Re-Drag 9. Over – Under Weaving 10. Head & Elbow Crunch 11. Elbow Lift to Straight Knee 12. Elbow Lift to Body Tackle 13. Curve Knee Flow from Clinch 14. Same Side Knee Off Balancing Pull 15. Opposite Side Off Balancing Pull 16. Inside Foot Sweep 17. Head Steering to Knee 18. Outside Foot Sweep 19. Outside Leg Sweep Running time approximately 45 min.
Greg Nelson – NHB Workshop Vol.1