Description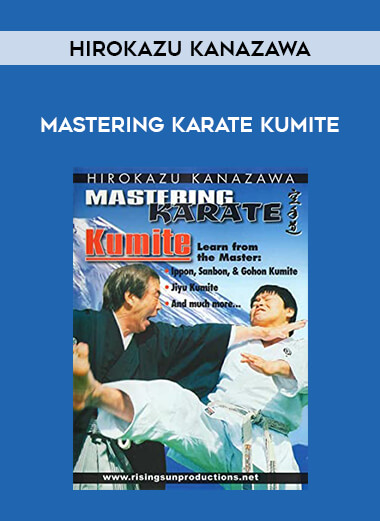 Hirokazu Kanazawa – Mastering Karate kumite
Salepage : Hirokazu Kanazawa – Mastering Karate kumite
Archive : Hirokazu Kanazawa – Mastering Karate kumite
Course Download Size :
Set of 3 full training DVDs on Shotokan Karete, self-defense style, real combat… with Sensei Hirokazu Kanawaza.
With the following contents:
– TE WAZA- Hand Techniques including strikes, blocks, and much more.
– ASHI WAZA Foot techniques including kicks, stances, hips and shifting.
– KIHON IDO – Combinations of hands and feet together plus shifting and much more.
– KYU KATA – Below Black Belt katas including the Heians, Tekki s plus others.
– DAN KATA Black Belt kata. Each kata includes the form being done first slow and then fast along with the bunkai (explanation) of each move by Kancho.
– NI JU HACHI HO White Crane form done in slow speed and then full speed by Kancho Kanazawa including many explanations of the moves.
– KUMITE In this DVD you will see why many consider the Shotokan practioners to be the best fighters in traditional Japanese karate as two SKIF champions go full out demonstrating ippon kumite sanbon kumite, gohon kumite and jiyu kumite. Manabu Murakami and Nobuaki Kanazawa will show you what their teacher taught them.
Language: English
Hirokazu Kanazawa – Mastering Karate kumite