Description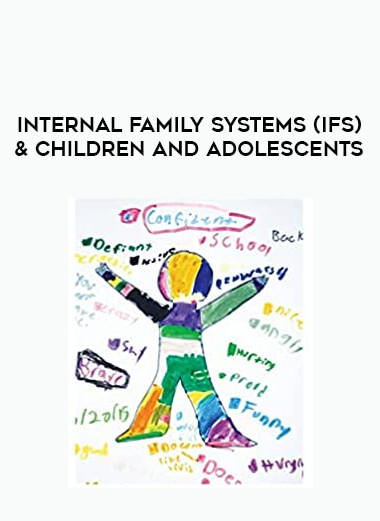 Internal Family Systems (IFS) & Children and Adolescents
Salepage : Internal Family Systems (IFS) & Children and Adolescents
Archive : Internal Family Systems (IFS) & Children and Adolescents
Course Download Size :
Faculty:
Richard Schwartz, PhD |  Pam Krause, MSW, LCSW
Duration:
13 Hours 46 Minutes
Copyright:
Sep 01, 2018
Product Code:
IRS035005
Media Type:
Online Course
Working with Children, Adolescents and Families with Pamela Krause
The program will focus on how to adapt the basic principles of IFS for use with children, adolescents, and their families. We'll explore the use of traditional in-sight in a younger population and teach a variety of externalizing techniques available to help parts unblend.
The program will also address the use of IFS in play therapy. We will also address the use of IFS with parents/guardians and how polarizations impact the adult/child relationship. 
Module 1
Translating IFS Concepts for Use with Children & Adolescents
In September we will cover the similarities and differences between using IFS with adults and with dependent children. Pam will cover some fundamentals of setting up an IFS-friendly environment for working with a child or adolescent.
In this month you will learn:
About Burdening and how it occurs
The impact of polarizations and power differentials between children and adults and how that impacts the work with dependent children
How to contact with parents to work with their children
Self-led rules for working with children and adolescents
Module 2
The Use of Implicit Direct Access
Pam will introduce the importance of implicit direct access when working with children and adolescents. We will do an exercise to help participants find parts of them that may interfere with their ability to use direct access. There will also be a demonstration of using IFS when playing a board game.
In this month we will cover:
Identifying parts that blend and block our ability to use direct access
Using direct access during general play younger children
Using direct access with adolescents
How to use direct access with board/card games 
Module 3
In-sight: Using Externalizing Techniques to Help Parts Unblend
Pam will begin by addressing the use of in-sight with adolescents and children especially using externalizing techniques to help parts unblend. The second part of the material will address specific challenges of working with adolescents.
In this month you will learn:
Using externalizing techniques – animal figures and clay

A demonstration of externalizing parts

How polarizations and alignments impact the work with adolescents

Therapists' parts and adolescents
Module 4
The Parent/Child Relationship and Its Impact on Healing
The final month will focus on working with the child's parents/guardians. We will explore in depth the impact of parent/guardian's parts on the child and the child's ability to heal. Pam will also review ways to help parents/guardians support their child thru the healing process and integrate the change into the external family system.
In this month we will cover:
Identifying polarized parts between the parent and child

Helping parents find, be curious about, and possibly heal their own parts that impact their child

How the power differential between the parent/guardian and child impact the work

Teaching parents how to support the healing of their child
Richard Schwartz, PhD

Related seminars and products
IFS Institute
Richard Schwartz began his career as a systemic family therapist and an academic and he is now on the Faculty of the Department of Psychiatry at Harvard Medical School. He is also a Senior Fellow of the Meadows treatment center in Arizona. Grounded in systems thinking, Dr. Schwartz developed the Internal Family Systems (IFS) model in response to clients' descriptions of various parts within themselves. In 2000, he founded the Center for Self Leadership (now IFS Institute – www.ifs-institute.com), which offers three levels of trainings and workshops in IFS for professionals and the general public, both in this country and abroad. A featured speaker for national professional organizations, Dr. Schwartz has published many books and over fifty articles about IFS.
Pam Krause, MSW, LCSW

Related seminars and products
Pamela Krause, MSW, LCSW, IFS Senior Lead Trainer and is also trained in Hakomi therapy. She has a private practice working with adults, adolescents, and children. She has a sub-specialty in adapting the IFS model for use in younger children.
Internal Family Systems (IFS) & Children and Adolescents