Description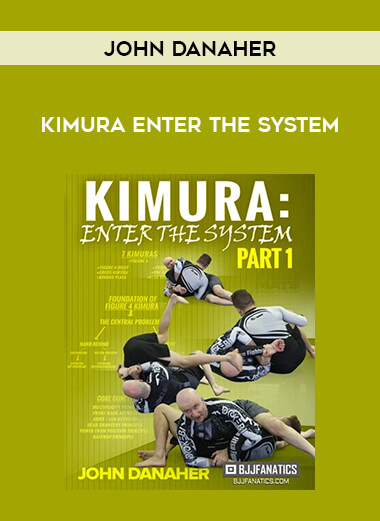 John Danaher – Kimura Enter The System
Salepage : John Danaher – Kimura Enter The System
Archive : John Danaher – Kimura Enter The System
Course Download Size :
If you polled the world's top one hundred grapplers and asked them, "Who would you most like to learn grappling from?" Ninety-eight, ninety-nine, or even all one hundred would answer the same way: John Danaher. There is just no comparison.
"The Kimura System" by John Danaher: The World's Most In-Demand Grappling Instructor
John assisted in the coaching of UFC World Champions Georges St Pierre and Chris Weidman. Garry Tonon has become a grappling icon and a three-time ADCC competitor.
John has guided folks like Eddie Cummings and Gordon Ryan to prominence in a fraction of the time that regular people would take.
The Kimura system that John teaches is ideal for both Gi and No Gi, as well as Self-Defense.
This system will alter your perception of Jiu Jitsu Kimura.
Content
Volume 1
System Overview 0 – 15:48
Trinity of Power 15:48 – 21:15
Thumb or no Thumb 21:15 – 26:19
Essential Nature of Kimura – A Twisting Lock 26:19 – 30:23
Hand and Arm Positioning 30:23 – 37:47
Bending A Straightened Arm 37:47 – 43:21
Diagonol Power Line 43:21 – 49:30
Pull Dominant Kimuras vs Push Dominant Kimuras 49:30 – 52:11
Beating The Shoulder and Trapping Head 52:11 – 56:35
Shoulder Line 56:35 – 59:51
A Vexing Problem 56:35 – 1:04:07
Essential Skill of Kimura System – Roll Through Kimura Scrambles 1:04:07 – 1:11:54
Volume 2
Introduction to Dorsal Kimura 0 – 7:53
Unlocking Reinforced Hands 7:53 – 17:45
Using Legs For Kimura 17:45 – 34:04
Switching to Alternative Submission 34:04 – 39:18
Switching to Different Position / System 39:18 – 48:56
Volume 3
Introduction to T Kimura 0 – 10:58
Top and Bottom Knee 10:58 – 14:15
Bottom Knee to Back 14:15 – 17:41
Bottom Knee to Rear Triangle 17:41 – 20:01
Bottom Knee to Arm Bar 20:01 – 22:10
Bottom Knee to Side Triangle 22:10 – 24:22
Bottom Knee Penetration to Russian Arm 24:22 – 29:44
Bottom Knee into Cross Ashi Garami 29:44 – 32:50
Bottom Knee Losing Russian Arm 32:50 – 38:49
Top Knee Attacks 38:49 – 46:05
Relationship Between Kimura and Bicep Slicer 46:05 – 54:03
Volume 4
Introduction to Applications 0 – 3:43
Side Kimura Applications 3:43 – 13:19
Side Kimura Switching Elbows 13:19 – 17:13
Side Kimura Supinated Grip 17:13 – 21:03
Side Kimura Pronated Grip 21:03 – 26:13
Half Guard Top 26:13 – 34:09
Half Guard to T Kimura 34:09 – 39:12
Half Guard Attacking Power Prop 39:12 – 44:11
Classroom Commentary #1 44:11 – 45:57
Classroom Commentary #2 45:57 – 49:46
Classroom Commentary #3 49:46 – 52:38
Volume 5
Butterfly Guard 0 – 4:27
kimura vs Butterfly Guard Moving Head to Setup Kimura 4:27 – 7:50
Kimura vs Butterfly Guard Standing 7:50 – 11:24
Kimura vs Butterfly Guard Standing Opposite Side 11:24 – 16:06
Kimura vs Butterfly Guard Working From Outside Position 16:06 – 19:34
Kimura's Kimura 19:34 – 31:53
Turtle Position Olympic Bar to Kimura 31:53 – 35:39
Kimura vs Turtle Side Triangle 35:39 – 39:26
Kimura vs Single Leg on Mat 39:26 – 47:58
Kimura vs Single Leg on Mat Drill 47:58 – 55:45
Classroom Commentary #4 55:45 – 59:28
Classroom Commentary #5 59:28 – 1:02:43
Volume 6
Kimura vs Single Leg Countering the Peak Out 0 – 4:59
Kesa-Gatame 4:59 – 14:43
Closed Guard Kimura – The Great Mystery of Closed Guard Kimura 14:43 – 38:15
Kimura Closed Guard Wrist Control and Power Prop 38:15 – 46:20
Closed Guard Kimura Head Pass Setup 46:20 – 51:46
Kimura From Bottom Half Guard 51:46 – 1:02:05
Bottom Half Guard Kimura Converting to Full Guard 1:02:05 – 1:05:46
Half Guard Kimura Sumi Gaeshi Variations 1:05:46 – 1:09:08
Classroom Commentary #6 1:09:08 – 1:11:06
Classroom Commentary #7 1:11:06 – 1:12:39
Volume 7
Bottom Half Guard To T Kimura 0 – 6:21
Half Guard Kimura Vs Arm Bar 6:21 – 14:44
Half Guard Kimura To Front Triangle 14:44 – 24:44
Kimura Bottom Turtle Position 24:44 – 31:32
Kimura Bottom Turtle Inside Arm Roll Staying Above the Hips 31:32 – 37:54
Kimura Bottom Turtle Inside Arm Roll to Kimura Finish 37:54 – 40:33
Kimura Bottom Turtle vs Seat Belt 40:33 – 45:07
Kimura Bottom Turtle Outside Arm Roll 45:07 – 49:56
Kimura Bottom Turtle Outside Arm Variation 49:56 – 55:21
Standing Position 55:21 – 1:01:47
Kimura vs Standing Single Leg Head Outside 1:01:47 – 1:04:34
Kimura vs Standing Single Moving The Head 1:04:34 – 1:08:05
Kimura Vs Single Leg Kneeling Opponent 1:08:05 – 1:12:33
Kimura Vs Double Leg 1:12:33 – 1:17:00
Kimura vs Double Leg (Cont.) 1:17:00 – 1:19:02
Classroom Commentary #8 1:19:02 – 1:21:18
Volume 8
Legs Kimura / Reverse Omoplata 0 – 14:29
TRIMURA 14:29 – 33:53
Multiple Kimuras 33:53 – 45:14
Timing the Roll Through 45:14 – 51:33
Elbow Wedge for Kimura 51:33 – 54:22
Head and Arm Kimura 54:22 – 1:00:03
Classroom Commentary #9 1:00:03 – 1:05:39
Kimura: Enter The System by John Danaher
5.0 star rating 75 Reviews
5 Questions 5 Answers
Sale
$197.00 Regular price $247.00
Digital
Digital video available for immediate viewing online.
FREQUENTLY BOUGHT TOGETHER
(Select to add to cart)
John Danaher – Kimura Enter The System