Description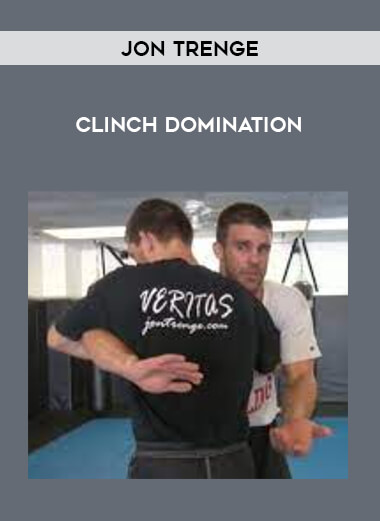 Jon Trenge – Clinch Domination
Salepage : Jon Trenge – Clinch Domination
Archive : Jon Trenge – Clinch Domination
Course Download Size : 3.028 GB
From the advertisement:Quote:Like BJJ, Wrestling is an art that can take years to perfect.
There are thousands of techniques and setups that separate the good from the great, and there is arguably no better proving ground than Division I NCAA wrestling to separate the men from the boys.
In the new Clinch Domination 6 DVD Set you will get an exclusive look into the fundamental set of techniques that made Jon Trenge a three-time All American in the Division I NCAA wrestling circuit.
Jon shares an unprecedented look into the world of takedowns, and focuses on how to DOMINATE your opponent from the clinch.
I haven't watched through all of the material, but it seems to be quit interesting and useful for general grappling or MMA.
I don't think you need that much previous experience to find something useful.
DISC-1: FUNDAMENTAL CONCEPTS
Highlights Of This DVD Include:
INSIDE INFORMATION:Get to know Jon and how he became one of the wrestlers in the country.
KILLER WRESTLERS WARM UP ROUTINE:Prevent injuries and prepare your body for an intense workout!
THE ALL IMPORTANT BODY AWARENESS: Balance, agility, speed, and power all become second nature once you have enhanced body awareness.
CHEST TO CHEST UNDER-OVER BATTLE:
Jon teaches you all the tricks to dominate your opponent in the under-over battle.
THE DROP: Want a quick way to change the dynamic of your takedown game? This is it!
THE CLINCH: The Clinch is a scary place. It's either scary for you, or for your opponent.
Jon makes sure he gives you a strong introduction to the ins and outs of this position.
DISC-2: ARM ATTACKS
Highlights Of This DVD Include:
STRONG ARM DRAG TO BACK CONTROL:Jon will show you how to grab Arm Drags from every position imaginable!
POLISH THROW: This throw will rock your opponent as he slams to the ground!
ARM TRAP POLISH THROW: Trap your opponent's arms and then SLAM him helplessly.
ARM SPIN THROW: An excellent addition for a counter to your opponent's common reaction.
DISC-3: OVER & UNDER ATTACKS
Highlights Of This DVD Include:
UNDERHOOK THROW BY:Counter your opponent's strength or size with this great variation.
UNDERHOOK PUNCH SINGLE:This is low-risk and high percentage!
INSIDE TRIP FROM OVERHOOK: This is a great setup that will bring down even the strongest opponents.
THE KICK AND PICK An excellent variation of the ankle pick.
DISC-4: CLINCH ATTACKS
Highlights Of This DVD Include:
SNAP DOWN:This is not your average snap down that you learned in middle school…
FRONT HEADLOCK: Learn to control your opponent with this great positional advantage!
FAR LEG KICK: Jon can help you make the difficult look easy!
DOUBLE FROM THE CHEST: This variation minimizes the risk while maximizing the result!
INSIDE LEG HOOK THROW: This is certain to get your opponent's base off balance.
DISC-5: TIE UP TACTICS
Highlights Of This DVD Include:
HIP TOSS: This is not the average Hip Toss. This variation will ROCK your opponent!
CRUNCH HEAD LOCK: If your opponent counters your Hip Toss, bring him down with this nasty Crunch Head Lock.
BREAKING THE COLLAR TIE: Free yourself from your opponent's arms effectively and efficiently!
RUSSIAN ARM TIE: Jon is a master of the Russian Arm Tie, and shows a lot of tricks off of it.
POST OFF: This is a great way to disrupt your opponent's balance.
DOUBLE COLLAR TIE: Brutalize your opponent's posture and base with this Double Collar Tie.
THAI CLINCH FROM THE CAGE: Wrestling modified for MMA at its finest!
DISC-6: RUSSIAN TIE AND RANDOM ATTACKS
Highlights Of This DVD Include:
RUSSIAN TIE: More tricks of the trade for the Russian Tie setup.
RUSSIAN TIE 2: This will make the Russian Tie your go-to position!
STANDING LEG ATTACK: Attack your opponent's legs and disrupt his base.
THAI COUNTER & LEG ATTACK: Adapt your wrestling for MMA and take down the Thai fighters.
COLLAR TIE COUNTER TO ARM THROW: When your opponent grabs a collar tie, it's a great opportunity to throw him!
SNAP DOWN & FRONT HEADLOCK: Positional dominance will be a breeze with this setup!
CEMENT JOB: Talk about devastating your opponent! This is the way to do it!
SHORT DRAGS: Jon will have you as an arm drag master!
Jon Trenge – Clinch Domination