Description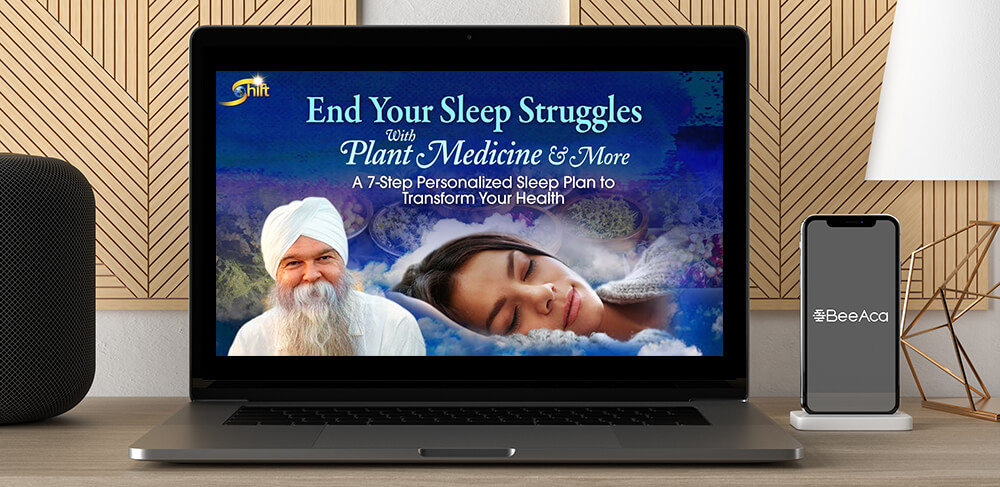 K.P. Khalsa – End Your Sleep Struggles With Plant Medicine & More
Salepage : K.P. Khalsa – End Your Sleep Struggles With Plant Medicine & More
Archive : K.P. Khalsa – End Your Sleep Struggles With Plant Medicine & More
Course Download Size :
What You'll Discover in These 7 Modules
In this 7-part transformational intensive, K.P. Khalsa will walk you through everything you need to know to finally identify your sleep profile and create your one-of-a-kind sleep plan that addresses your unique issues — effectively and naturally.
This course will feature teachings, training sessions, and experiential practices with K.P. Khalsa. Each session will build harmoniously upon the previous ones — you'll develop a complete holistic understanding of the practices, tools, and principles you'll need experience the elevated energy levels, uplifted mood, and clear mind that come with finally getting the high-quality sleep you've been missing.
Module 1: What's the Real Reason You Can't Sleep?
Why do some people you know sleep like a baby, no matter what, and you've struggled with sleep for years? We all deserve to be well rested and energized during the day, yet you may have the genetic profile of an insomniac, which may explain why basic sleep hygiene tips don't work. What we all need is a customized sleep lifestyle that includes a collection of individualized wellness measures to move beyond counting sheep.
In this first session, K.P. will guide you in the use of ashwagandha, a major long-term sleep activator herb from Ayurveda, to start the sleep system reset. You'll also discover eleuthero, the first herb to be deemed an adaptogen, to rebalance the hormonal system. In addition, ginkgo, a popular anti-aging herb, will bring blood circulation to the brain, helping to regulate sleep neurotransmitters.
In this session, you'll:
Be given a self-assessment questionnaire that will uncover your sleep risks
Understand how a few simple dietary changes can start you on the road to slumber
Receive three personalized medical tests that will start your self-assessment of your personal sleep universe
Learn about three herbs that aid in hormonal regulation and provide long-term daytime energy
Be given meditations and breathing techniques for deep sleep
Module 2: Herbal Remedies, Sleep-Friendly Foods & Meditation Techniques
In module 2, we'll continue our journey toward a sleep-positive life program by individualizing all aspects of healthy sleep: lifestyle, habits, diet, herbs, supplements, breathing, meditation, and special tools. Together, we'll add techniques for the mind and body that will begin to reorganize your personal biochemistry and set the stage for a lifetime of deep, restorative sleep.
Since insomnia and faulty digestion, especially constipation, tend to occur in the same type of person, we'll learn about hingwastak, a superstar digestive regulating herbal blend. We'll also use magnolia bark, one of the leading anti-anxiety herbs from Chinese medicine.
In this session, you'll discover:
How what you eat and when you eat affect your sleep
Why the position you sleep in can make a big difference
Recipes for sleep-healthy foods
Foods to decline if you want to recline
The next potent level of natural remedies, breathing, and meditation for sound slee
Module 3: Relaxing the Nervous System & Upping the Effect of Your Sleep Remedies
In module 3, we turn up the intensity, and, together, we graduate to a higher level of potency for sleep remedies. As our bodies get used to the changes we've created, we accelerate the process of creating healthy sleep. We'll add ancient secrets of breathing, meditation, diet, and natural therapies to relax the nerves and balance hormones.
Our core herbal remedies during this class are chyawanprash, a nutritive herbal jam for daytime stamina; triphala, the most used herbal blend in the world; the willow/cinchona blend for profound relaxation; and kava, a potent muscle relaxer from the South Pacific.
In this session, you'll discover:
One of the most well-researched herbs for slumber
The Ayurvedic master formula for balancing and rebuilding the sleep system
How healthy fats in the diet form the basis of hormone balance
One of the longest-researched minerals for brain health and calm mood
A famous cooling breath from yoga to help you calm down and doze
Module 4: Insomnia, Genetics, and the Greatest Healer of Stress & Dis-Ease
In module 4, we begin to take authority over your life and sleep. We study calming bedtime drinks and get serious about sleep hygiene. We dig deep into the underlying genetic and inherited factors that make you prone to insomnia, and carve out dietary principles to bring the body into sleep balance.
As we expand our trials of sleep remedies, we narrow down and continue to optimize a personalized sleep program with herbs, supplements, and techniques to manage anxiety, racing mind, and digestion.
Our herbal focus is on valerian, the most widely used sleep remedy in Europe, and skullcap, a long-used North American herb for sleep and brain health.
In this session, you'll discover:
How to pick the right herb, specifically for you, to fall asleep and stay asleep
How to separate and treat short-term sleeplessness and chronic insomnia
How the way your digestive process affects your long-term sleep profile
The most widely used herb in Europe for sleep victory
Little-known meditations and breathing techniques to take your sleep to the next level
Module 5: Regulating Your Awake & Sleep Energies
By module 5, we'll be digging deep into the heart of the world of great sleep. We'll expand our focus to include practices for the 24/7 lifestyle, practices that will begin to regulate awake/asleep energies so you can be vibrant during the day and conked out at night. We'll step up the potency of our sleep herbs, going to the next level of knock-you-out remedies. We'll learn the ultimate exercise from yoga for taming insomnia — how to do it, when to do it, and how long to practice it.
Module 5 brings us to the poppy family, a group of warming herbs that act quickly to lull you into deep slumber. We'll also study hops, a famous European relaxant herb.
In this session, you'll discover:
An ancient yoga bedtime exercise that will knock you right out
Foods that regulate brain chemistry so you can produce go-to-sleep hormones
A special meditation that's the basis of all yoga mind-clearing techniques
Personal self-massage techniques to control insomniac energies
How keeping your tissues moist and rinsed inside helps you sleep
Module 6: Herbal Remedies, Breathing Practices & Foods for Super Sleep
In module 6, we again go up a notch to elevate our sleep game. We'll stabilize exercise, daily schedule, when and what to eat, introduce special breathwork, and heighten individual sleep diets. We'll adjust herb and supplement remedies to dial in ideal sleep. As the program gels for each participant, we'll sort out the individual details and get everyone on the right path to nightly slumber.
This module will introduce us to red date seed, the foremost sleep remedy from Traditional Chinese Medicine; and theanine, an amino acid from green tea that gives this tea such a relaxing character.
In this session, you'll discover:
How your body blueprint influences your sleep, and which foods make it better or worse
When and how to eat your meals for great sleep every night
A therapeutic breathing practice for super sleep
The number one Chinese medicine remedy for sleep
How an anti-inflammatory diet is the secret to sleep for some people
An extract from green tea that will rock your sleep world
Module 7: Discover the Keys to a Lifetime of Rejuvenating Sleep
By module 7, we'll each have designed a personalized sleep program that includes lifestyle, sleep habits, diet, herbs, supplements, breathing, meditation, and many other techniques. During this module, we put the icing on the cake and finalize any details, while introducing the most potent tools yet.
Nutmeg, the most potent herb in the series, is our herb of choice here. Nutmeg, used correctly, in the correct dose and preparation, brings a solid eight hours of deep sleep.
In this session, you'll discover:
The most potent sleep remedy in this class, a gift from South Asia
Modern technologies for the bedroom—which work and which do not
The ultimate sleep hygiene for the bedroom environment
The most powerful sleep supplement available today
The most potent breathing practice in all of yoga …
Author
Karta Purkh Singh Khalsa, Yogaraj (Ayurveda), AD, DN-C, RH, LMT, NCTMB, has 48 years of experience in holistic medicine, and is one of the foremost natural healing experts in North America.He's President Emeritus of the American Herbalists Guild, is nationally credentialed to teach herbalism, yoga, and Ayurvedic massage, and is one of the first nationally certified instructors of Kundalini yoga in the United States.
K.P., who holds a doctorate in Ayurveda, is a professor at Massachusetts College of Pharmacy, a founding faculty in the Ayurvedic Sciences program at Bastyr University, and a faculty member in the Botanical Medicine Department at the National College of Natural Medicine, where he trains naturopathic medical students and teaches Ayurveda.
K.P. Khalsa – End Your Sleep Struggles With Plant Medicine & More