Description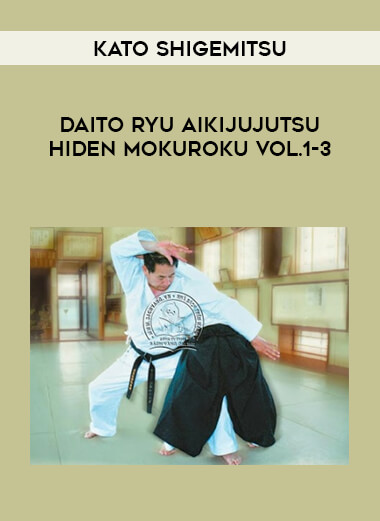 Kato Shigemitsu – Daito Ryu Aikijujutsu Hiden Mokuroku Vol.1-3
Salepage : Kato Shigemitsu – Daito Ryu Aikijujutsu Hiden Mokuroku Vol.1-3
Archive : Kato Shigemitsu – Daito Ryu Aikijujutsu Hiden Mokuroku Vol.1-3
Course Download Size : 1.88 GB
Transfer of techniques in Daito ryu is based on scrolls. Hiden Mokuroku is the first scroll containing 118 entry-level techniques. Techniques are divided into subsections: Ikkajo, Nikajo, Sankajo – 30 techniques each ; Yonkajo – 15 Techniques , Gokajo- 6 techniques and 7 subsections, containing work with weapons and against an armed enemy, defense with busy hands and against several attackers. Also, at this stage, the same techniques are studied in the opposite direction (omote and hurray), they are demonstrated in the next 4 films.
Movie 1 contains sections Ikkajo, Nikajo .
Movie 2 – Sankajo .
Movie 3 – Yonkajo, Gokajo .
Movie1
Ikkajo
Idori techniques
Ippondori
Gyakuudedori
Hijikaeshi
Kurumadaoshi
Shimekaeshi
Dakijime
Karaminage
Kotegaeshi
Nukitedori
Hizajime
Hanzahandachi techniques
Hanminage
Uraotoshi
Izori
Kataotoshi
Iriminage
Tachiai techniques
Ippondori
Kurumadaoshi
Gyakuudedori
Koshiguruma
Karaminage
Oraotoshi
Obiotoshi
Kirikaeshi
Kotegaeshi
Shihonage
Ushirodori techniques
Tachieridori
Ryoukatahineri
Ryouhijigaeshi
Dakijimedori
Kataotoshi
Nikajo
Idori techniques
Kotezume
Gyakudasuki
Hijikujiki
Konohagaeshi
Syutouzume
Kubihineri
Kotegaeshi
Katahadori
Kamatezume
Gyakugote
Hanzahandachi techniques
Shotozume
Kotegaeshi
Susodori
Hijikujiki
rimizume
Tachiai techniques
Gyakudasuki
Hikiotoshi
Kubinage
Susobarai
Seoinage
Shutouzume
Kotegaeshi
Kataguruma
Koshiguruma
Sekujiki
Ushirodori techniques
Tsukitaoshi
Sukuinage
Gyakugote
Kubinage
Hijikujiki
Movie 2
Sankajo
Idori techniques
Tsuriotoshi
Temakura
Sotogote
Makizume
Kobushigaeshi
Kakaekujiki
Karamizume
Kiriha
Utiudegaeshi
Gassyoudori
Hanzahandachi techniques
Makizume
Hijikujiki
Katahagaeshi
Ashijime
Wakikujiki
Tachiai techniques
Tsuriotoshi
Sotogote
Makizume
Wakizume
Gansekiotoshi
Kubiwa
Uchiudegaeshi
Shichiribiki
Ipponkatsugi
Shihonage
Ushirodori techniques
Makizumeotoshi
Udegaeshi
Wakigarami
Kiriha
Kataudenage
Movie 3
Yonkajo
Uragote
Uchigote
Kakaekubi
Temakurazume
Wakidoriura
Wakidoriomote
Irichigai
Tatsumaki
Izori
Uraotoshi
Senryu
Wakizumeotoshi
Kasuminage
Hadakajime
Darumagaeshi
Gokajo
Makikomikujiki
Kobangaeshi
Kannukizume
Enma
Shumoku
Takiotoshi
Emonodori (weapons)
Bodori
Emonodori
Tankendori
Tachidori
Kasadori
Taninzudori
language : Japanese
Kato Shigemitsu – Daito Ryu Aikijujutsu Hiden Mokuroku Vol.1-3