Description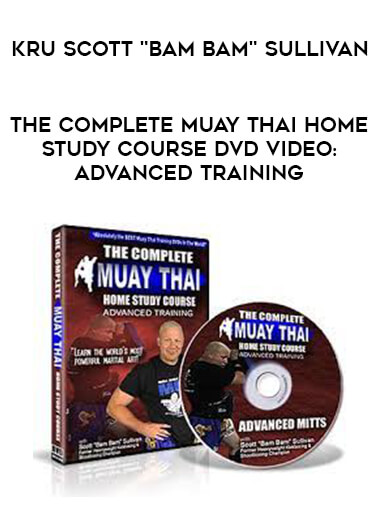 Kru Scott "Bam Bam" Sullivan – The Complete Muay Thai Home Study Course DVD Video: Advanced Training
Salepage : Kru Scott "Bam Bam" Sullivan – The Complete Muay Thai Home Study Course DVD Video: Advanced Training
Archive : Kru Scott "Bam Bam" Sullivan – The Complete Muay Thai Home Study Course DVD Video: Advanced Training
Course Download Size : 6.753 GB
DISK 1: MUAY THAI FUNDAMENTALS
Foundational stuff! This volume teaches you the correct way to execute all of the basic techniques used in the later volumes. In this volume, you'll learn How to correctly throw fast and powerful punches
Where to keep your hands for maximum safety
How to launch the skull rattling elbows, powerful knee strikes and bone crushing Thai kicks that have made Muay Thai famous!
DISK 2: THE MUAY THAI CLINCH
The clinch is perhaps the most effective element of Muay Thai. In this volume, you'll learn how to control your opponent in a clinch and keep him from hurting you while you remain entirely free to come back with your own barrage of elbows and knees! Numerous ways to grip and control your opponent, and the basics of Head Control Theory.
Anti-Clinch tactics like "Amercian Style", "Thai Snake", "Scoop and Slam", "Elbow Sandwich", Neck grab prevention and counters, and more.
DISK 3: ATTACK & DEFENSE TRAINING
This is where a lot of the cool tricks and set-ups are found. Stuff like: How to use defensive moves like slips, bob and weaves, shoulder stops and "rock backs" Six different ways you can set up a powerful and crippling thigh kick so that your opponent won't even see this crippling blow coming. (including what one renowned trainer called "the baddest move in kickboxing"!)
How you can employ "defensive" moves like "snap the twig" that actually damage your opponent's attacking limb. Learn basic Jab Interception techniques, Killer Elbow Knee Combinations, Elbow Defenses, and a whole lot more!
DISK 4: THAI PAD DRILLS
Improve your technique and challenge your body by training on the Thai pads. The Thai pads are the "meat and potatoes" of Muay Thai training.
This is where you will be honing your body into a weapon with fun drills that will leave you sweaty, exhausted, and on the road to having incredible stamina.
Over 25 fun, effective, and intense Thai pad drills involving offensive and defensive combinations guaranteed to get you into great shape!
DISK 5: HEAVY BAG & MITT TRAINING
In this volume, you'll learn some of the best fighting drills out there so you get get in top notch butt-kickin shape in the shortest amount of time possible. Learn important skill producing PUNCH MITT drills! Punch mitt training simulates real life fighting as close as possible, and this volume will give you the drills that will take your punching, elbowing, & defensive skills to the next level! Learn cool HEAVYBAG drills.
Build technique, stamina and coordination from this carefully selected list of heavy bag drills. Learn other excellent drills that don't require any equipment at all to develop your speed, footwork, and coordination.
Kru Scott "Bam Bam" Sullivan – The Complete Muay Thai Home Study Course DVD Video: Advanced Training