Description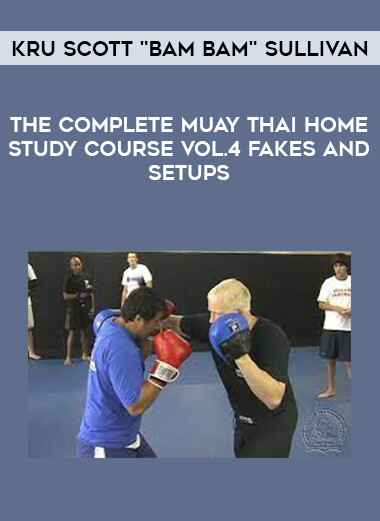 Kru Scott "Bam Bam" Sullivan – The Complete Muay Thai Home Study Course Vol.4 Fakes and Setups
Salepage : Kru Scott "Bam Bam" Sullivan – The Complete Muay Thai Home Study Course Vol.4 Fakes and Setups
Archive : Kru Scott "Bam Bam" Sullivan – The Complete Muay Thai Home Study Course Vol.4 Fakes and Setups
Course Download Size :
Volume 4: Fakes and Setups:"A fighter has to be a good liar and hide his true intentions.
If you don't know how to do this, you're stuck in predictability.
"Fakes and setups can separate the men from the boys.
A good fake can mean the difference between a technique that lands and ends the fight vs.
a technique that is completely worthless.
Mastering even just a few pet fakes can make drastic differences in the effectiveness of your striking.
With a good set of fakes under your belt, you can keep your opponent on edge, confused, and wondering how the heck you hit him!Topics covered on this DVD include: "Flicky Step": Psyche out your next opponent with this move that sets up a devastating right! High Fake and Gut Shot: Many a fight has ended with one just gut shot – here's how to set up yours.
Quick Switch Fake: Watch out for this kick? Surprise! Say hello to my right hand! The good ol' right hand is and always will be one of the best fight stoppers.
Here is another way to land it! "Headripper": Increase your successful head kick percentages with this one – one of Scott's personal favorites! This is a great way to land the coolest move in fighting – the knockout head kick!! "Sneaky Teep": A sweet way to punish your next opponent with a push kick.
Rarely seen, this is a very cool way to confuse your opponent and land an unexpected push kick that has been known to drop a guy! Switch with Right Hook: Give 'em a cannonball right hand coming out of nowhere! This move is designed to divert your opponent's attention to one area while you totally clobber him in a different and unexpected area.
Low Fake and Hook: A high percentage way to set up your left hook.
This "old school" move has proved useful time and time again.
"Superman Punch": Superman punches are exciting moves.
Learn how to properly execute this flashy move and the best time to use it.
Setting up the Overhand: Many a man has fallen victim to a wicked overhand.
Here's how to set up your own overhand that lands with devastation.
Draw the Slap: "Drawing" is a way to get your opponent to move his hands out of the way so you can hit him.
Here we teach you to open up his head for nice left hook to the jaw.
Southpaw Fake: Oh, you fight orthodox – wait southpaw?? WHAM! That's what your opponent should think when you whip this fake out on him.
Cut the Support Leg: How to set up an unorthodox leg kick.
Most people won't expect this sort of leg kick because it comes at such an unusual time and at an unusual angle! "Tricky Hand": "Tricky hand" is a theory to get your opponent set up for many different attacks, but primary focus is placed on the right hand and left hook.
"Chicken Step": Put your opponent on edge with this one – then counter! This fake was inspired by watching certain Dutch fighters in action.
Kru Scott "Bam Bam" Sullivan – The Complete Muay Thai Home Study Course Vol.4 Fakes and Setups