Description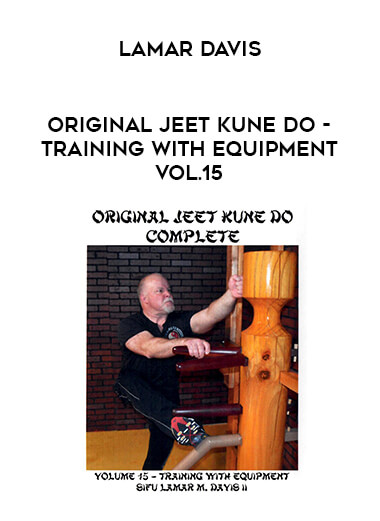 Lamar Davis – Original Jeet Kune Do – Training with Equipment Vol.15
Salepage : Lamar Davis – Original Jeet Kune Do – Training with Equipment Vol.15
Archive : Lamar Davis – Original Jeet Kune Do – Training with Equipment Vol.15
Course Download Size :
Volume 15 – Training With Equipment
Training with equipment is one of the most important areas of training in Jeet Kune Do because it allows us to execute techniques all out on a non-yielding target. This develops attributes that cannot be developed in any other way. In this volume, you will see how Jeet Kune Do practitioners use all kinds of equipment to develop the attributes of timing, speed, power, sensitivity and conditioning. There are many things that you cannot train with a training partner, as you want them to be able to continue to train with you. This volume gives you the alternatives to hurting your partner, and allows you to go all out against equipment that can take it and not complain! This is what Bruce Lee loved about equipment training. He had all sorts of special devices, designed for him by various students like James Lee, George Lee and Herb Jackson. Being his students, they knew what he wanted, and always developed equipment extremely beneficial to his development. The equipment is always there for you, ready to train when you are!
Heavy Bag
Fighting Man Dummy
Floor Bag
Wing Chun Wall Bag
Focus Gloves
Forearm Shield
Double-End Bag
Speed Bag
Mook Jong (Wing Chun Dummy)
Spring-loaded Mook Jong
Spring Arm
Kicking Shield
Sand Leg
Slip & Hit Dummy
Closing
—–
Resolution*: 634 x 480
Running Time Approx: 1 hour 42 mins
*This video comes from a VHS converted to DVD converted to Digital. Every effort was made to keep the quality high and at DVD resolution but there was not a lot of editing so you may see static and VHS commands on the screen – especially at the beginning and end of the video.
——
ORIGINAL JEET KUNE DO COMPLETE
This instructional video series on Bruce Lee's Original Jeet Kune Do was in the making over a long period of time. My goal was to present the most in-depth and complete guide to training in Bruce Lee's fighting methods ever completed. What resulted was this twenty volume set. It was originally filmed on VHS, then later converted to DVD when VHS suddenly found itself outdated. What will never become outdated, however, is the material shown and taught on these videos. The material taught and demonstrated on these videos comes from all three of Bruce Lee's major schools in the United States (Seattle, Oakland and L.A. Chinatown). It is by far the most complete presentation of this material, and will probably remain so for all of time! It represents my life's work in Jun Fan Gung Fu and Jeet Kune Do, and will stand for all of time as my body of work to preserve Bruce Lee's original teaching, training and fighting methods. I hope you find this material useful (and entertaining), and that you can get something from it that may one day save your life or the life of a loved one! If that happens, then it has served its purpose! – Sifu Lamar M. Davis II
Lamar Davis – Original Jeet Kune Do – Training with Equipment Vol.15