Description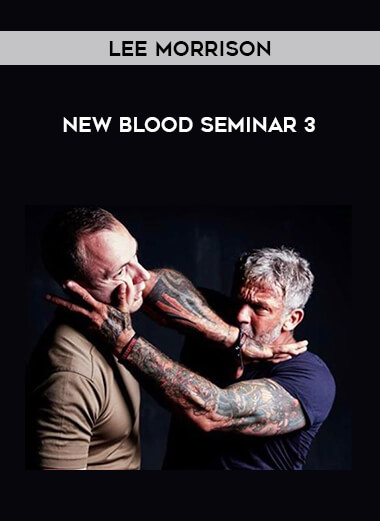 Lee Morrison – New Blood Seminar 3
Salepage : Lee Morrison – New Blood Seminar 3
Archive : Lee Morrison – New Blood Seminar 3
Course Download Size : 12.082 GB
Product Description:
On Sunday the 27th January 2013, UC hosted the third in a series of seminars called NEW BLOOD promoting some of the best up-and-coming instructors on the Combatives Circuit today; guys coming from a well-established lineage implementing their own individual take on the principles of Personal Security and Combative Hard Skills to a privileged class audience.
Starting with senior UC Ireland instructor Jon Mackey offering his take on street-applied lessons relating to Counter Knife from observation and live experience, Jon's take on this came from both sides of the coin – how the criminal operates, and your options when facing the same.
He was followed by top European instructor Mario Korizma.
This guy is a senior student of Branimir Tudjan and represents his own unique take on Combatives in his country of Croatia.
His philosophy is simple enough – HIT HARD and BE HARD TO HIT! This was depicted with value here.
Martin Mikolasek from the Czech Republic was up next.
He is one of four guys in CZ that represent UC there; Martin is senior and operates out of his own RBSD school implementing UC, RBSD methods from many others as well as Rodney King's Crazy Monkey.
What makes Martin unique is his mastery and presentation of drills which he did here in formidable style.
Daniel Morrison my oldest kin was up next.
Dan is a senior first generation UC instructor, and has been training from a very young age.
Dan is a chip off the old block in terms of his ability to manifest immediate, direct and explosive 'in your face' violence from a Self Protection perspective.
His take here works from the restriction and confines of ECQ to turn the tables quickly from a Counter Offensive perspective.
The final session for the day was from Lee Morrison, and related to the Psychology aspect for both dealing with and employing violence.
Taken from UC's very successful PSY-COM programme, this lecture defined the very foundation for all combative efficiency which without doubt both begins and ends in your head!As always, watch with an open mind and take what's useful to you – you won't be disappointed!Wait Times:VIP / Elite: Two WeeksPower / Extreme Users: Seven WeeksUsers: Become one of the above.
Lee Morrison – New Blood Seminar 3