Description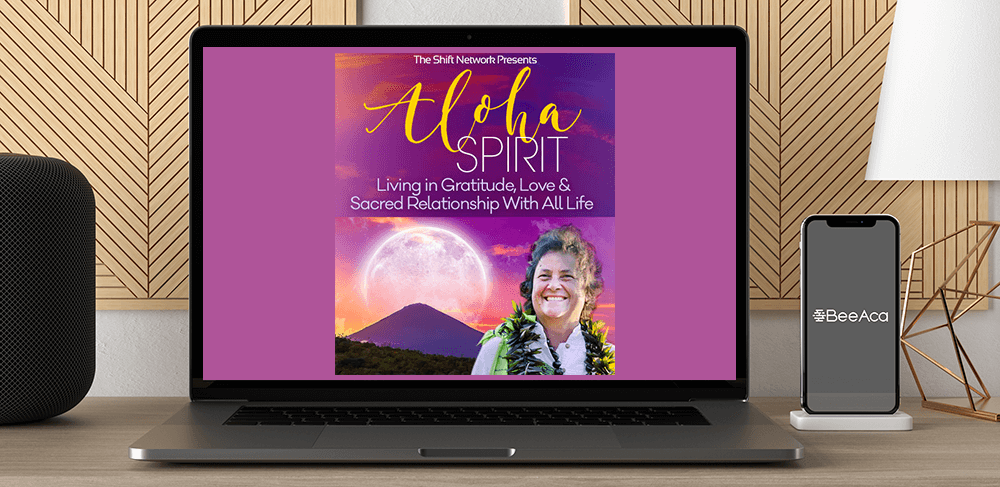 Lei'ohu Ryder – Aloha Spirit
Salepage : Lei'ohu Ryder – Aloha Spirit
Archive : Lei'ohu Ryder – Aloha Spirit
Course Download Size :
What You'll Discover in These 7 Modules
Each teaching session will build harmoniously upon the next so you'll develop a complete, holistic understanding of the practices, tools and principles you'll need to sustain your insights and transformations.
Course modules begin with an hour-long video of teachings from Lei'ohu, followed by a 30-minute recorded Q&A with both Lei'ohu and Maydeen.
Each module also includes a carefully selected song from Lei'ohu's double album, The Call Within & Honor All Life, that will be particularly relevant to the teaching within that module.
Module 1: The Essence of Aloha
Opening to Your Divinity
We acknowledge all our ancestors and the gifts they have passed down from generation to generation. We acknowledge and mahalo Aunty Pilahi Pakī's gift to the State of Hawai'i in 1986, the "Aloha Spirit Law" (1986).
We will explore the word Aloha as an acronym and how each of the five "values" represented opens your heart and understanding of the deeper meanings underlying the essence of Aloha.
Aloha can be described via the following acronym:
Akahai: Kindness, to be expressed with tenderness
Lōkahi: Unity, to be expressed with harmony
'Olu'olu: Agreeable, to be expressed with pleasantness
Ha'aha'a: Humility, to be expressed with modesty
Ahonui: Patience, to be expressed with perseverance
Module 2: Ho'oponopono From the Village of Wailau
("where the waters meet")
Lei'ohu will take you back to her youth and the imagery of growing up in a small village on O'ahu, learning firsthand the ways of healing and the ways of making things pono (right).
What Lei'ohu shares is based on her own personal experiences within her family system of Ho'oponopono — making sure they had right relations with themselves, each other, their community and the islands. In this way, harmony was maintained.
There are many aspects of pono, including:
Creating right relations within yourself and others
Making things pono (right) with your Self first
The willingness to accept who you are in the present moment
The willingness to act with complete honesty, integrity and respect for all
The willingness to release and heal individual, family and community wounds, even those you've carried in your DNA for generations
Embracing that which is authentic within
The recognition that you are not a separate individual, that you are one embodiment of life in harmony with all life
Mihi, Kala (repent, forgive, release)
Module 3: Aloha 'Aīna, 'Āina Aloha
Love for the Land, the Land Loves
We have a primal connection to the land because we are the seeds of the stars that came from the heavens to shine on this land. Living on the land in the island way, you must take care of the resources because without love for the resources, there is no life.
Aloha is a sacred relationship to the Divine. This primal relationship as expressed in nature and community is our life force and our spiritual connection.
In this module, we will explore the importance of:
'Āina — That which Feeds
Mālama 'Āina — Caring for the Land
Keiki o ka 'āina — Child of the Land
Maka'āinānā — Eyes of the Land
Honoring That Which Feeds
A Sense of Place
Walking with Respect / Awareness
Protocols
Module 4: Living 'Ohana
Knowing That All Life Is Your Family
Lei'ohu will share the creation story around Hāloa, the first-born child of Papa and Wakea, the Earth Mother and Sky Father, whose death at birth gave rise to the plant kingdom and to another son who became the prime ancestor of mankind.
Because of our deep spiritual and genealogical connection, we know that all life is our family. The sacred life force of the Universe energetically connects us in relationship to the creatures in the ocean, the stars in the heavens, and every blade of grass that grows.
Lei'ohu will share the story of the Kalo (Taro), 'Oha (The Shoots), and the relationship between humankind, the Natural World and the Cosmos.
In this module, we will explore:
How to heal your family and your lineage through understanding the relationship to the land
How to forge a deeper connection with your lineage, and come into harmony with the wisdom of the lineage that you carry; honoring your own family wisdom connects you to everything
Surfing the spaciousness and freedom of the interconnectedness of all life, and the many ways to communicate with your universal family
Module 5: Embracing Kuleana
Sacred Responsibility in Alignment With the Divine
We will explore how to cultivate and align your individual sacred responsibilities within yourself so that you can identify the gifts you came here to express, share and offer in service to all life as only you can.
We all came to have fun on this planet and to passionately express our gifts while standing in alignment with the Divine.
You will go within to understand: Hā, Kū, Kua and Akua, which are aligned and defined within Kuleana.
In this module, we will:
Play with discovering the joy of your gifts
Celebrate being alive in the garden of Aloha
Module 6: Pule & Mana
Living a Life of Prayer & Sacred Action
We are the seeds of the gods and goddesses, expressing ourselves as divinity through sharing our unique gifts with the world.
You will contemplate the power of turning your daily actions into offerings to the Divine in whatever form you hold as your Higher Power.
This module will include conversations around:
The importance of claiming and expressing your authentic power, and why connecting with it activates the sacred Life Force
How wielding your authentic power manifests actions of Aloha
Living your prayer
Module 7: Mahalo
Living in Gratitude
This module concludes the course with insights, contemplations and words of wisdom related to living your life in gratitude. Living in gratitude releases the weight of daily living from your shoulders, fills your life with peace, light and truth, and acknowledges the foundation of spirit which is Aloha.
When you live in the energy of Mahalo, you understand that every experience must be embraced with appreciation because the gift is always there, even in the most challenging moments. Mahalo is the acknowledgment that we are divinely connected within and without.
In this module, we will explore concepts such as:
The essence of gratitude
Living in a constant flow of energy, expressing gratitude for all blessings in every moment
We are infinite beings; our spirit, the spirit of Aloha, and all of life are infinite
When we say Mahalo, our body naturally bows to the Earth, expressing our gratitude that we have the privilege to be alive in this moment
Where Mahalo is, gratitude serves
Author
Lei'ohu Ryder is a Hawaiian spiritual leader, visionary, healer, singer/songwriter, and educator. Along with her partner, Maydeen 'lao, they are Kumu Aloha (emissaries of Aloha) and advocates for the Indigenous Soul in all people. Their love and knowledge of Hawai'i help us connect with ourselves, with Spirit, and the essence of Aloha.
Lei'ohu Ryder – Aloha Spirit