Description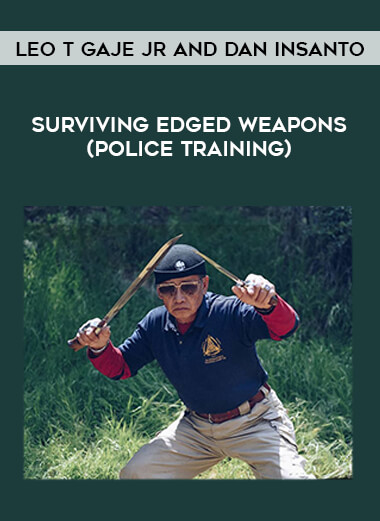 Leo T Gaje Jr and Dan Insanto- Surviving Edged Weapons (Police Training)
Salepage : Leo T Gaje Jr and Dan Insanto- Surviving Edged Weapons (Police Training)
Archive : Leo T Gaje Jr and Dan Insanto- Surviving Edged Weapons (Police Training)
Course Download Size : 699.13 MB
Grand Tuhon Leo T Gaje Jr and Dan Insanto- Surviving Edged Weapons Police TrainingIntended for Law Enforcement Only We will overlook that…
This was made in the late 1980s as a police training program.
It is rare these days to get it in public circulation.
I have the DVD (it was a VHS to DVD convert by the company) and ripped it.
If you do not know who Leo T Gaje Jr and Dan Insanto are- Google! They are the real deal in marital arts.
Just and FYI- they were the advisers for this tape.
Their total on screen time is about five minutes of the total 90 min tape.
Insanto does own five cops in a row (one on one) with a fast draw knife attack to show them the reality of a knife assault tho.
That is classic viewing.
Most of the tape is cops and actors.
Interviews and recreations make for some informative viewing about 'knife culture'.
The production values for this tape are very good.
Recall this is in the late 80s and overlook some of the practical effects as not matching modern CGI Hollywood and I think you'll agree.
I share this b/c it has some useful viewing.
This shows (shot with a telephoto lens) real prison footage of cons training in how to kill with shanks.
This program shows many pics of actual knife fatalities and the cases involved that lead up to the killings.
It interviews cops who had been fuck up by edged weapons in the line of duty and more.
Its a wake up call!This tells of the BS tactics in dealing with blades that do not work.
It gives some that do but is not that comprehensive as other course now on the market.
Still it was made in the 80s and has much value to offer.
Oh, and some LOLz- Satan and his followers were a 'big threat' in the 80s (evil heavy metal types) and you will see in one scene that looks dated and funny by modern viewing audiences.
This is made for cops and as such is is lacking in many respects.
I, you as well, do NOT have to confront knife carrying bad guys.
We do not need to arrest ppl and we don't carry a cop's utility belt worth of gear.
Still, advice on how to be cool after u have been cut and how to seek treatment and what not (sub in a cell phone for a cop radio and that works) is of merit to any viewer.
Many common knife fighting errors and myths are addressed too.
Even with tasers being common there is a reason cops still shoot, even today, dead ppl who threaten with blades! You get a taste of how wicked a knife is when its put into action.
There is a cop POV to this too- lines like "Our liberal (USA) courts look less harshly as knife attacks then assaults done with a fire arm" and "the media portrays EDPs (emotionally disturbed persons = cop code for mentally ill) as harmless, but in fact they account for half of all officer involved fatalities" and that makes for a different view experience indeed! This one is worth viewing if you are training in knife fighting.
Its a no bullshit look at what stabbing and cutting can do.
You see SO many blade types as well…
a real catalog! The point about grabbing the wrist and not the arm of control someone's weapon hand is true- but incomplete.
Any BJJ/JJ guys know that triceps hold is weak, elbow is better, forearm better still, wrist very good and finger is best to secure someone in a lock (if they have a weapon u can't get a finger hold tho- go to wrist).
Still that is not the full picture and this DVD does not get more into depth.
Anyway hit Amazon to see how goddamn much this is selling for! Yikes! Its good but not worth that much…
When it pops up on eBay its about that much too…
Get it here if u are trusted! Enjoy!
Leo T Gaje Jr and Dan Insanto- Surviving Edged Weapons (Police Training)