Description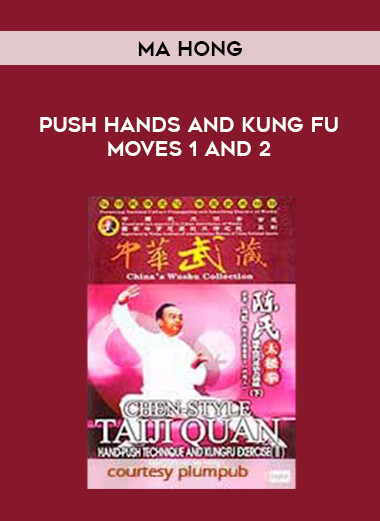 Ma Hong – Push Hands and Kung Fu Moves 1 and 2
Salepage : Ma Hong – Push Hands and Kung Fu Moves 1 and 2
Archive : Ma Hong – Push Hands and Kung Fu Moves 1 and 2
Course Download Size : 540.30 MB
This is Push hands and Kungfu techniques Video From Ma Hong
Ma Hong was the inner door student of Chen Zhao Kui, son of Chen Fa Ke.
He started with Chen in 1972 after already having studied for ten years.
He was soon delving deeper into the intricacies of Chen style.
His concentrated efforts not only bore fruit in his performance but also set a standard of teaching and understanding which has become synonymous with the man himself.
His explanations are direct and refreshingly clear.
He has the aplumb of the instructor who "tells you like it is" without wavering.
It's up to you to decide whether or not you find it useful.
Brief description of the productPushing Hand technique and Power Training (Jin Release or Fa Jin, given in an earlier torrent release) are two indispensable integral parts in the complete Tai-Chi practice.
It can build up body, improving health condition, moreover, it is the required course of understand energy,practice energy, carry energy and release energy in Tai-Chi.
Mr.Chen Zhaokui said, fist movement is the basis of Tai-Chi, and pushing hand is the touchstone of fist movement.
He added, Tai-Chi lies in thirty percent of technique and seventy percent of strength.
Besides practicing fist movement, one has to carry power training and single movement training.
So, we stress that pushing hand and power training are indispensible and complementary to each other.
we must practice hard so that we can get higher achievement in fist Kung-fu.
Part One covers topics like the many variations of Push Hands and the principles involved in them.
Moving and fixed steps are covered as are about ten different techniques to control the opponent.
Extensive information.
In Part Two Ma Hong shows key stances for power issuing, repeated exercises for specific movements and general applications of those movements to martial use.
There are also sections on Taiji Ruler as a training device (we had the pleasure of learning this when Ma Hong came to California), Taiji staff (long pole) and leg Tui Shou.
Many ideas for improving one's skill.
He also shows the Taiji Wheel, an unusual instruments shaped like a cast iron wash basket filled in the bottom third by concrete.
Ma Hong – Push Hands and Kung Fu Moves 1 and 2