Description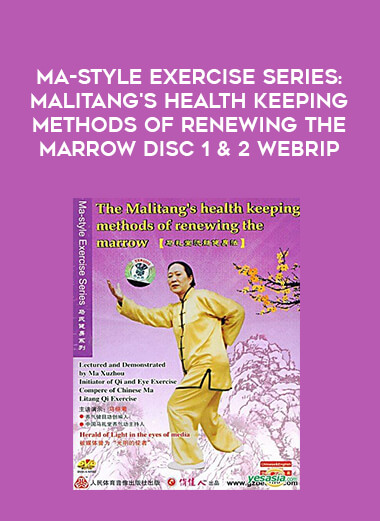 Ma-Style Exercise Series: Malitang's Health Keeping Methods of Renewing the Marrow Disc 1 & 2 WebRip
Salepage : Ma-Style Exercise Series: Malitang's Health Keeping Methods of Renewing the Marrow Disc 1 & 2 WebRip
Archive : Ma-Style Exercise Series: Malitang's Health Keeping Methods of Renewing the Marrow Disc 1 & 2 WebRip
Course Download Size : 5.001 GB
Description:
The techniques covered by this instructional video are a way of conducting the breath by massaging the body's points, twisting, bending and extending the body to force out toxins hidden between bones and muscles and direct qi to the tissues and organs of the human body.
This set of exercises, abstracted from the secret classics of Taoism, is the result of Ma Litang's decades-long effort.
It includes 23 exercises, each closely related to one another, but capable of being practiced independently.
Disc-1 Ma style Exercise Series Malitangs Health Keeping Methods of Renewing the Marrow.
Disc-2 Ma style Exercise Series Malitangs Health Keeping Methods of Renewing the Marrow.
Language: Chinese
Subs: English
Quality: WEBRip Format: MPG Video codec: MPEG2 Audio Codec: AC3 Video: MPEG2; Video: 536 x 400, 25 fps Audio: 16 BitRate; kHz 128; ch2
Ma-Style Exercise Series: Malitang's Health Keeping Methods of Renewing the Marrow Disc 1 & 2 WebRip