Description
Managing Patient Emergencies: Critical Care Skills Every Nurse Must Know by Dr. Paul Langlois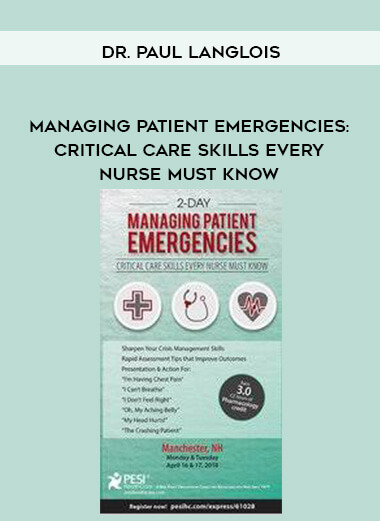 Salepage : Managing Patient Emergencies: Critical Care Skills Every Nurse Must Know – Dr. Paul Langlois
Imagine this… You have a 66 year old patient with type 2 diabetes receiving a high dose of steroids that is having problems breathing. They have a fever of 100.9, blood pressure is 90/60 supine – Plus, their white blood cell count is 12,000. They are also receiving a potassium rider and almost all of their labs are out of control. Which issue should you address first?
Split second decisions like this are stressful and with the number of patients you care for daily that require much more attention than your schedule allows for, how can you possibly do it all… You NEED to be able to rapidly assess and implement appropriate interventions to give your patients the best opportunities for recovery.
With over 30 years of experience managing patients with life-threatening diseases, Dr. Paul Langlois will guide you step by step through symptoms, tests that will verify a diagnosis, and treatment options for various body systems including:
Cardiovascular
Respiratory
Endocrine
Gastrointestinal
Neurological
Renal
Leave this online course with sharpened skills and be prepared to identify and manage your next patient emergency without hesitation!
Here's what you will learn in this comprehensive online course:
Managing Patient Emergencies: Critical Care Skills Every Nurse Must Know
Module 1
Identifying red flags
Initial steps to take in a patient emergency
Rapid assessment techniques you can use immediately
Module 2
Components of an ECG
Symptoms and treatment of metabolic acidosis & alkalosis
Treating respiratory acidosis & alkalosis
Identifying cardiac complications using an ECG
Module 3
Case study to strengthen cardiac learnings
What happens when you take morphine, aspirin or nitroglycerine for cardiac conditions
Assessment strategies for the heart
Exams to reveal pericarditis and cardiac tamponade
Module 4
Symptoms and treatment of Aortic dissection
Case studies with x-rays
Classifications and stages of heart failure
Module 5
Interventions for various cardiac conditions
Preparation and criteria for intubation
Management strategies for DKA
Module 6
Causes, symptoms and consequences of pancreatitis
Strategies to stop upper & lower GI bleeds
What Diverticulosis and Diverticulitis look like and how to manage it
Module 7
Traumatic brain injuries and their implications
Treatment of elevated ICP
How to avoid EVD complications
Module 8
Diagnosis and treatment of ischemic and hemorrhagic stroke
Ischemic stroke treatment for patients beyond the 4.5-hour window for TPA
Intracerebral hemorrhage guidelines
Module 9
Classifications/stages of acute kidney injury
How to manage pain using opioids, nonopioids muscle relaxers and more
FDA statements about heart attack and stroke
Module 10
Agitation management strategies
How to prevent delirium
Case studies to apply what you have learned
Managing Patient Emergencies: Critical Care Skills Every Nurse Must Know by Dr. Paul Langlois