Description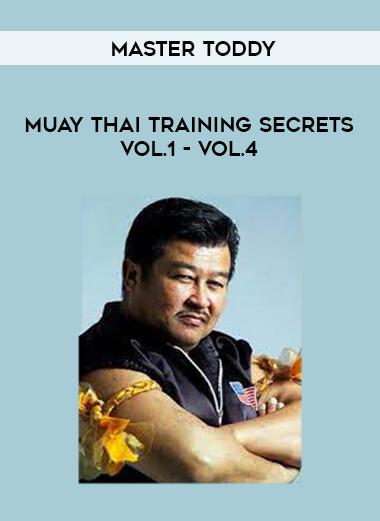 Master Toddy – Muay Thai Training Secrets Vol.1 – Vol.4
Salepage : Master Toddy – Muay Thai Training Secrets Vol.1 – Vol.4
Archive : Master Toddy – Muay Thai Training Secrets Vol.1 – Vol.4
Course Download Size : 4.478 GB
Thohsaphol Sitiwatjana "Master Toddy" (born May 4, 1953) is a Thai-American martial artist and a trainer of Muay Thai fighters.
He also has performed and choreographed martial arts scenes in movies.
He is the lead instructor for the Fight Girls series.
Volume 1: Punch and DefenseHighlights Of This DVD Include: THE MASTER TODDY style: Toddy thinks the best way of training is by "Graphic Memory" 7 PUNCHING STRATEGIES: Learn how to use Toddy's 7 Punching Strategies to dismantle your opponent!PROTECT YOUR HEAD: How to protect your head and counterattack your opponent with without injuring yourself.
THE COBRA PUNCH: Learn one of Toddy's favorite moves.
THE TODDY TURTLE: Learn a simple method of defense!TODDY'S DEFENSE STRATEGY AND TRAINING PHILOSOPHY: Learn how Master Toddy teaches defense and his training philosophy!
Volume 2: KickingHighlights Of This DVD Include: THE THUMPING FRONT KICK: Toddy shows you his favorite way of delivering the front kick!THE LONG AND SHORT DRILL: Good drill for improving your timing and distancingKICK TIMING AND DEFENSE: These drills are sometimes overlooked, but Toddy shows you how to do them correctly!THE REAL THAI KICK: These drills contain combinations that will become your go-to combos when the fight is on the line!FRONT KICK ROUTINE: Learn Toddy's methods for throwing the kick!BODY LANGUAGE TRAINING: Toddy on how to read the opponent!MITTS AND PAD POINTERS: Here Toddy shows how to correct common errors on the pads and mitts!PADS, LEGS, AND BAGS: Toddy offers pointers on common techniques
Volume 3: Elbows and ClinchHighlights Of This DVD Include: TRAINING THE ELBOW: Toddy's method of training the elbow strike.
ELBOW DRILLS: These drills will help make your elbow smooth and sharp.
MUAY THAI CLINCHING Toddy shows how the clinch should be done.
ELBOW AND CLINCH TRAINING: A great drill for throwing the elbow and knee from the clinch.
CLINCH COMBAT TRAINING: More Toddy on training the clinch.
ELBOW AND KNEE DRILL: Another great drill for clinch fightingPOSITIONING THE CLINCH: In this section, Toddy troubleshoots common clinch problems
Volume 4: Knees and PadsHighlights Of This DVD Include: KNEE ATTACK: Land the knee with proper technique and precision!KILLER KNEE DRILL: This will not only improve your knee but will give you great cardio.
DEFENSE AND COUNTERING DRILL: Defend yourself in an offensive way!THE COUNTER GUARD: Here Toddy shows more of his defense tactics!PAD TRAINING WITH TODDY: In this section, Toddy troubleshoots common clinch problemsSTRAIGHT LINE ATTACK DRILL: Toddy shows another drill he likes to useWORLD CLASS SPARRING: Master Toddy on how sparring should look.
MORE TRAINING PHILOSOPHY: Get a piece of Toddy's mind on training and running a gym.
Master Toddy – Muay Thai Training Secrets Vol.1 – Vol.4