Description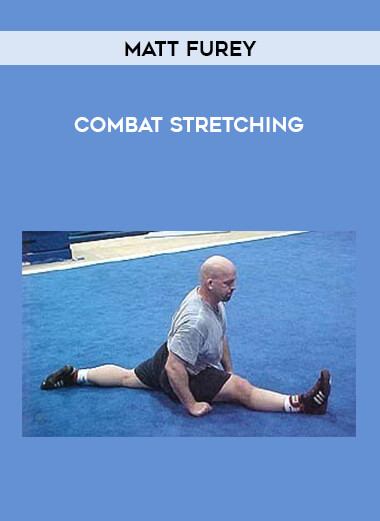 Matt Furey – Combat Stretching
Salepage : Matt Furey – Combat Stretching
Archive : Matt Furey – Combat Stretching
Course Download Size : 1.100 GB
Matt Furey's Combat Stretching Video Course(How to Double Your Flexibility In One Evening)
Combat Stretching vol.1 – Dynamic StretchingPart one will feature nearly 20 dynamic stretches, many of which most people here in the U.S.have never seen or done before.
These dynamic stretches increase flexibility through movement, hitting all the major muscle groups and joints.
You'll learn dynamic movements used by Hindu wrestlers as well as some of the toughest champion athletes in Japan and China.
These dynamic stretches alone will greatly enhance and improve your current level of flexibility.
They will also give you more energy, more stamina and increase feelings of well-being.
And for those of you who compete in sports, they're the perfect warm-up before engaging in more vigorous exercise.
Combat Stretching Vol.2 – Isometric & Deep Breath StretchesThe second part will cover what I call Deep Breathing Stretches.
Once again, there are courses on deep breathing and there are courses on stretching, but mine is the only one that truly teaches you the most important keys about how to connect the two.
Yes, you learn deep breathing techniques with some stretching programs, but mine cuts to the bone and shows you the "master keys" that make your breathing COMMAND your body to get more flexible.
Yes, I'll show you how to do the splits, but realize that this stretch is grossly over-rated.
Think of your body as a complete system of energy.
If your hip flexors and groin are flexible, that's only part of your body.
If you want the real keys to flexibility, vitality and high energy, then you gotta get to work on your spine.
That's where your personal electricity gets turned on.
And that's where your energy gets blocked.
Combat Stretching Vol.3 – Energy Drills & Joint LooseningPart three in the course teaches Energy Drills & Joint Mobility Stretches.
And look out.
We're talking major league great stuff here.
For example, did you know that there are many exercises that martial artists, combat athletes and other exercise enthusiasts do, and without realizing it, they are literally harming themselves? Why is it that more and more karate students need reconstructive knee surgery? Why is it that so many are having hip replacements? Why is it that after the age of 40, many of the top karate kickers in the world, even those who used to have beautiful, powerful kicks – now have kicks that have literally turned to shit?You'll find out why in this tape, and you'll learn some quick, simple, easy-to-learn energy drills I learned in China that will correct these weaknesses instantly.
Minutes after doing these drills, you're going to have greater flexibility and power in your lower limbs.
You're also going to be fired up, full of pep and enthusiasm that had inexplicably drained out of you, without you even knowing it.
For more info click here!PS.
The quality is not very good but the exercises are great!
Matt Furey – Combat Stretching