Description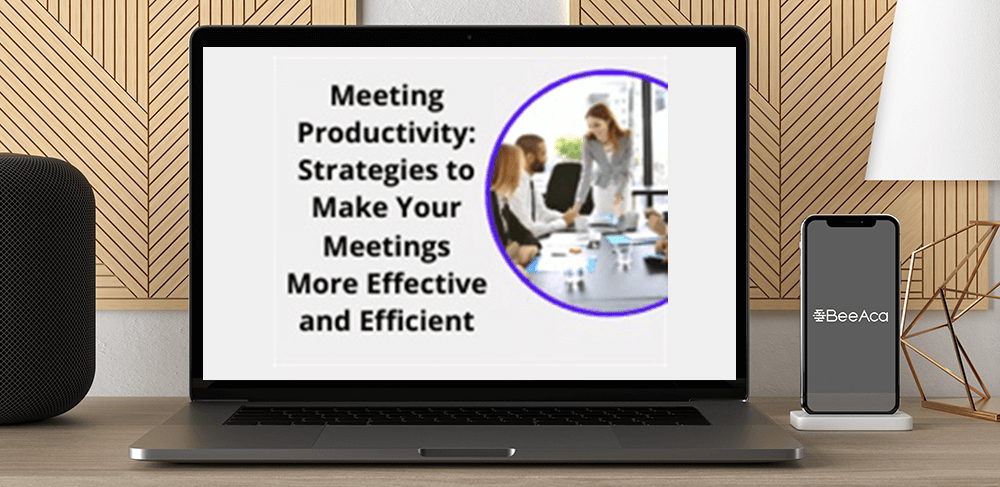 Meeting Productivity: Strategies to Make Your Meetings More Effective and Efficient
Salepage : Meeting Productivity: Strategies to Make Your Meetings More Effective and Efficient
Archive : Meeting Productivity: Strategies to Make Your Meetings More Effective and Efficient
Course Download Size :
Many meetings fail at generating desired outcomes because of lack of structure. If a clear agenda isn't presented, and followed, expectations are not clear and it becomes easy to divert from the original goal. But having a solid agenda is not enough. No matter how well you've planned a meeting, there are other things that can derail it. We need to be skilled at managing meetings to increase both effectiveness and efficiency. This session is all about equipping you with skills and strategies to make every meeting matter more. 
Basic Course Information
Learning Objectives
A three-step process for managing concerns and conflict in meetings

Strategies for making sure meetings don't get derailed while still making attendees feel heard and valued

Communication tips to get everyone oriented before the meeting even happens

A framework to help managers better plan each meeting
Major Subjects
leadership

management

meetings

productivity
University faculty-turned-entrepreneur, Jill is an award-winning business owner, author, and recovering academic. She taught business communication at Arizona State University for 11 years, analyzed terrorist documents to provide counter-terrorism messaging strategies to the military, and was a pioneer in the online education space, creating an office serving 60,000 students and—with no staff or operational budget—added $1M in revenue in its first year.
Now, Jill focuses on providing custom communication training and strategies for her clients—through workshops, keynote speaking, consulting, and virtual training. She's helped clients all over the spectrum learn dynamic communication skills: from Boomers, to Millennials, to Generation Z—from Fortune 50 companies, non-profit organizations, and even some reluctant professional athletes.
She's a VIP contributor to Entrepreneur, and a livestream video personality. She has a syndicated YouTube channel that teaches communication skills and reaches thousands each week. She's written communication textbooks used at multiple universities, is a frequent guest on a wide range of podcasts, and has been featured in Forbes, Entrepreneur, CNET, and Time. Her latest book, Dynamic Communication: 27 Strategies to Grow, Lead, and Manage Your Business from Entrepreneur Press was a #1 New Release in multiple Amazon categories.
Meeting Productivity: Strategies to Make Your Meetings More Effective and Efficient