Description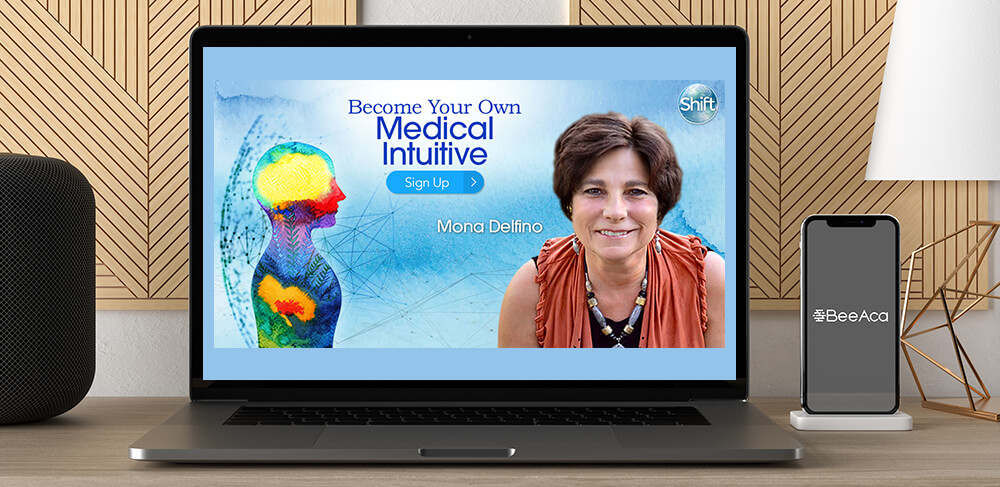 Mona Delfino – Become Your Own Medical Intuitive
Salepage : Mona Delfino – Become Your Own Medical Intuitive
Archive : Mona Delfino – Become Your Own Medical Intuitive
Course Download Size :
New 7-Week Live Video Training Starts
Thursday, April 9, 2020
What You'll Discover in These 7 Weeks
In this 7-week transformational intensive, Mona will guide you through the fundamental body-mind-spirit skills and competencies you'll need to clear and balance your physical and spiritual immune systems.
Module 1: Understanding the Language of the Body — The Key to Your Medical Intuition (April 9)
In this opening module, you'll discover the true meaning of medical intuition — and the healing power that comes with understanding the language of the body, as well as the breakthroughs that happen when you tune into this language…
You'll explore questions like, "How is the body created?" And "Why do we NEED a physical body?"
Mona will take you on a deep dive into medical intuition's foundations as you learn how emotions, the spirit, and the mind all integrate with the physical body. You'll delve into:
How placebo (and nocebo) actually work
How the way you feel about medications you're taking shows up in the physical body — and often reveals whether or not you believe in the medication
Which parts of the body recognize when something is out of line first
How to look beyond the ordinary to identify more about your body
A guided meditation through your body to identify where emotions live
Module 2: Releasing Outdated Beliefs & Patterns to Open to The Flow (April 16)
How do your belief systems create patterns in your body — and how can you release any unhelpful patterns?
This week, Mona will share how the body really flows in its optimal state, the types of conditions stress can create in the body… and how you can keep illness and pain at bay as you learn from each energetic blockage and physical ailment…
You'll explore the story behind diseases as you discover:
The ways anxiety and depression are based in the body's patterns
How thoughts based in victimization make the body resistant to flow
A practice to muscle test parts of the body
A powerful exercise where you'll perform a muscle test to ask questions of your body — including, Is this condition real? Is this ailment mine?
A Q&A session with Mona where you'll have an opportunity to bring up questions about your body and have Mona perform a medical intuition reading
Module 3: Following Your Body Language as Expressions for Manifestation (April 23)
Now that you've explored your body's internal language, it's time to discover more about its outer expressions — and what they're trying to tell you.
This week, Mona will walk you through Neuro-Linguistic Programming (NLP) — the scientific intersection of neurological processes, language, and behavioral patterns you learn through experience…
As you'll discover, the unconscious ways you're physically expressing yourself can reveal insecurities and other dynamics that are blocking your growth… and Mona will share how you can become more balanced as you continue to develop and expand.
In this module, you'll explore:
How to assess your physical manifestations — and discern whether they're truly aligning with your inner world
Why your belief systems are likely more fluid than you think — and why that's a good thing
The many ways you process information using your five senses
One of Mona's most popular visualization exercises that takes place at the beach — you'll even be able to smell the ocean air
Module 4: Trusting Your Body Knows What It's Doing Through Epigenetics (April 30)
As you explore what to pay attention to about your body and health, you'll be strengthening your intuitive abilities along the way.
This week, Mona will bring in epigenetics, the study of how your cellular DNA can be transformed through how you express yourself.
In this module, you'll:
Discover how cells actually transform through epigenetics
Find out why you can trust that your body knows what it's doing — from aging to expressing pain, and everything in between
Explore how epigenetic cells work in a format through your recognition of understanding
Learn how Neuro-Linguistic Programming (NLP) can change your cellular patterns
Discover why your cells are capable of creating anything you want, when you harness the power of your internal dialogue
Module 5: Building Confidence as Co-Creator of Your Physical & Spiritual Systems (May 7)
How can you use your intuition to create your physical and spiritual systems? This week, you'll discover it all starts with understanding your own power and abilities, how you're using language in your life, and your ability to listen — because all these things work together.
You'll also explore potential blocks to harnessing your true intuitive power, including codependency relationships, false identities, old limiting stories, money issues, and more.
In this module, you'll dive into:
How you're truly viewing yourself… and it might surprise you
The real meaning of love and how to recognize its vibration
What it means to listen to your own adventures
The difference between causing something to happen and intuiting that it was going to happen
How to become comfortable in your own skin
Why flexibility, balance, and embracing the moment are essential traits to build as a medical intuitive
Module 6: Clearing Energy & Setting Boundaries — From Childhood Trauma to Ancestral Wounds (May 14)
In this session, you'll discover how to clear energy so you can become more fully aware. You'll explore what it really means to clear energy, how often you should do this, and more.
Mona will also guide you to discern what you're truly prioritizing in your life — and how to let go of the harmful priorities…
How can you, for example, release toxic relationships and other elements of your life that keep trying to invade your space? Mona will show you how.
This week, you'll discover:
How to set boundaries with deeper awareness
Ways to help your body detox and become less vulnerable to the world's pain
The power of both ancestral clearing and childhood trauma clearing as you build your intuition
Shamanism's approach for understanding what's most important to you — and how you can change these priorities at any moment
Why self-care is always essential — and some practices you can implement now, including apple cider vinegar baths, eating well, and more
Module 7: Discovering the Power in Conscious Awareness to Create Something New (May 21)
The more aware you are, the more conscious you are in creating something different…
In this final week, Mona will share the beauty of conscious awareness, and how it can help you create something truly different in your life.
You'll synthesize everything you've learned during your time together — and the many pieces of practical wisdom you've implemented in your life along the way.
Then Mona will spend two hours conducting medical intuition readings for you and your fellow participants.
It's your chance to share your health issues and concerns (if you'd like to) — and Mona will perform a medical intuition reading on the spot…
Author
Mona Delfino is an author and world-renowned Energy Medicine practitioner of 40 years. She was born with shamanic abilities, learning her calling and helping people and animals heal from a very early age. Mona is well-versed in spirituality and Quantum Healing, teaching the Art of Alchemy: as within, so without.
She has an extensive background in reading her clients from afar as well as seeing them in person; energy has no bounds. Her work has helped heal thousands over the years. She also works to heal the Earth; when feeling called, she does ceremony to release memory from gridlines throughout the world for energetic cleansing.
Mona Delfino – Become Your Own Medical Intuitive