Description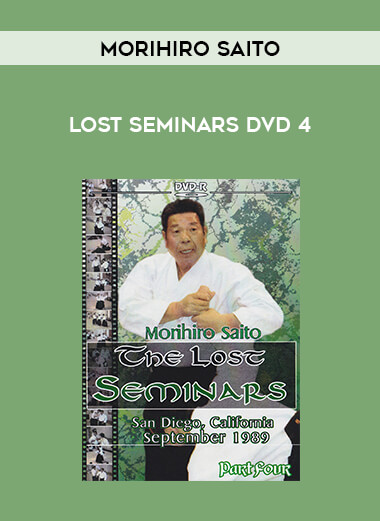 MORIHIRO SAITO – LOST SEMINARS DVD 4
Salepage : MORIHIRO SAITO – LOST SEMINARS DVD 4
Archive : MORIHIRO SAITO – LOST SEMINARS DVD 4
Course Download Size : 4.08 GB
This is the fourth installment in a DVD series featuring key historical footage of Morihiro Saito from his time as a seminar leader in Japan and overseas. The program of Saito Sensei's weekend seminar at Sunset Cliffs Aikido in San Diego, California, is seen in this DVD.
Many Ryotedori, Shomenuchi, and Morotedori attack techniques are included on this DVD. Saito Sensei also goes over nikkiyo techniques and how to release various grips from behind (ushiro). With each new release of the "Lost Seminars" DVD, practitioners learn more about the basics of Saito Sensei's teachings.
Morihiro Saito is the best-selling author of "Traditional Aikido" and "Takemushu Aikido." In 1946, Saito enrolled as a student of Aikido founder Morihei Ueshiba. He was a renowned Aikido weapons trainer and one of the arts' renowned masters. For nearly 30 years, Saito oversaw Ueshiba's personal dojo in Iwama and worked at the Aiki shrine.
Subtitles are advised for viewing since they give better translation than synhorn voice.
Commentary language: English, with English subtitles
MORIHIRO SAITO – LOST SEMINARS DVD 4