Description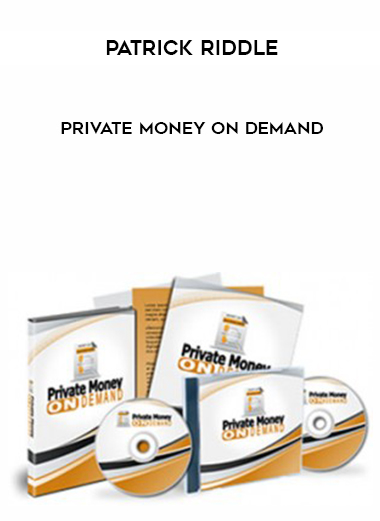 Private Money On Demand by Patrick Riddle
Salepage : Private Money On Demand by Patrick Riddle
Archive : Private Money On Demand by Patrick Riddle
Course Download Size : 1.1 GB
And Best Of All, The Competition
Is Virtually Non-Existent!
…and because most Public Records let you do tons of cool searches (ones most people wouldn't even think to try)…
…you can literally find private lenders at a moments noticebased on whatever criteria you want.
For VirtuallyFREE.
All this insures that you're only contacting private lenders pre-disposed to your types of deals –
But also that when you contact them (in an SEC compliant way… that we'll show you)…
…your message is targeted specifically to them…
Which means you have to do less to "convert" the lender to work with you.
It's An Ingenious Win-Win Strategy!
And like I said before the Public Records are built for us to use as we wish, and as long as you follow the rules they will provide you with fresh, active, and motivated private lenders each and every month like clockwork…
And speaking of using the Public Records…
The most challenging aspect of using the Public Records is knowing exactly what to look for (and where)…
And what to do once you've found the private lenders info.
The public records can be a scary place… tons of data, lots of crap, tons of places to go wrong…
So we had to learn by trial and error (which included a few thousand dollars and over 45 hours of wasted time) what data in the Public Records will give you actual active private lenders who like to lend money to real estate investors…
(And how to most effectively contact them and build credibility)
In the end…
Using Public Record data taught me the power of "attraction" marketing, and I learned that Public Record data is a good thing for smart marketers like us…
And terrible for those who aren't…
You see, most of your competitors will eventually try the Public Records to find private lenders, and when they get a cease and desist letter from the SEC or get shut down by lender after lender because they fail to understand what the SEC and lenders actually want…
They'll probably leave and never come back.
This "learning curve" means there's much less competition for those of us who take the time to figure out the little nuances of using Public Records (and other secret list sources I'll tell you about) to find private lenders in your area on demand…
So now that you know about using the Public Records to find active private money lenders in your area what are you going to do?
If you do nothing, you could miss out on what I firmly believe is the best opportunity to accumulate massive wealth over the next 18-24 months.
If you go it alone…
I know for a fact you'll have a heck of a learning curve that could cost you tens of thousands of dollars and lost deals…
And could get you in trouble w/ the SEC (I've heard that story more than once…)
So I have a few questions for you…
How many great deals have you missed out on because you didn't have the cash to close?

How many great deals are you looking at right now that you need money for?

How much money have you lost or will you lose just because you don't have private money?
Do You Wanna Get In On This With Me?
Until now…
NOBODY has publicly "cracked the code" like we have on the LARGEST single source of active private lenders (not hard money lenders) available to everyone…
But only known to those of us who know where to find them and how to reel them in (legally)…
PUBLIC RECORDS!
(And believe me I've looked!)
I looked for books, courses, consultants ANYTHING to help me find local private lenders for us and our students…
and EVERYTHING sucked!
Old out-date ebooks and worthless blog posts were about all I could find, and the one $1,500 course wasn't worth the paper it was printed on…
The ones that were "decent" only showed how to find Self-Directed IRA transactions…
…which is a small fraction of all the private money lent in today's market…
And Who Wants A Small Fraction Of The Solution?
Not me – and I know you don't either…
So I was forced to "go it alone"… and learn it myself… which cost a good bit of "moolah" and time…
In the last 8 months, I have looked at dozens and dozens of county public records sites, done countless hours of tweaking my searches…
I've deciphered the "code" to exactly what it takes to find the real private lenders in every county using the right public records searches.
This has cost me hundreds of hours, thousands of dollars and a bunch of attorneys fees figuring out where and how to contact these private lenders…
But in the end we finally figured it out…
Now I want to share what I know with you.
I have documented everything I've done using the Public Records to find private lenders…
Every test, every strategy, every trick and tweak (including the specific "covert searches" you need to use and "foot in the door" strategies, which, by the way, are the big secrets to getting a lender to say YESin an SEC compliant way)…
In other words, I have "blueprinted" the entire "Private Money On Demand" process.
It means you won't have to spend 6 months and thousands of dollars figuring this out like I did…
What Does This Mean To You?
More importantly, it means you can start finding real private lenders in YOUR area TODAY and start closing deals and making big cash profits now.
My System Is Called…
This training includes every scrap of information I have gathered on the public records and finding private lenders through them so far:
Every search criteria you need to use

Every thing to look out for to protect yourself legally

How to effectively reel in lenders

How to be 100% SEC compliant in contacting the lenders…
Everything.
Plus everything I will learn over the next full year…
So why am I doing this?
Why am I sharing my newest  "private money lender finding" strategy with the world?
Well as I'm sure you've already guessed, I'm not going to part with this knowledge for free.
Like I've already mentioned, it cost me a small fortune to accumulate this knowledge, and frankly I would like to recoup at least some of that investment…
But that's not my primary reason for offering you this training.
I would also like to assemble a "network" of fellow real estate investors…
A mastermind of sorts where I can share new ideas and hopefully generate some new ideas from you as well.
(Frankly, there aren't a whole lot of investors out there using the public records… and I thought who better to assemble the first "private money mastermind" of sorts… in the market?)
But that's not my primary reason, either…
You see, unlike a lot of other so-called "gurus", I'm willing to admit that I got lucky.
(But put myself in a position to get lucky)…
When I stumbled into real estate investing when I was in college, things were much easier.
Everyone and their brother were practically throwing money at investors.
So, I was able to get my first deals under my belt pretty easily which built my initial credibility.
The main reason I've decided to go public with this information is that… as strange as this may sound…
I truly feel sorry for you.
But if you're just getting started, you don't have it as easy as investors once did…
Competition for funding for your deals is fierce, and as I described earlier, banks aren't lending to us investors and a lot of investors are using outdated "lender luncheon" methods to "mass market" in hopes of finding private lenders…
And I don't see that changing anytime soon…
Thanks to the Public Records, ultra cheap, active private lenders who are ready to lend money is open to everyone (if you know how to find them)!
Not to just those who are awesome networkers or those who have rich families who can shell out the cash for their deals…
So that's why I wanted to make Private Money On Demand available to you…
You deserve the same chance to fund your deals the same as the "big boys", and this is the single best "private money getting" opportunity that I've seen since the "good ol' days" of real estate years ago when everyone was swimming in money.
The fact that you're still reading this page tells me you're interested in tapping into the 90,000+ active private lenders who are sitting inside of the Public Records waiting for those who know how to find and build a relationship with them effectively (the right way).
Right Now The Main Question
On Your Mind Is Probably…
How Much??
Well, let me ask you…
"What would you expect to pay for training that can FINALLY get you access to active private lenders willing to lend real estate investors like you cheap money to close your deals so you can become successful in real estate?"
Before You Answer That Question…
I want you to consider this…
Private Money On Demand is not just some ebook…
It's a 2-module multi-media training that covers BASIC and ADVANCED "private money getting" through public records strategies…
It includes screen capture demonstrations PLUS a bonus training on building credibility (which is the secret sauce to landing private lenders). But that's not all…
Private Money On Demand is a LIVING training program.
That means you'll get free updates…
Oh, And Get This…
(I've Got More Good Stuff For You)
I've included 3 extra bonuses, so valuable… (valued at $985)…
You'd have to be, we'll pardon my honesty, absolutely NUTS to pass me up on this, and you'll see why in just a second…
But I'm pulling out all the stops here and putting you in a position to succeed like NEVER BEFORE…
Curriculum
Author
Patrick Riddle has been a full time real estate investor for over six years, has done well over 100 deals, and has recruited over $6,000,000 in cash from private investors. He shares his knowledge and experience on his creative real estate investing blog. To get your free copy of the "How to Recruit Private Money Millions" eBook and PowerPoint presentation, go
Private Money On Demand by Patrick Riddle