Description
 Quantum Success Activations by Julie Renee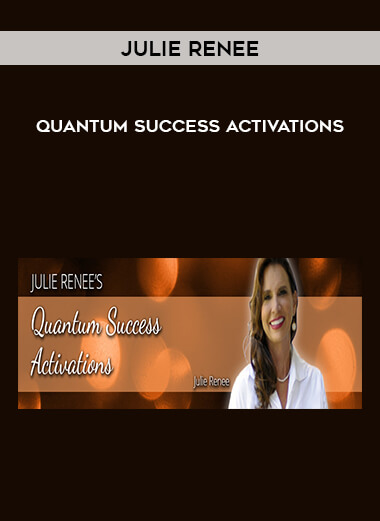 Salepage : Julie Renee – Quantum Success Activations
Finally the "How To" directions for using the Quantum Field to clear hidden blocks to success ~ fast and efficient. Quantum Success Activations: clearing hidden blocks that are killing your business with master activator, Julie Renee.
Hi, I am Julie Renee and I mentor ambitious individuals just like you who won't take no for an answer, but are being taken out of the game because of exhaustion and fatigue. I help you get back to being fully energized and playing your mission and purpose! I came to this expertise because I, possibly just like you, was taken down and unable to get my gift and blessing out in the world due to illness and injury. Once I was back on my feet, I felt empowered to deliver a message of health and hope and a vision of a future where we could change the way we think about health and energy.
After 3 years of non-stop going, I found myself crashed and miserable. I was committed to getting my mission out so I kept attending events and maintained a rigorous teaching schedule. How could I teach taking good self-care and possibility if l was waning myself? I would go to these big weekend events continuously, with a big heart wanting to connect and serve, truly wanting to help others yet I was finding myself so exhausted I would spend hours up in my room resting in bed, and appear strategically at breaks and meal time to keep the communications and conversations going. I stopped teaching audiences other than my own and slowed down on the media events. I wouldn't quit, I wouldn't say uncle but I needed to find a better way to regenerate, maintain and sustain my energy and my mental clarity.
Quantum Success Activations by Julie Renee