Description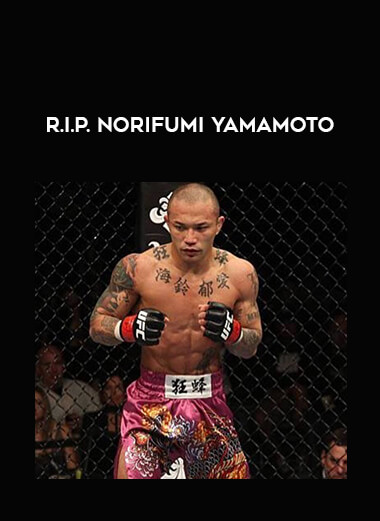 R.I.P. Norifumi Yamamoto
Salepage : R.I.P. Norifumi Yamamoto
Archive : R.I.P. Norifumi Yamamoto
Course Download Size : 6.47 GB
As we all know, one of the MMA community's icons passed away earlier this week. Norifumi "Kid" Yamamoto died after a brief fight with cancer. You will be sorely missed.
Heroes are remembered, but legends go on forever. Babe Ruth –
This is a Kid tribute bundle. It includes all of his MMA fights (a couple are merely highlights) as well as four K-1 battles. Sorry about the older fight quality, but there's nothing I can do about it.
Norifumi "Kid" Yamamoto against Masato Shiozawa on March 2, 2001 (Shooto – To The Top 2) [Only the highlights]
Norifumi "Kid" Yamamoto against Masashi Kameda on July 6, 2001 (Shooto – To The Top 6)
Norifumi "Kid" Yamamoto against Hideki Kadowaki on September 2, 2001 (Shooto – To The Top 8)
Norifumi "Kid" Yamamoto against Josh Thomson on December 15, 2001 (Shogun 1) [No audio]
Norifumi "Kid" Yamamoto against Stephen Palling, May 5, 2002 (Shooto – Treasure Hunt 6)
Norifumi "Kid" Yamamoto against Tetsuo Katsuta on September 16, 2002 (Shooto – Treasure Hunt 10 )
Norifumi "Kid" Yamamoto against Jeff Curran on May 9, 2003 (SuperBrawl 29)
Norifumi "Kid" Yamamoto against Caleb Mitchell (Shooto) on September 5, 2003 Korakuen Hall, September 5, 2003)
Takehiro Murahama against Norifumi "Kid" Yamamoto on February 24, 2004 (K-1 World MAX 2004 Japan Tournament)
Norifumi "Kid" Yamamoto against Tony Valente, April 7, 2004 (K-1 World MAX 2004, World Tournament Open)
Norifumi "Kid" Yamamoto against Kazuya Yasuhiro on July 7, 2004 (K-1 World MAX – World Tournament Final) [Only the highlights]
Norifumi "Kid" Yamamoto vs. Jadamba Narantungalag, October 13, 2004 (K-1 World MAX 2004 – Champions Challenge)
Masato Yamamoto against Norifumi "Kid" Yamamoto on December 31, 2004 (K-1 Premium Dynamite 2004)
Norifumi "Kid" Yamamoto against Mike Zambidis on May 4, 2005 (K-1 World MAX 2005 Opening Round)
Norifumi "Kid" Yamamoto against Ian James Schaffa (K-1 – Hero's 2) on July 6, 2005
Norifumi "Kid" Yamamoto against Caol Uno (K-1 Hero's 3) on September 7, 2005
Norifumi "Kid" Yamamoto against Royler Gracie (K-1 Hero's 3) on September 7, 2005
Norifumi "Kid" Yamamoto against Genki Sudo on December 31, 2005 (K-1 Premium 2005 Dynamite)
Norifumi "Kid" Yamamoto against Kazuyuki Miyata (K-1 – Hero's 5) on May 3, 2006.
Norifumi "Kid" Yamamoto against Istvan Majoros on December 31, 2006. (K-1 – Premium 2006 Dynamite)
Norifumi "Kid" Yamamoto versus Bibiano Fernandes (K-1 – Hero's 11) on September 17, 2007.
Norifumi "Kid" Yamamoto against Rani Yahya on December 31, 2007. (K-1 Premium 2007 Dynamite)
Norifumi "Kid" Yamamoto against Joe Warren on May 26, 2009. (Dream 9 – Featherweight GP 2009 Second Round)
Norifumi "Kid" Yamamoto vs. Jae Hee Chen on July 13, 2009. (K-1 World MAX 2009- Final 8)
Norifumi "Kid" Yamamoto against Masanori Kanehara on December 31, 2009. (K-1 Dynamite 2009)
Norifumi "Kid" Yamamoto against Federico Lopez on May 29, 2010. (Dream 14)
2011-02-05 Demetrious Johnson vs. Norifumi "Kid" Yamamoto (UFC 126 – Silva vs. Belfort)
2011-11-21 Darren Uyenoyama vs. Norifumi "Kid" Yamamoto (UFC on FOX 1 – Velasquez vs. Dos Santos)
2012-02-25 Vaughan Lee vs. Norifumi "Kid" Yamamoto (UFC 144 – Edgar vs. Henderson)
Norifumi "Kid" Yamamoto vs. Roman Salazar on February 28, 2015. (UFC 184 – Rousey vs. Zingano)
Curriculum
[Image]
Author
<author info>
R.I.P. Norifumi Yamamoto