Description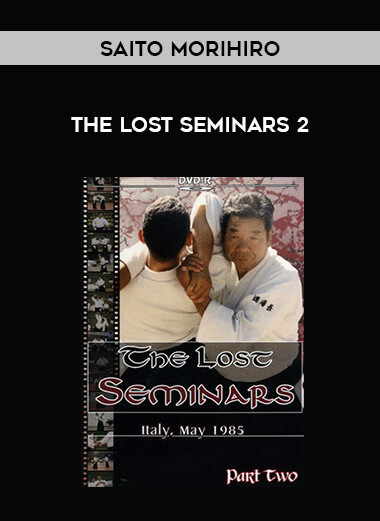 Saito Morihiro – The Lost Seminars 2
Salepage : Saito Morihiro – The Lost Seminars 2
Archive : Saito Morihiro – The Lost Seminars 2
Course Download Size : 3.47 GB
This DVD presents a wonderful seminar given by Morihiro Saito in Osimo, Italy in May 1985. Saito Sensei was 58 years old at the time of the performance and in great shape. This seminar was the third of many seminars he wanted to give over the course of several years in Italy.
The program also includes introductory and concluding comments by the editor of Aikido magazine Stanley Pranin, who assisted Saito Sensei during these seminars as a translator. This high quality, professional footage has been completely restored and is being presented for the first time.
The Lost Seminars, Part 2 contains some very important footage that is of great interest to the aikido technician enthusiast. For example: one part of the shoot is a detailed showing of a whole series of sankyo techniques (which is very unusual), as Saito Sensei very rarely taught this.
In addition, there are several excellent sequences of techniques from moretodori, shomenuchi, and yokomenuchi attacks. The last part of the program focuses on Aki Ken and Jo, with particular emphasis on feather kumitachi and 31 kata with jo.
Language : Italian, English subtitles
Saito Morihiro – The Lost Seminars 2