Description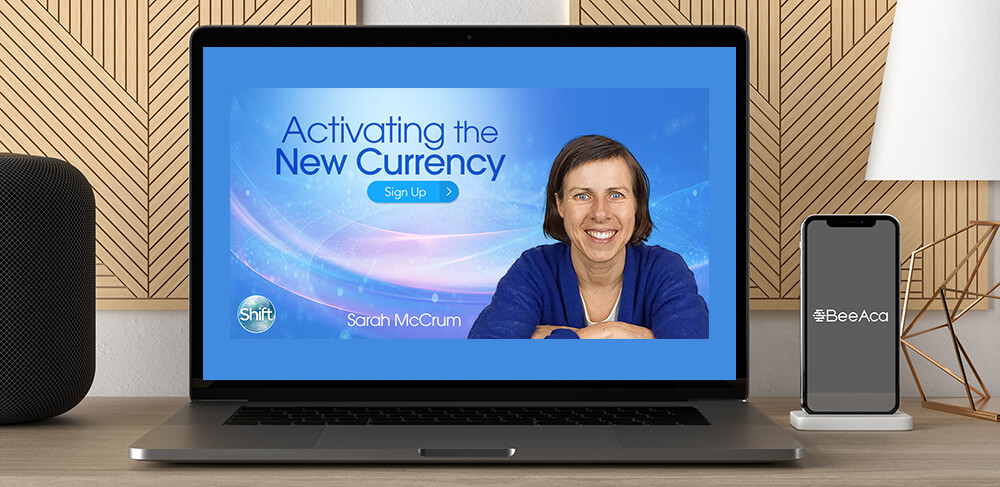 Sarah McCrum – Activating the New Currency
Salepage : Sarah McCrum – Activating the New Currency
Archive : Sarah McCrum – Activating the New Currency
Tuesday, November 19, 2019
What You'll Discover in These 6 Months
Course sessions are on Tuesdays at 1:00pm Pacific.
In this 6-month transformational intensive, Sarah will guide you through the fundamental spiritual skills and competencies you'll need to activate the new currency in your energy field and in your life. You'll connect your soul's purpose and your financial desires, and refine the art of making "beautiful requests" of money.
Each class will feature live teachings as well as individual coaching with Sarah. She'll guide you in simple energy healing practices, grounding exercises, and activation techniques that draw on her background in Chinese metaphysics. The sessions will build harmoniously so you'll develop a complete holistic understanding of truly game-changing principles of the new currency.
You can look forward to moving past fear, worry, money "triggers," and financial karma — as you cultivate a grounded, loving, lifelong partnership with money that will serve your own and others' highest good.
Sarah's teachings have touched thousands of people who've shared that their new, relaxed, and joyful relationship with money carries over into their relationships with other people, their work in the world, and their approach to life.
If you have not experienced Sarah's work before, you're welcome to sign up for this intensive training and we will bundle in her introductory course, The Generous, Loving Energy of Money, for you — which you can study before, or in parallel with, this more advanced program. This extra training is described below and is included in your registration.
Modules 1-5: Activate the New Currency (November 19 & 26; December 3, 10 & 17)
Asking, receiving, and giving — this process is the essence of the new currency. As this new training gets underway, Sarah will walk you through the fundamental principles of the laws of money.
To skillfully interact with this new currency, you'll cultivate your inner environment through relaxation, one of the deepest spiritual practices there is. In your coaching with Sarah, you'll explore the connection between YOUR inner environment and your outer results.
Along the way, you'll discover:
How to open to the loving current of money
A new understanding of "debt," and how to build up a different kind of "credit" and create results in the new currency
How to make your beautiful requests of money even more powerful and effective
The specific law of money that helps ensure that money always has your back
Keys to creating real, tangible results before the holiday season
Daily practices and awareness to support relaxation, enjoyment, and love — the 3 keys to receiving
Modules 6-8: Deepen Your Connection With Your Soul's Purpose (January 7, 14 & 21)
Your soul's purpose continues to emerge over time… through the growing recognition and discovery of who you really are and what you value in this lifetime, at this exact moment in history.
In this section of the course, Sarah will show you how to receive deeper spiritual guidance around your soul's purpose.
The more you access the new loving currency, the more expansive you'll feel about your life — and the more you'll also need to ground yourself in the practical.
In this phase of your 6-month journey, you'll discover:
How the healthy ego expresses itself in your relationship with money
Methods for becoming more conscious of your money patterns and beliefs
Your soul's unfolding purpose — and how it directly aligns with the new, loving currency
How money's unlimited nature helps you expand your vision
How to align living your soul purpose with money and your life's possibilities
Powerful practices to ground your energy, relax, and center your energy — so you'll be open to receiving even more energy
Modules 9-11: Clear Financial Karma & Begin "Working Light" (February 4, 11 & 18)
Working light is a way to be more productive with greater ease, less effort, and less time. As you'll soon discover, it challenges what our culture teaches us about constantly working hard…
In this set of modules, Sarah will guide you to explore and question your own current work habits — and you'll receive individual coaching with Sarah around how to make working light work for YOU.
In these modules, you'll discover:
What it means to work light and grounded vs. working hard and spiritual
The 5 inner practices of working light that allow you to accomplish things in a fraction of the time it takes other people
An energy transmission to release unhelpful financial karma
Insights into the ways your money blocks are blocking your soul's purpose
How to recognize — and work with! — fear and ego contraction
An exercise to fully prepare you to work with the inner technology of manifestation… love creating through you
A daily practice that supports YOU working light
Modules 12-14: Creating True Value in the World (March 3, 10, & 17)
In this pivotal part of the course, you'll explore the true "value" of human connection — and how love changes the value equation in all transactions
Sarah will guide you to consider how people create value and exchange money. She'll also share a truly eye-opening approach to understanding value as she guides you to answer thought-provoking questions along the way, including:
How do you value money?
How do you value yourself and your work in the world?
How do you value other people?
How do you create value and exchange in a way that's deeply satisfying to all parties?
What is the value and currency of appreciation and gratitude?
This deep dive culminates in a powerful coaching session with Sarah focused on turning your new understanding of value into practical business and personal results.
Modules 15-18: What Is Life Creating Through You? — The New Currency (March 31; April 7, 14 & 21)
At this point in your training with Sarah, you'll have come to appreciate money's generosity, leaving behind the myth of scarcity. Treating money as a living expression of your deepest desires and values will feel natural!
In this culminating set of modules, you'll come to deeply understand how love is the fuel for life's creativity — expressed at both the individual and collective level.
As you'll discover, your loving relationship with money opens up your creativity across all areas of your life. You'll learn how to CREATE your health, your relationships, and your business — instead of managing whatever seems to come along…
As you receive coaching with Sarah about how to communicate in a way that's aligned with your true self, you'll fully activate the new currency within your energy field and life — beautifully combining money, purpose, and love.
In these final modules, you'll discover:
How to open up to the generosity of your own life and spirit — and how this opening up can create the changes on our planet so many people are asking for
The further you go in your relationship with money, the clearer everything becomes — and the more organized your finances are
How to bring in more money than you need, creating what you want in collaboration with money's energy
The world of investing — and what you want to do with the wealth you'll be creating
How to be dynamically engaged in your own life and your soul's desire — and the creative impulse that flows through you
The art of making conscious choices, living in partnership with life's creativity — and your role in life's incredible, magnificent expression
Author
Sarah McCrum, a leading money consciousness coach, is the author of Love Money, Money Loves You and Energy On Demand: Master Your Personal Energy and Never Burn Out.
Born and raised in the UK, Sarah is a graduate of Cambridge University. A former school teacher, she spent 10 years working for BBC Radio, travelling all over the world and interviewing children for various stories.
Sarah McCrum – Activating the New Currency