Description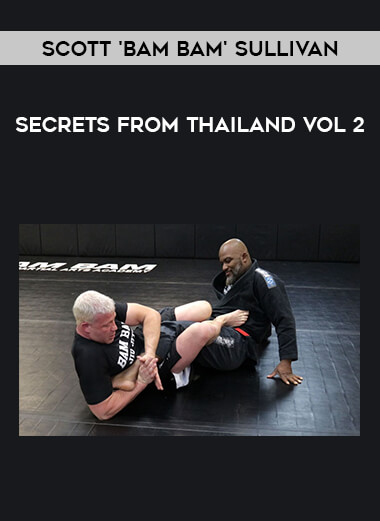 Scott 'Bam Bam' Sullivan – Secrets from Thailand Vol 2
Salepage : Scott 'Bam Bam' Sullivan – Secrets from Thailand Vol 2
Archive : Scott 'Bam Bam' Sullivan – Secrets from Thailand Vol 2
Course Download Size : 536.56 MB
Volume 2 – Intensive Muay Thai Clinch Countering the Body Clinch: If you've never been caught in a body clinch, rest assured that it can really SUCK to get stuck in this thing and while getting pummeled to death with knees.
This move will show you ho to to get out!Using the "Loose Grip": A currently popular way to clinch – "loosely".
This style of gripping will offer you more flexibility in attack.
to help you flow well off of your jab.
This style of gripping will offer you more flexibility in attack.
"Snaking" Out of the Body Clinch: Counter the body clinch while preventing your opponent from even getting off a knee against you!Battle Tested Grips: Learn these classic clinch grips that will make your clinch "rock solid"!Head Wrap and Knee: Catch you next opponent with this move! A great way to trap his head and make him vulernable to a knee!Neck Grab Counter: A great fighter needs to have flawless ways of dealing with the neck grab! This move is sure to fit the bill.
Muscle Spikes: PUNISH your opponent's biceps and thighs with these nasty tricks.
"Don't Forget About My Elbow": Surprise move "right up the middle"! Let your opponent be the one who forgets about this one!"Clinch Skool": A masterful example and display of world class clinching.
Watch and learn!"Off Balancing Drill": Off-balancing your opponent in the clinch is important for setting up strikes and throws.
This drill is the best way we know of for making that skill "second nature".
Defeating the Puncher Tactics: Simple effective tactics that will show you how to use your clinching skills to defeat and disable a "boxing" style opponent.
Knee Strategy: All the fundamentlas for delivering powerful, gut-wrenching, melon-busting knee strikes.
Straight knees, round knees, flying knees, etc.
– it's all right here.
"Head Lift": You'll appreciate this safe and simple way to get out of an opponent's clinch.
How to Stop the Head Push: A nice "re-counter" to an opponent who is trying to escape your clinch with the head push.
"Head Trick": Rarely seen strong arm tactic that puts your opponent in a VERY VULERNABLE POSITION – making him a virtual "sittin' duck" for your knees.
How to Stop the "Clincher": What are going to do if someone is a better clincher than you? With this strategy you'll be able to shut down his clinch from the get-go!SPECIAL TOPIC: THROWS AND TAKEDOWN FROM THE MUAY THAI CLINCH: A good clinch man should have a number of ways of putting a man down in the dirt.
Right here, you will learn a vast array of rarely seen methods of getting this accomplished.
When you build your arsenal with stuff like the Head Pull Throw, Elbow Lift, Waist Throw, Body Throws, and Knee Dumps you'll be on your way to becoming an expert clincher yourself!
Scott 'Bam Bam' Sullivan – Secrets from Thailand Vol 2