Description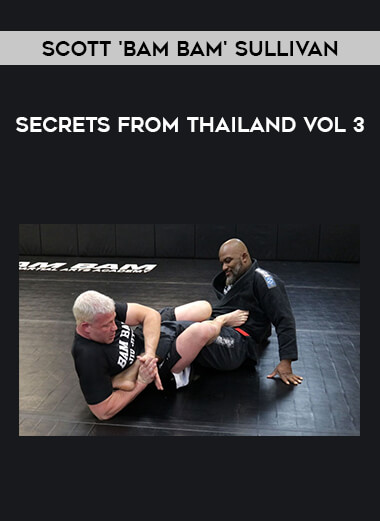 Scott 'Bam Bam' Sullivan – Secrets from Thailand Vol 3
Salepage : Scott 'Bam Bam' Sullivan – Secrets from Thailand Vol 3
Archive : Scott 'Bam Bam' Sullivan – Secrets from Thailand Vol 3
Course Download Size : 495.25 MB
Volume 3 – Crippling Kicks and ElbowsUsing the Muay Thai Kick: Learn and appreciate these important points when throwing your kick!How to Use Kicks to Defeat a Puncher: Facing someone who's a better boxer than you? You'll need your legs and a good "kicker's strategy" in dealing with this guy.
Let Kru Bee show you how to handle this situation.
How To Set Up the Head Kick: Without a doubt, landing a solid headkick on an opponent is perhaps the most "crowd pleasing" and exciting way to defeat an opponent.
How to Set Up the Low Kick:Perfect your leg kicking skills and increase your landing percentage with these set-ups!Using the Muay Thai Teep: How to use the front kick in ways you probably haven't thought of.
Kicking Fakes: How to fake out your opponent and land that blow of destruction.
Elbow Overview: All the fundamentals on developing those nasty elbows.
How to Use the Elbow to Defeat a Puncher: Sometimes a guy who focuses on punching can be WIDE OPEN for a swift elbow shot.
Here's how to do it.
Elbow Defense: Crucial stuff here on how to not be on the wrong end of a viscious blow.
Grab Kick and Blast: How to take out your enemy after you grab his kick.
Sneaking in the Uppercut Elbow: How to land this sweet surprise.
Underneath Catch and Slam: An advanced way to deal with an opponent's kick.
Training the Low Kick: To develop good low kicking skills, you need proper technique and a lot of practice! This section will give you tips on both, as well as getting maximum power out of your kick.
Countering the Low Kick: Don't be a sucker for a low kick! It only takes a few to really hobble you! Train these counters and unleash some surprises on the next guy that tries it! NOTICE: Muay Thai fighters are known for their powerful kicking skills.
This is because the Thai's have really figured out the body mechanics of getting some serious power out of your kicks.
And elbows, what can you say except a lot of people are just scared to death of being hit by one.
Imagine what your fighting skills will be like and how your confidence will skyrocket, when you're walkin' around with the ability to kick and elbow like a professional Muay Thai warrior.
Very sweet.
Scott 'Bam Bam' Sullivan – Secrets from Thailand Vol 3