Description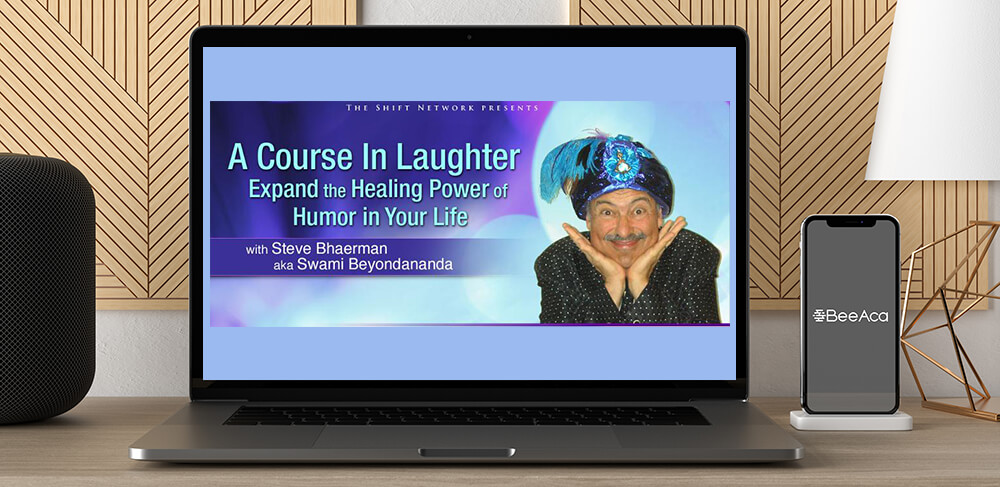 Steve Bhaerman – A Course in Healing Laughter
Salepage : Steve Bhaerman – A Course in Healing Laughter
Archive : Steve Bhaerman – A Course in Healing Laughter
Course Download Size :
A 5-Week Course Starting Monday, April 16th
Week 1: The Cosmic Joke and the Fool's Journey (April 16)
In this session, we will explore the metaphysical nature of humor and how and why life is indeed a joke. This understanding is the gateway to both healing the heart and freeing the mind. This week we will learn:
What is the Cosmic Joke, and why is it funny – and not funny?
How and why seriousness is always the set up for humor, and how to know when the joke is on you and not take it "poisonally"
The journey to "fool realization" and the pathway to becoming the "wise fool"
Week 2: The Elements of Humor (April 23)
This week we will look at the four elements and how they apply to comedy. We'll recognize that with earth, water, fire or water, humor can be used as an "alchemical" (not to mention "all-comical") balance. In this session we will have fun with:
The alchemy of humor: how to transform the grosser stuff of life into laughter, joy, insight and wisdom
Finding YOUR most powerful element, and identifying your humor type
Using the four elements of humor to heal (i.e., restore wholeness)
Week 3: Humoring Yourself and Others (April 30)
In this session, we explore the protocols of when to go for the jocular… and when not to. We will put humor into the context of all transformational modalities, so a joke builds bridges instead of blowing them up. This week we'll play with:
Why the first – and best – joke is always on yourself
How and when to take the conversation from serious to humorous
How to tell a joke – really!
Week 4: Transforming the Trance (May 7)
This week we learn how a joke uses a trance to end a trance, and how and why humor is a dance between the logical and intuitive brains. We will understand the deeper context of jokes so they can be truly used as "healing stories." Some of what we will cover includes:
Why the mind needs to – and loves to – be tricked
The "aha" after the "ha-ha" – how to seed insight in a "harmless" joke
The Zen Cohen – what it is, how to use it and how to create your own
Week 5: Your Laugh Story (May 14)
Swami says, "Laugh at yourself – and the whole world will laugh at you, too." This session is about creating "self-facing" humor that dances with your personal shadow while staying "in love." Some of what we will cover in our final session includes:
Finding the natural humor in your life story, and using it to transform your story into a healing one
Tracing your own "fool's journey"
The transformational nature of: "… and then, a funny thing happened…"
You will learn about comedy – with a transformational twist – from the inside out, and find out how even a non-comedian can practice "situational comedy" in almost any situation.
Special Course Bonuses
In addition to the five course sessions, you will also receive two "fool length" e-books and a workbook that will help you apply and embody what you learn in the course into your daily life:
Wake Up Laughing: An Insider's Guide to the Cosmic Comedy, a 75-page downloadable e-book that tells you all you need to know about the Cosmic Joke, The Fool's Journey, the Divine Comedy… and how and why to laugh even when it's just not funny. $15 value.
The Zen Cohens of Harry Cohen Baba: Three Dozen of the Funniest Stories Ever Told, a 58-page downloadable e-book with wise and hilarious stories suitable for after dinner speakers, or way after dinner speakers. $15 value.
A Course In Laughter Workbook. Includes exercises guaranteed to help you achieve your humorin' potential. Downloadable PDF…
Author
Steve Bhaerman is an internationally known author, humorist and workshop leader. For the past 23 years, he has written and performed as Swami Beyondananda, the "Cosmic Comic."
Steve Bhaerman – A Course in Healing Laughter